Alaska's oil producers predict declining production despite tax cut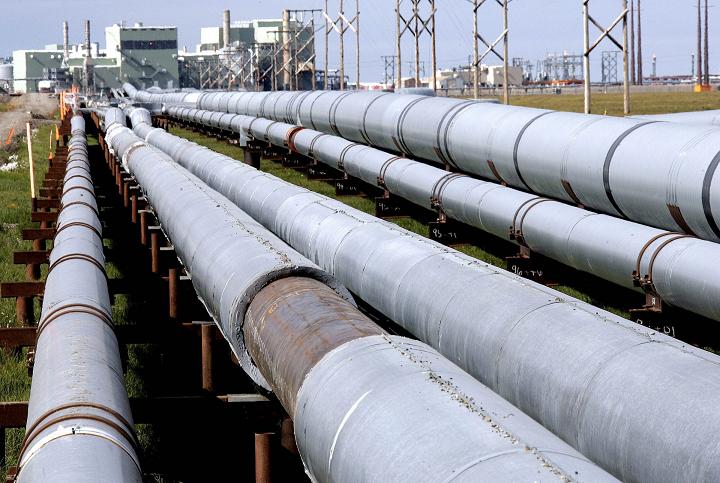 Goodbye million-barrel objective. Hello billion-dollar deficits.
Alaska oil companies' own numbers now back up state predictions that the amount of oil flowing through the trans-Alaska pipeline will continue to decline, despite a tax cut passed by the Alaska Legislature last session and set to go into effect in the new year.
Gone are the slogans of two years' past, when Gov. Sean Parnell predicted a near doubling of oil production if taxes were cut.
Instead, the state's top producers recently renewed their forecasts, predicting a continued drop in production that raises troubling questions about whether the oil-tax cut will ever pay for itself.
The good news: The decline can be slowed. The bad news: Production won't exceed the 550,000 barrels of oil that flowed down the pipeline in 2012, at least not anytime soon, according to recent statements by BP and ConocoPhillips.
That's a big problem for a state with no revenue sources that can approach oil production, and an annual budget that's suddenly expected to fall short by $2 billion, in part because of dwindling oil flow.
'A diminishing resource'
Dave Lachance, BP's vice president of reservoir development in Alaska, laid it out clearly during an engaging talk at the Resource Development Council's annual conference last month. "We can't stop the decline," he said. "We're producing a diminishing resource." But he added that BP, which operates Prudhoe in a partnership with Exxon Mobil and ConocoPhillips, "can substantially change the inflection on the curve."
More oil — Lachance didn't say how much more — could be wrung from Prudhoe Bay by such things as coiled drilling technology, described by Lachance as "thick spaghetti of pipe on a reel."
"We are able to drill across the street, in through the door, around through the window, into the dentist's chair and do a root canal if we need to," said Lachance, who is new to Alaska but said he's wanted to work here for the 36 years he's been in the oil business.
Production from the giant field atop Alaska has at times been "phenomenal," Lachance said. "It has a formation in it that's the subsurface equivalent of a superhighway" with oil sitting in huge pores that would "just come surging out" when they were tapped. "So we had multi-thousand-barrel-a-day oil wells when the thing first came on."
But there's less of that easy-flowing oil today. Remaining are isolated pockets of that oil, as well as the "viscous oil" that flows like "syrup" and is increasingly being tapped, and the "heavy oil," a substance as inert as "yogurt" that isn't currently economic to produce.Drilling into isolated pockets of oil and pulling out more of the viscous oil — and eventually the heavy oil — are ways to squeeze more crude from Prudhoe, he said.
With the tax cut's passage this spring, BP has won the support of the other producers to increase efforts to draw out more crude, he said. Five drilling rigs operated at Prudhoe Bay in 2012, a number expected to grow to nine by the end of 2016, he said.
Additional 1,600 barrels a day
Then there's the nation's second-largest oil field at the Kuparuk River Unit, operated by ConocoPhillips, with Exxon and BP as primary partners. Oil pools in Kuparuk are more fragmented, requiring more developmental drilling, Lachance said.
If Prudhoe oil flows on a superhighway, Kuparuk is the "equivalent of county lanes put together with stop signs," he said. But producers can also get more out of Kuparuk with the right technology under the right economic conditions, he said.
Conoco says it's trying to boost production there following approval of the tax cut. It recently brought an extra drilling rig to the Kuparuk unit — leading to a production increase of 1,600 barrels a day. Conoco plans to bring a second rig to Kuparuk in January, boosting the number of rigs at the field to five.
But those and other efforts won't lead to more production for Conoco beyond current levels, according to investor information available on the company website.
The 205,000 daily barrels of crude that Conoco produced on the North Slope in 2012 will fall by 2017, but only slightly, as new development programs and projects slow the field's long-term decline curve, according to a chart breaking down the company's worldwide production plans.
Meanwhile, Conoco's crude production will rise significantly elsewhere in places such as Canada, the Lower 48 and Europe.
State revenue forecasters have also recently predicted a continued drop in production, from 508,000 barrels per day of North Slope oil in the current fiscal year to 313,000 barrels per day in 2023. State officials have said they've been told about projects that might improve the forecast, but the plans aren't solid enough to be factored into the outlook.
There's also no discussion in the revenue forecast or the state's 10-year outlook of how Alaska will raise non-hydrocarbon revenues to make ends meet, once its blown through $17 billion in savings, a crunch that's arriving unexpectedly fast.
Contact Alex DeMarban at alex(at)alaskadispatch.com