Cook Inlet activity suggests boosted oil and gas production may be on the way for Alaska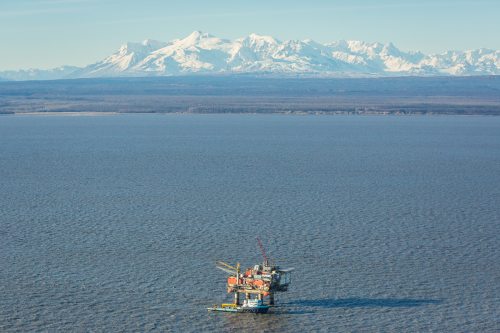 A subsidiary of Alaska's wealthiest homegrown corporation is expanding its footprint in Cook Inlet to support increasing industrial activity there, a sign that more good things may be on the way for the resurgent oil and gas basin in Southcentral Alaska.
Joe Lo Sciuto, president of ASRC Energy Services Response Operations, thinks so. An expected "renaissance of production" has prompted the spill response company to, among other things, join forces with Foss Maritime to build a special $15-million landing craft that can haul equipment and people for the industry.
"We're very excited about the future for Cook Inlet and what we see as a nice turnaround in the opportunities for producing energy out of it," Lo Sciuto said.
ASRC Energy Services Response Operations is a subsidiary of Barrow-based Arctic Slope Regional Corp., which reported $2.6 billion in revenue in 2012. The subsidiary is also part of ASRC's effort to create the second full-service dock in Nikiski.
Starting Jan. 1, the newly upgraded and expanded dock, known as the Rig Tenders Marine Terminal, will provide another option for vessels needing such things as a refuel, more storage space or equipment repair, he said.
Such projects are "good news" for the Kenai Peninsula Borough, which has already seen the assessed value of oil and gas properties on the Kenai Peninsula jump by 41 percent in the last two years, rising from $700 million to $990 million, said Paul Ostrander, chief of staff for borough Mayor Mike Navarre.
The borough is "cautiously optimistic" that those assessments will leap past $1 billion in the upcoming fiscal year as explorers and producers continue to invest in new and improved facilities.
Betting on increased production
To date, the Cook Inlet renaissance has largely been related to exploration, with activity up notably since 2010, when state lawmakers created generous tax credits and other incentives to lure companies to the once-flagging basin.
But the fruits of those labors — actual production — have been somewhat modest. Oil production jumped from 7,500 barrels in 2007 to 11,000 in 2012. And while natural gas production has increased, it's only enough to satisfy demand in Southcentral for another 3 1/2 years. If more gas isn't found, the region could again face the grim possibility of a gas-supply shutdown that leaves tens of thousands of Alaskans huddling in the dark without power and heat.
The state, which has encouraged ConocoPhillips to export natural gas from the inlet despite the limited supply, is also betting on increased production coming on the heels of additional investment by explorers and producers.
Helping drive that perspective is recent work by Hilcorp Alaska and Cook Inlet Energy, companies that have already boosted gas and oil production by revitalizing old wells, said Joe Balash, the state's Natural Resources commissioner.
Also providing confidence are announcements of large natural gas discoveries in the past two years — by Buccaneer Energy and by Escopeta Oil, now Furie Operating Alaska. Furie claims to have discovered about 750 billion cubic feet of natural gas in the Kitchen Lights Unit about 20 miles northeast of Nikiski. That's about 7 1/2 years of Cook Inlet's current production of about 100 billion cubic feet a year.
Furie is now applying for state permits to install a production platform next year to move the gas ashore. If it is built, it would be the first new production platform in the inlet since Osprey was installed by Forest Oil in 2000, said Bob Pawlowski, legislative and policy advisor for the state Division of Oil and Gas.
Furie this summer also provided the Natural Resources department with a statement of discovery for the Kitchen Lights find, a document required before the company can apply for generous state reimbursement of exploration costs. A statement of discovery is also required before Furie can apply for a reduction on royalty terms — the state usually takes 12. 5 percent of gas or oil produced — for gas produced from the discovery lease.
The work by Furie and others in recent years has led to busy times at the only full-service dock in Nikiski, run by Offshore Systems Inc. An official with OSI was not available to speak with the press this week.
Back-logs at the dock
Brad Kroon, a longtime employee of Cook Inlet Tug and Barge, said the OSI dock has been "super busy" in recent years and sometimes gets backed up. The delays can be costly for the oil and gas industry, especially if unfavorable tides and bad weather combine to extend the wait-time for more than a day.
Cook Inlet Tug and Barge was purchased in 2005 by Foss Maritime, the company that's joining forces with ASRC Energy Services Response Operations to build the landing craft.
As for the landing craft, the ASRC subsidiary and Foss Maritime are currently speaking with oil and gas producers and explorers in an effort to create a vessel that meets the needs of each company as much as possible, said Lo Sciuto.
"It's going to be designed to fit three or four loaders if that's what's needed, or sections of pipe for platforms, or equipment that can be run out to Drift River if needed," Lo Sciuto said.
The craft will be more than three times larger than two small landing craft already operated in the inlet by ASRC Energy Services Response Operations, said Lo Sciuto. Because of shipyard building schedules, the landing craft likely won't be ready until at least 2015, he said.
The new joint venture, announced in early December and called AES-Foss Marine, has also bid on other projects around the state in hopes of moving people and products, Lo Sciuto said. He would not say where because the winners have not been selected yet.
The joint venture won't sell and move fuel because parent companies are already in that business. ASRC owns Petro Marine, operating in Southcentral and Southwest Alaska, and Foss parent Saltchuk owns Delta Western, operating primarily in Southwest and Southeast Alaska.
Gary Faber, president of Global Service for Foss Maritime, said Foss and ASRC are uniquely positioned to benefit from continued growth in Cook Inlet. "We believe that the combined resources of ASRC and Foss can deliver unsurpassed service to the industry."
As for the newly improved and soon-to-open Rig Tenders dock in Nikiski, Lo Sciuto that is already heavily booked for next year. "We're working with our clients at the facility in Nikiski to make sure we have everyone slotted correctly because we have limited open slots for 2014," he said.
Contact Alex DeMarban at alex@alaskadispatch.com