Two northerners receive Order of Canada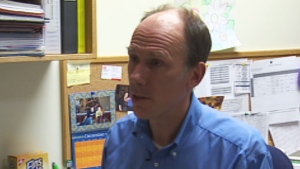 Two Northerners were among 90 people named on Monday to the Order of Canada, one of Canada's highest civilian honours.
Governor General David Johnston made the announcement in Canada's capital city of Ottawa.
Dr. Ewan Affleck is a general practitioner based in Yellowknife, the  capital city of Canada's Northwest Territories, but he travels across the territory to provide health care to patients in remote communities.
He says his passion is informatics, or how to use technology to make health care more efficient.
"There are huge opportunities right now to modify how we provide service and care, and we have to because we're going to go bankrupt if we don't, frankly," he said.
"We cannot continue to afford as Canadians the cost of health care. It's going to bankrupt us. So we have to be creative."
Affleck is also an avid cross-country skier and marathon runner.
Inuk artist recognized for contributions
Artist Elisapee Ishulutaq of the community of Pangnirtung in Canada's eastern Arctic territory of  Nunavut, has also been made a member for her contributions to the cultural and economic health of her community as a role model and mentor.
Ishulutaq has contributed drawings to both the tapestry studio and the print workshop in Pangnirtung for more than 40 years. She is last living artist who participated in the community's first print collection.
Two people with Northern connections have also been named to the Order of Canada. Keren Rice of Toronto has been made an officer of the order for her career spent researching and helping to preserve Athapaskan languages. Also, Morley Hanson has been honoured for his work as co-ordinator of Nunavut Sivuniksavut, a college program for Inuit youth.
The Order of Canada was established in 1967. The people appointed today will attend a ceremony in Ottawa at some point to receive their medal.
Related Link:
Nunavut resident to receive Canada's highest civilian honour, Eye on the Arctic