Waste pollutants: Discharge permits or pipeline for Alaska mine?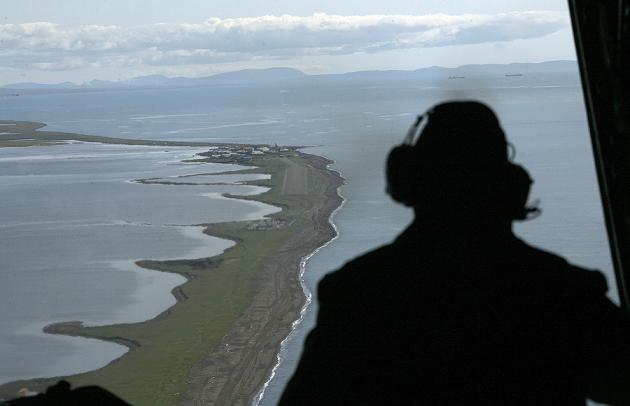 Wastes from the Red Dog Mine and its port will continue to flow into the creek alongside the huge lead-zinc mine in Northwest Alaska under new permits proposed by the state, despite a five-year-old pledge from the mine operator to build a 52-mile pipeline to avoid creek discharges entirely.
New draft permits issued Thursday by the Alaska Department of Environmental Conservation would authorize Teck Mining Ltd, Red Dog's operator, to continue using part of Red Dog Creek as mixing zones — areas where pollutant concentrations are allowed to be higher than the permit cap. The permits are up for public comment through Feb. 3.
The permits regulating wastewater discharges from Red Dog, one of the world's top zinc producers, set limits for a suite of pollutants that include metals, ammonia, fecal coliform and suspended solids.
State now has permit authority
Until recently, wastewater discharges in Alaska and their regulation were the domain of the Environmental Protection Agency, under the Clean Water Act.
Now DEC has the authority to issue the permits, thanks to a transfer of what the Clean Water Act terms "primacy." DEC won that authority from EPA in a takeover phased in from 2008 to 2012.
One of DEC's draft Red Dog permits issued Thursday — technically, a modification to a permit issued in 2010 by EPA and later modified by the federal agency — covers the mine itself. That EPA-issued permit is scheduled to expire in September, and the proposed modifications would not change the expiration date. The second draft issued by DEC is a proposed five-year renewal of the wastewater permit previously issued by EPA for the mine's port operations.
The significant change proposed by DEC is the addition of selenium to the list of substances allowed in mixing zones authorized by both permits. That change was sought by Teck as a result of the company's shift to production from its secondary Aqqaluk deposit.
Aqqaluk ore is slightly different from that in the now-depleted original Red Dog deposit, said Allan Nakanishi, mining section manager for DEC's wastewater discharge program.
"For one reason or another, there seems to be a higher level of selenium," Nakanishi said. Teck has not been able to keep levels of selenium in wastewater below caps established in the 2010 permit, so it asked for the modification, he said.
No mention of pipeline
The proposed DEC permits make no mention of a pipeline to carry wastewater from the mine, 52 miles inland, to the Chukchi Sea, bypassing Red Dog Creek entirely. So what happened to the pipe proposed half a decade ago?
The concept is still alive, say representatives of both sides of the litigation that produced the 2008 settlement.
The wastewater pipeline idea was touted then as the major long-term response to concerns about water pollution from Red Dog. The settlement, reached in September of 2008, resolved a civil complaint filed by five Kivalina residents over what they said were thousands of Clean Water Act violations over several years.
Teck, in a legal document filed two months ago, said it is still actively planning the wastewater pipeline. The company said, in a status report filed Oct. 31 in U.S. District Court, that as of mid-summer, it had spent more than $1.7 million on project studies and engineering. A final decision on whether to build it will come sometime in 2014, the status report said.
If Teck opts against building a pipeline, it will owe the federal government $8 million to $20 million in fines, according to the settlement.
Kivalina residents expect a pipeline
Kivalina residents and the local tribal council still expect a pipeline, said Brent Newell, the attorney representing the plaintiffs in the case.
"The settlement is still in effect," said Newell, an attorney with the San Francisco-based Center on Race, Poverty and the Environment. "The Kivalina IRA council has been very supportive of a pipeline and has been urging Teck to construct the pipeline, and remains optimistic that Teck will do so."
But do not look for a wastewater pipeline soon, regulators advise. A pipeline would require a full environmental impact statement and so far, Nakanishi knows of no applications filed to start that process. "There's no possible way for that pipeline to be constructed in three to five years," he said.
Contact Yereth Rosen at yereth(at)alaskadispatch.com