Alaska program hopes to help restore Tlingit language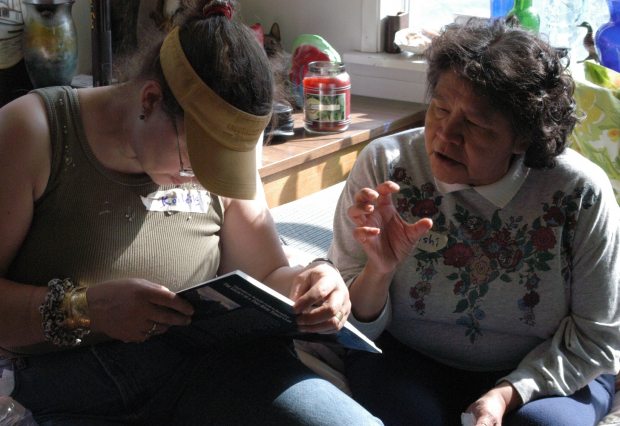 A three-year language mentorship program beginning in Southeast Alaska in August hopes to help revitalize the Tlingit language, classified as on the edge of extinction, by pairing fluent elders with advanced learners of the language.
On Tuesday, Sealaska Heritage Institute announced the six apprentice-mentor teams that will spend the next three years working together. Apprentices will be paired with elders in the communities of Sitka, Yakutat and Juneau, working toward fluency in the language.
Language restoration is invaluable for the Tlingit language. While there are an estimated 10,000 Alaskans of Tlingit descent in the state, only 200 speakers were identified in a November 2013 study. It's classified as a "moribund" language — defined as being at the point of death.
The case is the same for many other native languages in Alaska, with Central Yup'ik being a notable exception — nearly half of Central Yup'ik people were identified as speakers in a 2007 study. Still, that language is classified as "threatened," too.
Apprentice-mentorship program
Sealaska President Rosita Worl described the apprentice-mentorship program as an intensification of language preservation efforts by the nonprofit organization, which has focused for years on restoring Tlingit through a variety of programs, including its Latseen Hoop Camps — Tlingit immersion basketball camps — and its Latseen Leadership Academy.
In the upcoming Tlingit apprentice-mentor program, the apprentices are all working professionals involved in language preservation in schools, and the hope is they will bring that knowledge back to the classroom. Worl said she also hopes this program will aid in the development of learning materials that can then be replicated and used in subsequent years.
The three-year apprenticeship will begin in August. Mentor-apprentice teams will meet up for 10 hours a week through the end of 2014, then for five hours a week for the second and third years. In addition, the teams will attend a 40-hour immersion retreat each year. That means apprentices will have a total of 900 hours immersion for the duration of the program.
Hans Chester is one of the learners who will be undertaking the apprenticeship. Chester identifies himself as an advanced learner — he has been studying the language since 1996, when he took his first Tlingit class at the University of Alaska Southeast. "I really wanted to learn more about part of my identity," Chester said.
Now a third-grade teacher at Glacier Valley Elementary, he plans to use the knowledge in the classroom.
Language challenges
Tlingit is a tough language to learn, Chester said, as it uses many sounds that don't exist in English. Tlingit is also a tonal language, like Chinese — it has a high and low tone that change the meaning of a word depending on which tone is used.
"They say that Tlingit is one of the most complex languages, but we say we don't want to hear that," Worl said, as emphasis on the language's difficulty could dissuade folks interested in learning it.
Chester said he hopes that during his apprenticeship, he can focus on verbs and verb forms. There are "all these nuances I hope to pick up on just by being in the language," one-on-one with a mentor, instead of relying on books.
Chester sees schools as being on the forefront of language restoration; however, there's not enough money to go around. "A lot of it is tied to funding, and since we're expected to do it in the schools, then where's the funding for it?" he asked.
Then there's the bigger question: "How do we get the language back into the homes where it used to be?" Chester said.
Language legislation
The push for language revitalization saw some movement on both the state and federal levels earlier in the month.
In early January, state lawmakers pre-filed a bill ahead of the legislative session that would add the state's 20 indigenous languages to Alaska's official language list.
Made official if the bill passes would be Inupiaq, Siberian Yupik, Central Alaskan Yup'ik, Alutiiq, Unangax, Dena'ina, Deg Xinag, Holikachuk, Koyukon, Upper Kuskokwim, Gwich'in, Tanana, Upper Tanana, Tanacross, Han, Ahtna, Eyak, Tlingit, Haida and Tsimshian.
On the federal level, the Native Language Immersion Student Achievement Act introduced in the U.S. Senate last week would provide funding for Native American language education and development, curriculum development, and funding for training opportunities for teachers. The bill would appropriate $5 million to further these goals nationwide for FY15 and allow for subsequent funding for the next four fiscal years. The bill was co-sponsored by Sens. Mark Begich, Tim Johnson (D-S.D.), Jon Tester (D-Mont.), Max Baucus (D-Mont.), and Brian Schatz (D-Hawaii), according to a press release sent out last week.
In regards to the national legislation, Chester said while it "would help our situation, I don't think it's necessarily going to solve any issues that we have."
Alaska approach
In terms of state involvement, Worl pointed to the creation of the Alaska Native Language Preservation and Advisory Council in 2012, taking a statewide approach to language preservation. Connie Irrigoo, research analyst at the council, said it is looking at five main areas: funding for programs; research on good program practices; health and wellness, what Irrigoo called "overcoming historical trauma" due to historical oppression of the languages; policy; and language education from infancy to elders.
The advisory council is still in its beginning stages and has just drafted its preliminary findings on Alaska Native languages in the state. The council will eventually provide recommendations to present to the governor.
Worl called the advisory council a "real recognition" by the state that language restoration needs to be a priority.
Meantime, the Tlingit mentor-apprentice teams are preparing to begin their journey together. In Sitka, mentor Ethel Makinen will pair with apprentice Duane Lindoff, and mentor Anne Johnson will teach Jamie Bradley. Sitka Tribes of Alaska and Sealaska will partner to work with community liaisons Tristan Guevin and Heather Powell. In Yakutat, mentor Lena Farkas will work with apprentice Jaclyn Milton, and mentor Nellie Lord will teach Devlin Anderstrom. Yakutat Tlingit Tribe and Sealaska will work with community liaison Amanda Porter. In Juneau, mentor Selena Everson will teach Hans and Jessica Chester, and mentor Paul Marks will teach apprentices Ishmael Hope and Joshua Jackson. Marsha Hotch will be the community liaison.
Contact Laurel Andrews at laurel(at)alaskadispatch.com. Follow her on Twitter @Laurel_Andrews
Related Links:
Canada: Once-vibrant aboriginal languages struggle for survival in Canada, CBC News
Finland: Finland's Arctic languages under threat as Sami move south, Yle News
United States: Push to give Alaska Native languages official status, Alaska Dispatch