Inuk throat singer Tanya Tagaq on reclaiming Nanook of the North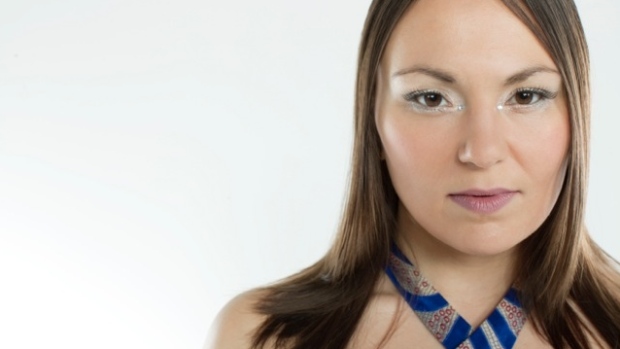 By Holly Gordon, CBC Music
Tanya Tagaq doesn't mince words.
Asked about her impressions of Nanook of the North, a 1922 silent film by American Robert Flaherty depicting Inuk Nanook and his family in northern Quebec, the Inuk throat singer from Cambridge Bay, Nunavut, gets to the point.
"They put a bunch of bullshit happy Eskimo stereotypes, you know what I mean?" she says, with a loud laugh.
Tagaq recognizes that Flaherty had a love for Inuit, and says the film does show the incredible resiliency of her ancestors. But, it's a film by a non-Inuit man depicting the traditions of the North; Tagaq considers it a film as seen through "1922 goggles."
In 2012, Tagaq finally got an opportunity to add a 21st-century filter to the out-of-date classic when the Toronto International Film Festival commissioned her to create a soundscape to accompany Nanook of the North, as part of the festival's film retrospective First Peoples Cinema: 1500 Nations, One Tradition. Along with composer Derek Charke, percussionist Jean Martin and violinist Jesse Zubot, Tagaq created and performed the soundscape at the 2012 TIFF.
When the performance was over, she wasn't prepared to let it go. "I just didn't want to stop doing it, so we've now got permission and we're touring it, which I'm very, very happy about," says the singer, who has worked with both Björk and the Kronos Quartet.
Tagaq kicked off a four-show tour of Canada yesterday, in Halifax, after performing Nanook three times in New York City earlier this month.
To describe her simply as a "throat singer" doesn't quite do Tagaq's unique talent justice. The performance is a visceral one: primal sounds, husky breathing and evocative vocal tricks all bring a beautiful balance to the film.
CBC Music caught up with Tagaq over the phone before she returned to Halifax, which is actually her undergrad stomping ground (Tagaq attended the Nova Scotia College of Art and Design when she was first developing her style of singing). She talked about reclaiming Nanook as a modern Inuk woman, and taking out her frustrations over stereotypes vocally.
You were commissioned to do this project for TIFF in 2012. Are you pushing it forward now with this iteration?
It's the same thing but it's also different every time because of improvising with my band. We have a beautiful backing track composed by Derek Charke, and he is a brilliant composer and I was really lucky to be able to work with him. And how we did that was, I watched the film four times, and responded vocally and composed my own melodies and stuff like that to the film. And then sent that all off to Derek and he took that and put field recordings over it from Nunavut. And he processed my voice and it's just a really nice kind of bed that we get to, like a sonic bed we get to lay on while we're improvising on top of it. It's fun.
You said you thought the movie was perfect to work with. How so?
There are moments in the movie where … my ancestors, they're so amazing. They lived on the land and I just still can't believe that. Growing up in Nunavut and just the harshness of the environment itself, the ability for people to be able to survive with no vegetation, and just the harshest of environments, it's just incredible to me. I'm very proud of my ancestors.
So that's one facet of it, but I'm a natural presenter, like I went to arts school, so I watched it and I was just like, "They put a bunch of bullshit happy Eskimo stereotypes," you know what I mean?
So I can respond to that as well, with finding some hardcore punk, kind of that feel, kind of put that sound all over it to make it clear. It's really nice because I can take my frustrations of stereotypes all over the world and take that energy and put it in sonically. I reclaim the film. Even though I have no doubt in my mind that Robert Flaherty had a definite love for Inuit and the land, it's through 1922 goggles. It's just nice to be a modern woman, well modern Inuk woman, taking it back.
You said you first saw the film when you were a kid, was that through school?
I think so, yeah.
Do you remember anything about how you felt when you saw it that first time?
I remember being really, really embarrassed and annoyed when he was biting on the record [there's a scene where Nanook laughs at a phonograph and bites on a record, as if he's never seen one before]. And there were a couple of scenes like that where I'm embarrassed and annoyed. Like I said, that's why it's great to sing over it.
I read that the record-biting scene was fake, too.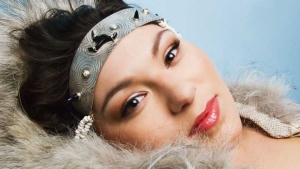 Yeah, like, "Look at these savage people that have no idea what this is, oh isn't that funny, they don't know." And it's like yeah, why don't we take someone living in England and put them on the land and laugh at them for dying in the cold? "Oh, he's being eaten by a bear."
I haven't seen the show but I've watched a couple of clips and it's breathtaking what you're able to do. But it also looks exhausting, because it's so emotional and so physical. How do you go through all of that in one show?
I find it's quite a lot, it's very cathartic for me. And it depends on the night. Like if I'm in a calm place and my babies are all happy and everything's great and my family's all healthy and everything's well and everything feels really calm and good, sometimes the show can just be very … like a soft wind, and it can be more melodies and more humming and a bit of … it can be very calm. So it's just when I'm tired or when I don't have that fire under my ass, it can be quite pretty. And that, to me, has equal reverence in my heart and in my life and expression. There's always the extrovert you that is out conversing with people, but there's the one with the reading glasses reading a book, and I think it goes to all places in my performance.
And it is exhausting, though; traditional throat songs are quite short. But sometimes it's like when you started running and you've been running an hour and you just stop feeling like you're running. It's kind of like that sometimes with the show.
… I know what I'm doing. I've been accused of making music for musicians. It's not palatable for everyone, and it doesn't bother me … I'm not trying to please people. If you came and thought it was shit, it probably wouldn't bother me.
I don't think that would happen.
You never know. I like really weird things.