Shell calls off 2014 oil exploration in Arctic Alaska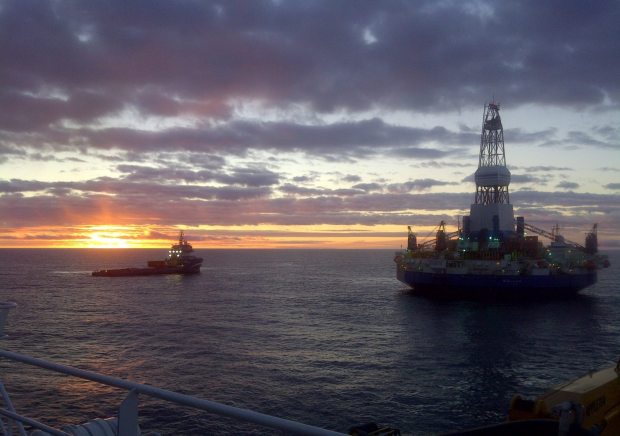 Royal Dutch Shell's new chief executive said Thursday the company is shelving its Alaska exploration program, at least for this year.
An appeals court ruling that faulted federal regulators' environmental analysis of Chukchi Sea oil development has created "substantial obstacles" to Shell's plan to drill exploration wells this year in that remote region off northwestern Alaska, the company said in a statement.
"This is a disappointing outcome, but the lack of a clear path forward means that I am not prepared to commit further resources for drilling in Alaska in 2014," Shell's new CEO, Ben van Beurden, said in the statement. "We will look to relevant agencies and the court to resolve their open legal issues as quickly as possible."
Suspension of Alaska exploration was described by Shell as part of a strategy to cut costs and focus on improved return on investments. The company said it plans to reduce capital spending in 2014 to $37 billion from the $46 billion spent in 2013. The company also said it will "increase the pace" of its asset sales, expected to total $15 billion in 2014 and 2015. Shell also suspended drilling in Alaska's Arctic in 2013, not long after a series of mishaps with its drill rig Kulluk.
Yet to be determined is what Shell will do in Alaska this year while it waits for questions about the lease sale to be resolved.
"Unfortunately, we don't expect we're going to be able to do much work in 2014," said Megan Baldino, the company's spokeswoman in Anchorage. "It's a disappointment for Shell and for many Alaskans who have been able to work with us for many seasons." During exploration and drilling two years ago, the company employed nearly 2,000 people in Alaska, including company employees and contractors, Baldino said. That dropped significantly last year when the company pulled back.
Last year, even though it deferred its planned 2013 drilling, Shell made some progress on its Alaska exploration program. The company conducted marine surveys around its Chukchi leases, arranged for a contracted drill ship to replace the damaged Kulluk drill ship and completed substantial revisions to its formal drilling plan.
Shell's decision will have an economic impact in the state. In 2012, the year Shell drilled in the Chukchi, "just shy of 2,000 people," both Shell employees and contractors, had jobs in Shell's Alaska exploration program, Baldino said. Of those, "nearly 800" were Alaskans. Baldino wasn't able to provide totals for 2013 but said the number would be much lower than 2012 because the need for contractors was significantly reduced from the prior year.
John Days, harbormaster in the Aleutian port of Unalaska, said Shell's decision won't significantly affect business at the port. Even though Unalaska was a vessel mobilization site for Shell in 2012, the port has abundant business from the commercial fishing industry, he said.
"It won't impact us because we're plenty busy here," he said.
Stakeholders react
In a statement Thursday morning, Alaska Sen. Lisa Murkowski, the top Republican on the Senate's Energy and Natural Resources Committee also linked Shell's move to the appeals court decision. ""I am disappointed that Shell will not be able to move forward with exploration this summer, but am not surprised given the 9th Circuit's decision and the administration's failure to provide regulatory and permitting certainty for oil development in the Arctic," she said. "We can't expect Shell to continue to spend billions of dollars on this project when the rules keep changing." In a press release, Sen. Mark Begich blasted what he called "judicial overreach" and also said he would talk to Interior Secretary Sally Jewell on Thursday, urging her to do everything possible to address the concerns the court outlined in its decision.
Gov. Sean Parnell, in a statement, called the news "a textbook example of how the federal framework can negatively impact our economy," but said he still believes that "offshore energy development will play an enormous role in Alaska's economic future" after Shell's short-term setbacks are overcome. "As we move forward, I am confident Shell can be part of Alaska's bright future," he said.
Rep. Eric Feige, R-Chickaloon, co-chair of the House Resources Committee, expressed displeasure at the news.
"To me it's a great disappointment," Feige said. "We have good companies that are trying to make investments in our state and our country, and our court system and our federal government is standing in the way."
Environmental groups hailed the move. Greenpeace International Arctic oil campaigner Charlie Kronick, in a particularly strongly-worded release, called Shell's work in the Arctic thus far a "mistake of epic proportions" and a "failure," and called on the company to go a step further and permanently scrap its Arctic ambitions: "The only wise decision at this point is for Mr. Van Beurden to cut his company's losses and scrap any future plans to drill in the remote Arctic ocean," he said.
A more measured response from the Ocean Conservancy's Arctic program director Andrew Hartsig applauded the move as "a smart and responsible decision," saying "a time-out on offshore drilling in the Arctic will give regulators and oil companies alike additional time to consider whether, and if so how, to move ahead in a safe and responsible manner."
An operation plagued by problems
Though it has spent about $5 billion to date on its campaign to explore for oil in offshore Arctic waters, Shell has been able to drill only the top portion of two wells, one in the Chukchi and one in the Beaufort.
The 2012 drill season was abbreviated by numerous troubles — equipment failures and flaws, encounters with ice and some environmental violations. The year was capped by the disastrous grounding of the Kulluk, the ship used to drill Shell's Beaufort well. The Kulluk, which was being pulled out of Alaska for off-season upgrades, escaped its tow in a Gulf of Alaska storm and grounded near Kodiak Island on New Year's Eve. The ship was so badly damaged that Shell announced late last year that it would not be put back into service in Alaska.
The company's revised drilling plan envisioned completion of the partially drilled well started in 2012 at the Burger prospect in the Chukchi, then completion of five more wells at the same prospect. Completion of all six planned Burger wells was expected to take more than one season, Shell said in its revised plan. No further Beaufort drilling was included in the revised plan.
Around the globe coverage of Shell's decision to drop its 2014 Alaska drilling program tended to focus on the fallout from the 9th Circuit Court of Appeals decision and the company's new CEO. Van Beurden took the reins earlier this month, notes a Financial Times piece on the decision, and his tenure has already been one of retrenchment for the Anglo-Dutch petroleum giant. Shell also plans to sell off assets in Brazil and a stake in an Australian project, Financial Times writes. The Wall Street Journal noted that van Beurden's decisions come at a time when the company's profits are dipping; earlier this month they issued what the Wall Street Journal called their "first profit warning in a decade." An Associated Press report, datelined from Amsterdam, noted that the company said investments going forward "would be 'dominated' by liquefied natural gas projects in places such as the Gulf of Mexico and Brazil." The AP also reported that shares of Shell were up 2 percent in early trading in Amsterdam following the news. Industry blog Fuel Fix points out that while Shell is the first and most active company in Alaska's offshore Arctic waters, ConocoPhillips and Statoil also have leases there, which will be subject to some of the same pressures — including critics among environmental groups and Alaska Natives, who worry about the environmental impacts of drilling in the Arctic and the possibility of a spill.
Lease sales still under review
"You would think that a company that went through a federal permitting process would have a project that was qualified and ready to go ahead," Feige said. He blames the courts for stonewalling Shell's Arctic operations. "It was a court decision made by some folks in the 9th Circuit Court, that we've always had problems with, quite frankly, in terms of our ability to move projects forward. It is an ongoing issue. You are not going to resolve it unless you change judges."
But the court ruling doesn't address Shell's permits at all. Rather, at issue in the legal dispute is the environmental study that, according to court rulings, should have preceded the 2008 lease sale, where companies spent a record $2.66 billion in high bids, about $2 billion of which came from Shell.
When environmentalists and Native groups filed their original lawsuit challenging the lease sale as rushed and inadequately analyzed, George W. Bush was president and the agency overseeing oil development in federal offshore territory was the Minerals Management Service, the predecessor.
U.S. District Court Judge Ralph Beistline in 2010 agreed with some of the plaintiffs' arguments and ordered the Bureau of Ocean Energy Management to do remedial environmental studies to correct omissions in the review issued before the 2008 lease sale. BOEM in 2011 issued a new environmental impact statement that ultimately won Beistline's approval.
But even that new study fell short, the 9th Circuit ruled last week, because BOEM made an unrealistic estimate about how much oil would be produced should Chukchi Sea development go forward.
That 1 billion-barrel estimate used by BOEM, the 9th Circuit ruling noted, had been criticized during the environmental review process by experts within the Department of Interior, as well as in public comments from outside the department. With recoverable reserves in the Chukchi estimated to be over 12 billion barrels, a 1 billion-barrel estimate dramatically understated the potential for oil platforms, support vessels and pipelines and other infrastructure that be placed in the region, as well as the potential for oil spills, the critics said.
Prior to past Chukchi lease sales, the MMS considered ranges of likely development scenarios, up to multiple billion barrels, the ruling noted. BOEM should have done so with its latest Chukchi analysis, the court said.
"We do not criticize BOEM's decision to estimate the total amount of economically recoverable oil from the lease sale. Given the uncertainties involved in the Chukchi Sea, BOEM had no choice but to make an estimate. But having decided that oil production was reasonably foreseeable, NEPA required BOEM to base its analysis on the full range of likely production if oil production were to occur. It did not do so here," the ruling said.
Contact Yereth Rosen at yereth@alaskadispatch.com
Related Links:
Canada: Drilling waste thawing and leaching into lakes in Canada's Far North, Radio Canada International
Norway: Norway opens Barents Sea area to offshore oil drilling in new move into Arctic, The Associated Press
United States: Shell details plans for drilling in Chukchi Sea off Alaska, Alaska Dispatch