A look at the controvery around development in Yukon's Peel watershed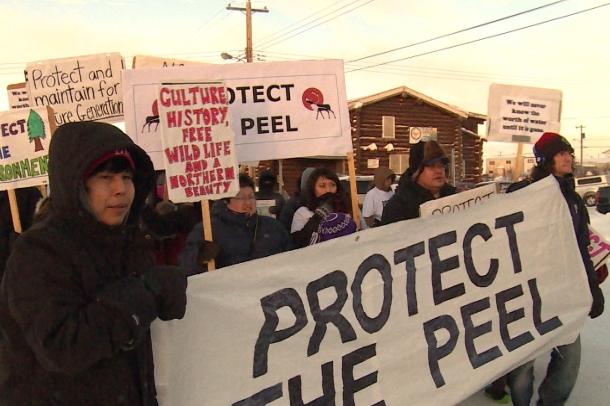 Protesters demonstrated in the northern Canadian territories of Yukon and Northwest Territories this week against plans to develop the Peel watershed.
The Peel Watershed is a wilderness area located in Yukon's northeast.
The Yukon government approved the development plan in January. It protects 29 per cent of the region, while allowing various levels of land use in the remaining areas.
"This remote area holds resources that have the potential to be of great value to Yukon's economy, both now and in the future," Minister of Energy, Mines and Resources Scott Kent said in a news release on January 21. "The plan recognizes existing mineral interests and accommodates future exploration, while giving the Yukon government the tools to manage the footprint of any new development and to protect ecological, cultural and wilderness values.
Controversy over the future of the region has been ongoing for years between First Nations and environmental groups that believe the area must remain protected business interests that to want to open the area up to industries like mining.
On Monday, the Nacho Nyak Dun and the Tr'ondek Hwech'in First Nations, the Canadian Parks and Wilderness Society Yukon and the Yukon Conservation Society filed a lawsuit in Yukon Supreme Court against the Yukon government over the plan.
They are asking for 54,000 square kilometres of wilderness in the northern Peel River Watershed to be protected from development.
"This is a lawsuit that nobody wanted to bring," said Thomas R. Berger, the lawyer representing the plantiffs said in news release on Monday . "But the Yukon Government has forced these plaintiffs to go to court not only in defense of First Nations and environmental values in Yukon, but also to uphold principles entrenched in the Constitution."
Peel Watershed - Quick Facts
Area: 67,000 km2
Nearby communities: Mayo, Fort McPherson, Dawson and Old Crow
Land: Majority of land is crown owned
Largest private landowners in planning region: Tetlit Gwich'in First Nation
Other First Nations with private lands in region: Na-cho Nyak Dun and the Tr'ondëk Hwëch'in
Source: Peel Watershed Planning Commission
Related Links:
First Nations, environmentalists sue Yukon over Peel plan, CBC News
Government of Yukon approves land use plan for public lands in Peel Watershed region, Yukon Government News Release