Changing sea ice may be spreading diseases among mammals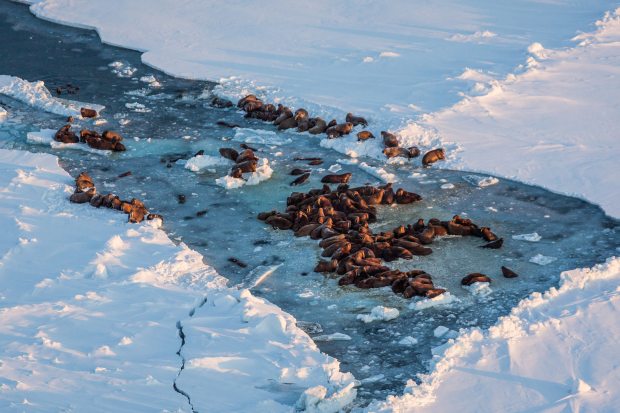 The warming climate is helping spread southern pathogens and diseases north, scientists have found. But what about northern pathogens and diseases that that are migrating south?
The melt of Arctic sea ice may be to blame, say scientists who last week presented findings about marine mammal diseases in the subarctic regions.
In one dramatic case, 406 gray seals were found dead in 2012 on Hay Island off Nova Scotia, scientists said. The culprit: a parasite to which ringed seals, which live farther north in the Arctic, have long been exposed and to which they have developed resistance, said Michael Grigg, chief of the molecular parasitology unit at the National Institutes of Health.
The gray seals died of a type of hepatitis caused by the parasite, Grigg and his colleagues said.
The pathogen has now been named Sarcocystis pinnipedi, after the scientific term for seals, Grigg and his colleagues said on Thursday, when they presented their findings at the annual meeting of the American Association for the Advancement of Science in Chicago.
The working hypothesis about how this seal disease spread, Grigg said, is that melting of sea ice has removed a key physical barrier that previously kept northern and southern animals apart. Now, as waters warm and southern animals chase the fish that are moving north, the southern and northern animals are mingling – and sharing pathogens that are new to each other, he said.
"That ice was that barrier that was allowing two populations not to mix. Now they're mixing," said Grigg, who is calling the change "The Big Thaw." He spoke at a news conference at the AAAS meeting.
Seals, sea lions, polar bears affected
Gray seals, which have been expanding northward following fish stocks, "represent a susceptible population that have not previously seen this pathogen that is endemic in the Arctic, and therefore do not have pre-existing immunity, or developed resistance to this new pathogen," he said in an email.
Seals are not the only animals affected. A western Alaska Steller sea lion found dead in 2004 succumbed to the same pathogen, and there are cases, documented from 2011 to 2013, of walruses and even grizzly bears living as far south as British Columbia that fell victim, Grigg said. Polar bears and Hawaiian monk seals have succumbed, too, he said.
At the same AAAS meeting, Grigg and his colleagues presented findings about a related parasite, Toxoplasma gondii, that has been found in beluga whales in the Canadian Beaufort Sea.
Toxoplasmosis — sometimes called "kitty litter disease" because the parasite is spread through cat feces as well as other ways — had not been documented in the Arctic prior to 2006, said Stephen Raverty, veterinary pathologist with the British Columbia government who has been testing hunter-harvested belugas for 14 years. The emergence in belugas has prompted health warnings to Inuit residents who eat subsistence-harvested belugas, Raverty said at the AAAS news conference.
The disease, if acquired by women while pregnant, can be transmitted to fetuses, causing spontaneous abortions or disabilities. The cause of the toxoplasma gondii spread is yet unknown, Raverty said.
Contact Yereth Rosen at yereth(at)alaskadispatch.com
Related Links:
Canada: Wildlife endangered by Yukon warm weather, CBC News
Finland: Farmers eye weather as harvest season approaches in Finland, Yle News
Sweden: Weather deals double blow to Sweden's timber industry, Radio Sweden
United States: Weather takes a toll on wildlife, environment in Alaska, Alaska Dispatch