Snowless winters could lead to summer frost in Finland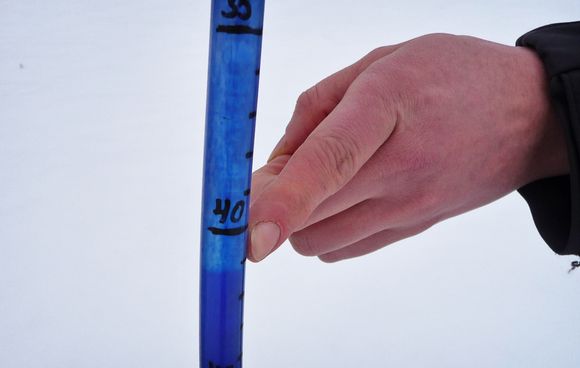 MTT Agrifood Research Finland has studied the consequences of snowless winters on Finnish fields and grains. The studies suggest that the combination of no snow and a cold winter could prove devastating to the countryside.
A lack of snow could postpone the thawing of the earth by up to two months, according to MTT, which has been studying the effects of snow cover on ground frost at the Halola research farm in Maaninka, northern Savo, a region in east Finland .
There a research plot was cleared of snow. According to Research Professor Perttu Virkajärvi, all plants in the cleared plot died, and the ground was frozen to a depth of two meters.
"The ground only started to thaw after midsummer. Normally the thawing starts around mid-April. The research clearly shows what a big significance snow has in relation to the physical structure of the earth, plants and microbes," Virkajärvi summarizes, continuing:
"If the frost melts before the snow, the run-off is small, as the water can penetrate the earth. But if the snow melts before the frost, the water runs along the surface of the earth, leading to harmful surface water load."
Researchers can measure both the depth of snow and frost with a frost tube, consisting of an outer and inner tube, which is filled with methylene liquid.
Snow: good insulation
The development of frost usually depends on the plants, as well as the way snow piles up in a given area. The frost tube itself also affects the measurements, a factor which is accounted for in the measurement methodology.
"At the moment there's quite a small amount of snow, so it's surprising that it's only around -3 degrees on ground level under the snow. With 40 centimetres, the temperature changes to zero, and with more than this it's a little above zero," Virkajärvi says.
Although the land may be frozen, it can still contain microbes.
"Loose snow insulates plants from the severest temperatures of minus 30 below. Wintering plants can take such temperatures fine, as long as there is snow," the Professor asserts.
Related Links:
Canada: Warm weather threatens ice road in northern Alberta, Canada, CBC News
Finland: Farmers eye weather as harvest season approaches in Finland, Yle News
Sweden: Weather deals double blow to Sweden's timber industry, Radio Sweden
United States: Weather takes a toll on wildlife, environment in Alaska, Alaska Dispatch