Dene woman wins award for preserving Aboriginal culture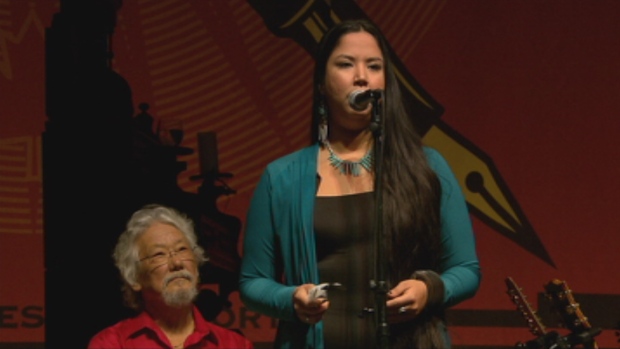 Even at 14, Kiera Kolson never shied away from speaking her mind.
Being part Gwich'in and Tso'Tine Dene, two First Nations groups from Canada's North, she learned early on the importance of maintaining her cultural roots.
"Throughout Denendeh, we have seven different tribes, individual nations, who have their own culture, their stories, their language, and I think right now there hasn't been enough concentration on preserving that identity for the generations to come after us," Kolson said.
That attitude is why Kolson was awarded the Jonathon Solomon Youth Activist Award by the Gwich'in Steering Committee, an international award that recognizes extraordinary youth who advocate Aboriginal rights.
Kolson's advocacy hasn't slowed down since her early teen years; last winter, she trekked to the North Pole to raise awareness about climate change in the Arctic.
Now, at just 28 years old, Kolson is being honoured for her life's work.
"She did that trek to the North Pole on skis and that really brought a lot of media attention and that stood out to us, so we really wanted to honour her for utilizing her voice and for taking that stand," said Princess Lucaj, the Executive Director with the Gwich'in Steering Committee.
Kolson says understanding her history has been an eye opener, and youth in the North have inspired her to continue to do so.
"It's really humbling to know that something you're so passionate about saving or maintaining is supported by your people," Kolson said.