Walkers warned: Finland's sea ice could be thinner than it looks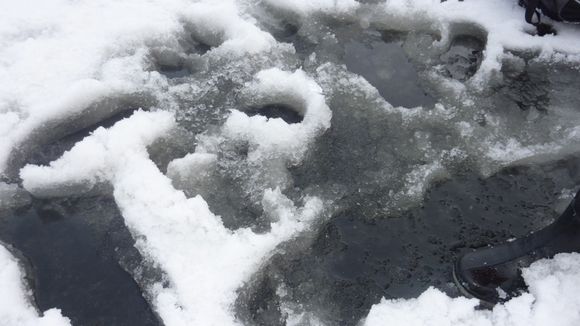 The Meteorological Institute is warning people against walking onto the ice covering coastal waters in southern Finland. Mild weather and fluctuations in the water level have made it difficult to measure the thickness—and therefore the safety—of sea ice.
Sea ice in the waters off southern Finland is more dangerous than it looks. That's the message from the Meteorological Institute, which says that the ice in many parts of the country is too dangerous to walk on.
Ice expert Jouni Vainio says that it has been difficult this winter to measure ice thickness, thanks in part to the mild conditions but also because water levels have been inconsistent. Currents can also weaken the ice in places.
"At the moment one cannot know, where the ice might give way and where it will hold," said Vainio. "Don't go on the sea ice unless you cannot avoid it."
If a trip onto the frozen sea is unavoidable, Vainio warns that the proper equipment is essential: waterproof clothing, a mobile phone in a waterproof bag and safety ice picks, which should be hung around the neck.
The Meteorological Institute says that the surface area covered by sea ice increased rapidly during the cold weather in January. On 7 February, some 100,000 square metres of coastal waters were covered by ice. Some 50,000 square metres remain as of 25 February.
Strong winds have caused pack ice to form in the Bothnian Bay, where nearly every ship now needs icebreaking assistance.
Related Links:
Canada: Wildlife endangered by Yukon warm weather, CBC News
Finland: Farmers eye weather as harvest season approaches in Finland, Yle News
Sweden: Weather deals double blow to Sweden's timber industry, Radio Sweden
United States: Weather takes a toll on wildlife, environment in Alaska, Alaska Dispatch