Chukchi Sea shoal newly closed to oil leasing is well known as biological hot spot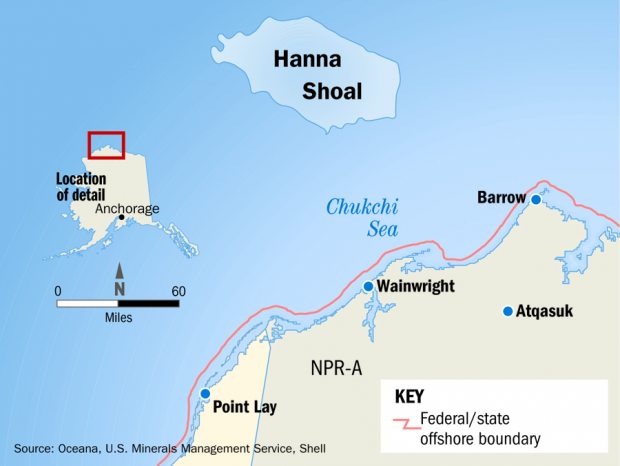 Hanna Shoal, a region of shallow water in the remote Chukchi Sea that President Barack Obama last week put off limits to oil leasing, has long been known as a biological hot spot in the icy Arctic Ocean.
The area is so teeming with marine life that walruses, even when forced onto land by a lack of floating sea ice, are known to make the nearly 300-mile round-trip swim to Hanna Shoal to feast on its abundant clams, snails and worms
"That behavior means to us that there's something that's important to them," said Chad Jay, a U.S. Geological Survey biologist who is part of a team studying walrusesby tracking the movements of radio-tagged animals and other means.
Scarcity of sea ice for resting has pushed walruses to shore in the fall, but fidelity to the Hanna Shoal area remains, even though the journey there and back can take as long as two weeks, he said. "Some walruses think it's worth it to make that really long trip," he said.
To some Alaska politicians, the president's order placing Hanna Shoal off-limits to future leasing, along with his decision to make more permanent the existing but temporary prohibition on leasing in four other offshore Arctic areas, was part of a "war on Alaska."
"This administration is determined to shut down oil and gas production in Alaska's federal areas — and this offshore plan is yet another example of their shortsighted thinking," Sen. Lisa Murkowski said in a statement. U.S. Rep. Don Young, in his statement, said Obama "has once again thumbed his nose at the Alaskan people as he opens another front in his ongoing war against our people, our communities, and our social and economic future."
While other offshore Arctic areas have been kept off-limits to leasing by both the federal and state governments, the protections for Hanna Shoal are new.
But the scientist leading a major study of the Hanna Shoal region said emerging information about the Chukchi Sea — some of which resulted directly from oil leasing — justifies some new protections.
"I wasn't expecting it, but I'm not surprised," University of Texas marine science professor Kenneth Dunton, chief scientist for the Hanna Shoal Ecosystem Study, said of President Obama's announcement.
A boon to marine mammal
As knowledge about the area grows, government and the oil industry should use it to guide proper management, said Dunton, who is leading the ecosystem study. The multiyear project is funded by the Bureau of Ocean Energy Management, the same agency that grants oil and gas leases in federal waters.
"The more information that they have, the better able they are to know the pros and cons of seeking oil in that part of the world," Dunton said. "If they didn't collect data, all they would be doing is a bunch of hand-waving."
The Hanna Shoal Ecosystem Study was launched in 2008, just after BOEM's predecessor agency, the Minerals Management Service, auctioned off Chukchi Sea leases for a record $2.67 billion. It is part of a larger BOEM "environmental stewardship" program operating in Alaska and in other outer continental shelf regions.
The Hanna Shoal team has taken two research cruises aboard the U.S. Coast Guard icebreaking cutter Healy. The scientists have used devices to pinch off small bits of seafloor sediment and taken core samples from deeper into the seafloor in order to acquire records of hundreds of years' worth of deposits there.
They have deployed underwater cameras to capture images, trawl gear to analyze fish stocks and buoys to measure water temperature, salinity, water direction and other characteristics. They have deployed an arsenal of equipment and are still analyzing the data of the area's biology, chemistry and physics, Dunton said.
Of particular interest is the way the ocean waters, carrying nutrients from the Bering Sea and elsewhere, swing around the shoal, a polygon-shaped feature that extends about 100 miles by 35 miles and rises about 50 feet up from a seafloor that is otherwise about 150 feet underwater.
"We've learned a lot more about the currents in the last two years than, I think, we have in the past 10," prior to that, Dunton said.
In deeper waters, the tiny organisms that are carried in by currents are consumed before they hit the bottom of the sea. Not so at the Hanna Shoal, where the bits of plant and animal matter, and the somewhat larger creatures that eat it, accumulate along the flanks of the large ridge on the seafloor.
"That's why the walrus are so happy, because there's an enormous amount of food at the bottom for them," he said. The biology appears to follow the physics, he said.
The very structure of the shoal is a boon to the walruses and the Chukchi Sea's seals because it helps preserve sea ice late into the melt season, Dunton and Jay said.
Sea ice that forms in fall and winter is more likely to reach all the way to it from the sea surface. That grounded ice melts more slowly, leaving the open-water season's last remnants of floating ice, he said. Above the shoal, there is ice "well into August, well into late August," Dunton said.
No-lease areas
The four other offshore Arctic areas on Obama's no-leasing list are the waters near Barrow and Kaktovik, where local residents conduct subsistence hunts; the waters of the Barrow Canyon, a deep formation off Point Barrow that serves as a major conduit for water between the Pacific and the Arctic oceans; and the corridor lying in federal waters between 3 and 25 miles off the Chukchi coastline, where bowhead whales regularly migrate.
Those areas had been regularly designed as deferral zones and omitted from past federal lease sales. The deferral designations were urged and supported by the North Slope Borough government, the Alaska Eskimo Whaling Commission, the Inupiat Community of the Arctic Slope and other groups — even the state of Alaska at times.
Obama's executive decision, which invoked his authority under the Outer Continental Shelf Lands Act, makes the temporary deferrals longer lasting, but they could be reversed by future presidential action.
The presidential action does not affect current leases. Ten blocks that were sold in the 2008 Chukchi lease sale are at least partially within the new Hanna Shoal protection area, according to BOEM. Three are held by Shell, which has an exploration plan pending for some of its other blocks, and seven are held by Spanish oil company Repsol, which has yet to file any exploration plan.
The state of Alaska, which controls territory up to 3 miles offshore, has regularly imposed similar restrictions on waters considered sensitive. Past Beaufort Sea state lease sales have designated offshore areas near Barrow and Kaktovik as deferrals to be kept off the auction block. The Alaska Division of Oil and Gas has never held any state Chukchi Sea oil lease sales.
Still, Alaska's all-Republican congressional delegation is furious at Obama's decision to establish no-leasing designations in federal waters.
"What we're objecting to is the removal of all of this potential off of the table," said Robert Dillon, communications director for the Murkowski-chaired Senate Energy Committee and a senior adviser to the senator.
"What is disturbing and upsetting is that these decisions have been taken away from Alaskans and made for them," he said.
Dillon accused the Obama administration of trying to limit Arctic offshore development to leases already sold.
And he blasted Obama for other policies — a newly announced proposal for wilderness designation in the potentially oil-rich Arctic National Wildlife Refuge and what he said were policies restricting oil development in the National Petroleum Reserve in Alaska.
"It's not any of these three things. It's the fact that all of northern Alaska is basically being shut down in federal areas," Dillon said. "The state's shutting down. You can't deny it."
But one Inupiat tribal official said the decision to remove offshore Arctic areas from the auction block was overdue.
"They should have this done before they started leasing out the lease areas and messing up all the feeding habitat," said Doreen Lampe, executive director of the Inupiat Community of the Arctic Slope, a tribal government.
The no-leasing protections are fair, considering that Endangered Species Act protections have been granted to some animals there and are being considered for others, Lampe said.
"Why are they putting all of these species on the endangered species list and have all of the burden placed on the Native hunters … and not some of the burden placed on the industrial side?" she said.
Her worry, she said, is that the no-leasing designations granted by Obama are not permanent enough.
"I hope it isn't changed at the whim of the next presidential election," she said.
Related stories from around the North:
Canada:  Canada ponders exceptions to relief well rule for Arctic oil drilling, Alaska Dispatch
Finland: Solar and wind power yield cheapest energy say Finnish experts, Yle News
Greenland: #SavetheArctic… from Greenpeace, Blog by Heather Exner-Pirot
Iceland:  From Arctic Circle 2013-2014, a big drop in the price of oil, Blog by Mia Bennett
Norway:  'Arctic oil is incommensurate with 2ºC target:' WWF, Barents Observer
Russia: Lukoil eyes new Arctic licenses, Barents Observer
United States: Arctic oil – still in the picture, Blog by Deutsche Welle's Iceblogger