Love keeps Iditarod mushers connected to Siberian huskies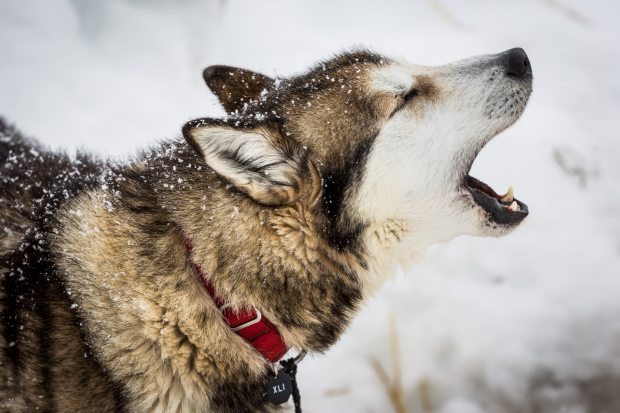 They're big, cuddly and fluffy, but don't be fooled by the package they come in; this breed is full of workhorses.
Or working dogs, to put it more accurately. The sturdy dogs, wolf-like in appearance, often with perky ears, curly tails, big paws and heavy fur coats, are probably what most outsiders think of when they think of sled dogs. Siberian Huskies are probably best known as emblems of the Iditarod Trail Sled Dog Race.
While the dogs used to be popular choices among the teams entered in the 1,000-mile dog sled race that runs from Anchorage to Nome each year, today that is far from the case. The Alaskan huskies most racers use are a mix of other northern non-northern breeds of dogs (officially, there are no breed standards for Alaska huskies). Alaskans are purely bred for speed and endurance, but registered Siberian teams are primarily bred to meet breed standards.
That means when it comes to racing competitively, you won't often see Siberian teams at the top of the podium. Instead, it comes down to a race within a race, with the Siberians racing against themselves. This year, there are only four 100-percent Siberian husky teams signed up to run the Iditarod.
But for the racers who compete with these dogs, that's not the point.
"I'm in dog racing for the dogs way more than the racing," said Two Rivers musher Mike Ellis in a short email sent earlier this month amidst training for the Iditarod.
Last season, Ellis, in his rookie run, placed 30th — still in the money — and shattered the Siberian race record by more than a day. He also holds the same record for the Yukon Quest, another 1,000-mile sled dog race. Ellis, who started racing in 1993 and moved to Alaska in 2007 with his wife Sue, has made good on keeping it all about the dogs. He and his wife have been honored with multiple veterinarian and humanitarian awards for their dog care.
This year he's back to follow up on his impressive rookie run. But ask him why he got into the racing the dogs and what sets them above the rest, the answer is pretty basic.
"I started with Siberians and fell in love with them. It's really pretty much that simple," he said.
An Inuit musher talks about  his relationship with his dog team (English with French subtitles)
All about the love
Love seems to be the primary driver for mushers who race Siberians.
Yvonne Dabakk, 31, lives just outside of Fairbanks, where she works at the University of Alaska Fairbanks studying the northern lights. Considering her line of work, it's hard to think of an Alaska setting more picturesque than mushing Siberian huskies under the aurora borealis.
Dabakk admitted earlier this week that it was a funny thing to think about, but that her passion for the dogs is more than picture-perfect.
After being introduced to dog mushing while finishing her Ph.D. on Norway's Svalbard Island in the Arctic, Dabakk was introduced to polar dogs through heavy freight dogs used for trapping in the region. Tangential to that, she acquired her line of Siberian huskies through a friend in Norway, started her kennel with her husband, Kenneth, and brought all 22 dogs back to Fairbanks last year.
Dabakk loves the breed because of some of the personality traits. They are hardworking, friendly, easy going, easy to maintain and fun to be around. She's always been drawn to polar dogs, she said, and Siberians were the best fit for her.
Most of her dogs are young — only two years old — and she is a rookie in the race herself. Her only goal this year is to get to Nome with 16 happy dogs, and she isn't out to break any speed records.
"It's really unfair to look at our team and see how Siberians perform," she said. "We're just like any team that goes in racing their yearlings."
Possible Iditarod champs?
So is it possible to for a Siberian team to win the Iditarod?
Lisbet Norris thinks that while it might be a lofty goal, it's not out of the realm of possibility.
"When people talk about what they're looking for in a sled dog — good feet, good coat, a good appetite, good drive to go," Norris said, "you just described the Siberian husky."
She said it comes down to a numbers game. There are only a handful of competitive Siberian husky kennels in the world, compared with the hundreds of Alaskan husky kennels. The dogs being bred in Siberian kennels are often more for show than for work, with speed being less of a goal. That means there's a less speedy pool of dogs to choose from.
For Norris, Siberians are in her blood. She and her family, who claim to operate the oldest Siberian husky kennel in the world out of their home in Willow, have been breeding racing dogs since 1947. Her grandparents, Earl and Natalie Norris, first homesteaded land in Anchorage that now houses the urban sprawl of the Dimond Center Mall. They even met through dog mushing in the 1940s.
Lisbet Norris said Siberians sometimes get a bad reputation for their size and speed. She noted that her dogs are only between 40 and 50 pounds — about the size of an Alaskan husky. When it comes to speed, she offered anyone who questioned how fast the dogs are to come meet her husky Victor, who can hit speeds as high as 17 mph (the fastest huskies generally maintain a trotting speed of about 10 mph in comparison.)
Norris isn't not crazy about the term "getting Sibed" which refers to a team of Alaskan huskies losing to a Siberian team. It's the mushing equivalent of the derogatory tease, "getting beat by a girl."
"If they are beaten by a Siberian team, maybe you should give those dogs a little bit of credit?" she said. "Maybe they got beat by a good team of dogs."
She said there's something about the dogs that evokes a sense of adventure. Norris said they're utterly suited for traveling in the North. They're happy, hardworking and loyal.
"For me, it's a no-brainer running these dogs," she said. "It's what we have, these dogs are part of my heritage.
"Plus, you use what you've got."
Contact Suzanna Caldwell at suzanna@alaskadispatch.com or on Google+
Related Links:
Canada: Q&A – Dog mushing in Inuvik, Canada, Eye on the Arctic
United States:   Ultra-athletic Alaskan sled dogs helping save soldiers' lives in Afghanistan, Alaska Dispatch