Quebec, U.S. soldiers train near Iqaluit, Nunavut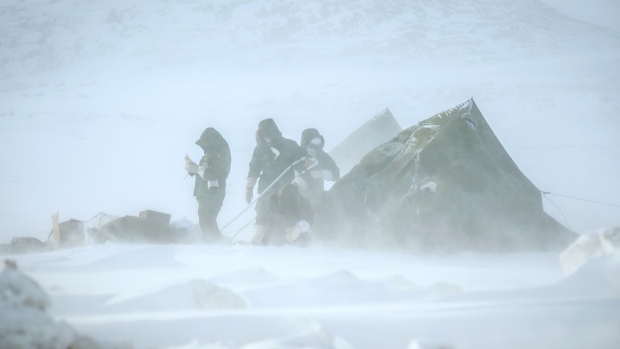 Reservists from Canada and the U.S. are facing some tough conditions near Iqaluit, the capital city of Canada's eastern Arctic territory of Nunavut, while taking part in a nine-day Arctic survival exercise with the Canadian Rangers.
Soldiers from Quebec's 35 Canadian Brigade Group and the U.S. National Guard are spending their fifth day outdoors as part of the exercise "Guerrier Nordique."
Lt.-Col. Richard Belanger says local Canadian Rangers are embedded in the group as guides and community liaisons.
Belanger says it's important for the Canadian Forces to understand how to conduct warfare and search and rescue operations in the far north.
"Just to learn how to move the company around in this environment is a challenge," he said. "And how to sleep and live in this style of environment is also a challenge."
Belanger said military personnel will spend all of their time outside, except when they are storing Ski-Doos, trailers, and other equipment in their hangar.
Sunday night, Belanger says the group slept outside when the temperature dipped to minus -48C.
Those temperatures are a far cry from Taylor Ward's home state of Vermont, where he is a medic with the National Guard.
"It's been a good experience in terms of learning how our equipment works," he said. "Hopefully this helps the army develop the clothes that work for this kind of environment."
But Ward had no complaints. He even seems to have developed a taste for Canadian military rations.
"They're definitely better than ours," he said. "A lot better ingredients."
The exercise wraps up on Sunday.
Related Links:
Canada:Canadian military practise landing plans on highway in North, CBC News
Finland:  US Army special forces in Finland for winter war games, Yle News
Norway: Norway's military intel chief admits to phone spying outside country, The Associated Press
Russia: Russia to reopen Soviet-era Arctic military base, Reuters
Sweden: NATO praises Sweden's defence, Radio Sweden
United States: Crews unearth military history on Alaska Glacier, Alaska Dispatch