Unanswered questions over Alaska natural gas project bill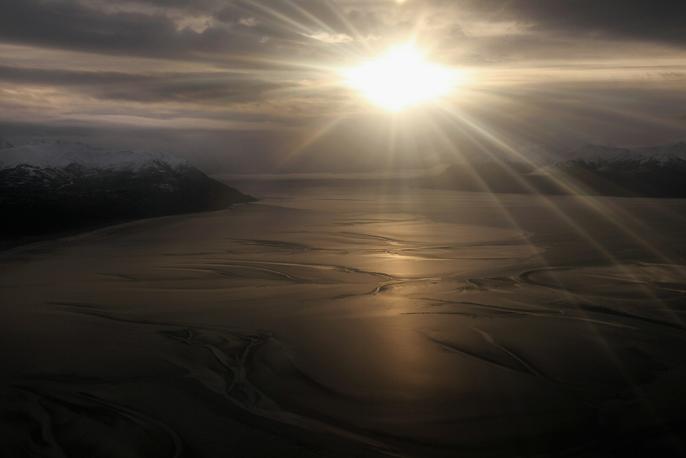 JUNEAU — Gov. Parnell's natural gas pipeline bill is marching though the legislative process, but those who will be asked to vote on it still appear to have little understanding of the bill's possible benefits to the state or the risks it entails.
But its supporters, like Senate President Charlie Huggins, R-Wasilla, said this effort will finally get Alaska the pipeline that it has long sought.
Huggins said he's watched four other pipeline efforts fail, including the selection of TransCanada to develop a pipeline under the Alaska Gasline Inducement Act, which he opposed.
But this latest plan, Huggins said, will succeed.
"This one I think is going to happen, and I think Alaskans believe that," he said.
Huggins is doing what he can to make Parnell's Senate Bill 138 move through the process. Despite the unanswered questions, the bill has moved out of the Senate Resources Committee, where only two of the committee's seven members recommended passage.
It is now in the Senate Finance Committee, and Senate leaders want to move it this week for a floor vote early next week. The House Resources Committee has already begun scheduling hearings for as early as Wednesday of next week.
Unanswered questions
Among the unanswered questions is whether the Parnell administration is correct that the state should own a portion of LNG pipeline project. That's called "equity participation" in industry vernacular, and would be a new position for the state.
If Alaska should own a share of the project, what percentage should it own, and at what cost? And how much could the state earn from that ownership and how much of that equity might be at risk?
While those fundamental questions are being addressed, others involved with the project are just as concerned about their own issues. Alaska construction contractors and labor unions want first crack at the work orders and jobs that would come with the megaproject.
And after years of battles to collect property taxes on the trans-Alaska pipeline, local communities want to make sure they are not limited by the state in their ability to tax a potential natural gas pipeline.
Rep. Scott Kawasaki, D-Fairbanks, questioned whether the speed at which the bill appears to be moving is limiting study of the pipeline plan.
"We want to make sure that we do our due diligence on this proposal," he said. "It is a multi-billion dollar proposal from the governor, and there are still a lot of unanswered questions."
"First, is ownership really a good idea?" he asked.
"There are a lot of questions," said House Minority Leader Chris Tuck, D-Anchorage. "There's a lot of risk, a lot of unknowns."
Answers sought
Members of the Senate Finance Committee who are currently hearing the bill said they also want answers to those questions, but did not say what they would do if they didn't get them.
Sen. Click Bishop, R-Fairbanks, said he'll make sure that local governments can collect property taxes, and that he intended to continue living in Fairbanks whether or not he remains a legislator.
"I just want to make sure I'm not tarred and feathered in my own community," he said.
At a public hearing Tuesday in the Senate Finance Committee, comments and questions from callers around the state made it clear there were many unanswered questions from the public as well.
Kawasaki questioned whether the remaining unknowns could be properly addressed with nearly half the legislative session already gone by.
"I don't know that we'll be able to finish in the timeline, with the 47 days we have left," he said.
But the structuring of a project that is expected to provide for the state for the next 50 years can't be rushed, he said.
"I think we need those answers, there are still too many questions that remain unanswered from the administration," Kawasaki said.
But he also said he did not want the 90-day legislative session extended.
Tuck said it might already be too late to complete the necessary review of the project.
"We definitely need to get the answers," he said. "Will it take a special session? Maybe."
He also said the Legislature could also take up the project next year.
But Huggins urged pressing ahead with approval of Senate Bill 138, despite the lingering questions.
As an example, while the property tax questions aren't decided, Huggins said his own borough's mayor, Matanuska-Susitna Borough Mayor Larry DeVilbiss, told him he was confident the Legislature would make sure the borough would be treated fairly.
Decisions made this year won't be final, Huggins said, but he urged legislators and the public to push forward with getting Alaska a natural gas pipeline.
"We have to have a bit of courage," he said.
Contact Pat Forgey at pat(at)alaskadispatch.com
Related Links:
Canada: Natural gas price hike sparks anger in Northern Canadian community, CBC News
Finland: Finnish Foreign Minister on the Nordic model and the Arctic, Blog by Mia Bennett
Norway: Norway's election result and the implications for the Lofoten Islands, Blog by Mia Bennett
Russia: Natural gas to transform Teriberka, Russia into a paradise?, Radio Sweden
Sweden:  Commercial shale gas drilling a possibility in Sweden, Radio Sweden
United States:  Alaska plan to export North Slope gas draws support, criticism, Alaska Dispatch