LNG terminal in northwest Russia to be built with Japanese funds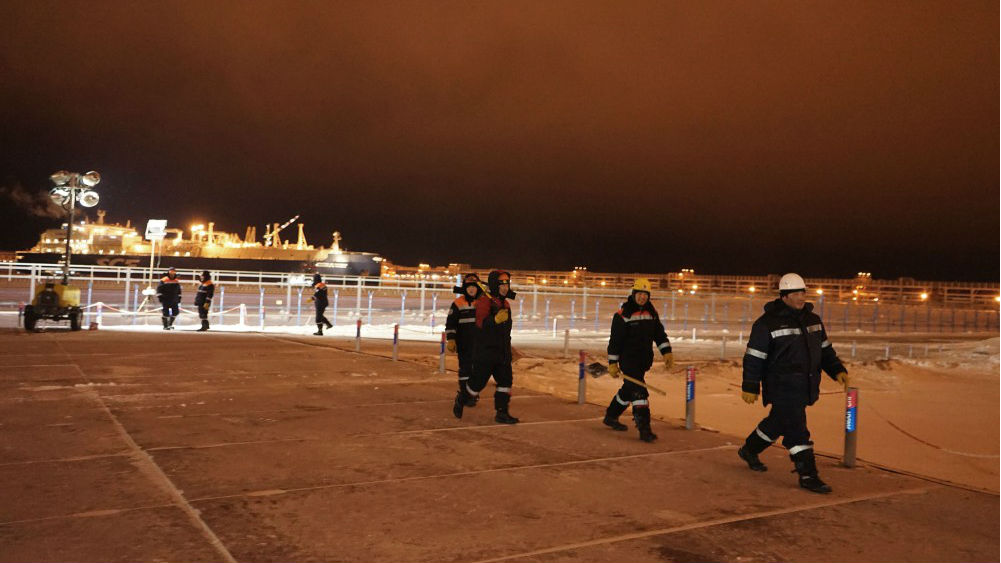 Companies Mitsui O.S.K. Lines and the Japan Bank for International Cooperation (JBIC) strike deal with Novatek over a LNG reloading complex in the bay of Ura Guba.
The agreement signed by company leaders in Tokyo this week includes the parties' "intent to jointly develop project on construction of reloading complexes for LNG in Kamchatka and Murmansk Oblast," a press release from Novatek reads.
Included is both financing and stakes in the projects, the company confirms.
Both terminals will serve Novatek's Yamal LNG project, as well as the upcoming Arctic LNG 2. They are believed to have the capacity to handle up to 20 million tons of LNG per year. Ice-class tankers will shuttle between gas extraction areas in peninsulas of Yamal and Gydan and to the new terminals and from there further to the consumer markets.
"The construction of complexes for reloading of LNG in Kamchatka and Murmansk allows us to optimize transport logistics and make deliveries of LNG from Yamal and Gydan to the key markets in the Asian-Pacific region as efficient as possible," CEO of Novatek Leonid Mikhelson says in a comment.
The deals are likely to be fully finalized in the course of the year, he explains.
Arctic cooperation with Japan
A comprehensive cooperation between Novatek and Japanese partners has been established over several years. In 2016, the company signed a MOU on strategic partnership with the Japan Bank for International Cooperation (JBIC) and this summer the Mitsui & Co and Japan Oil, Gas and Metals National Corporation (JOGMEC) acquired a 10 percent stake in the Arctic LNG 2 project.
Japan will also be a key buyer of the LNG produced in the Arctic projects.
Terminal in Ura Guba
The two transit terminals for LNG will be crucial infrastructure hubs for Novatek's Arctic exports. Their development was announced in August 2018 and have since been key parts of the company's Arctic planning.
The terminal in Murmansk will be located in the Ura Guba, just few kilometers from the Northern Fleet's naval base of Vidyaevo. It is to come in operation in year 2022.
Leonid Mikhelson in August this year confirmed that  the project "has been approved by the Ministry of Defense and all other parts."
"There are significant capital investments included," he underlined.
The Ura Bay is ice-free year-round and considered among the most favourable spots for shipping and logistics on the Kola Peninsula. In the mid-2000s, company Gazprom long considered to build a hub for its projected Shtokman field in the area.
The nearby Navy base today houses several nuclear-powered submarines, including Sierra-II and Victor-III vessels.
The Novatek leader has previously indicated that French company Total will get a leading role in the project and that it ultimately could get operator responsibilities for the new infrastructure object.
Related stories from around the North:
Canada: Canada's new Arctic policy doesn't stick the landing, Blog by Heather Exner-Pirot
Norway: Another dry well for Norway's Equinor in promising Arctic area, The Independent Barents Observer
Russia: Shipping growing in Russia's Arctic ports, The Independent Barents Observer
Sweden: Local workforce won't be enough for future battery factory in northern Sweden, Radio Sweden
United States: Seattle council votes to withhold business from oil companies that explore Arctic Refuge, Alaska Public Media