2 ConocoPhillips trucks tip on winter road in Canada's North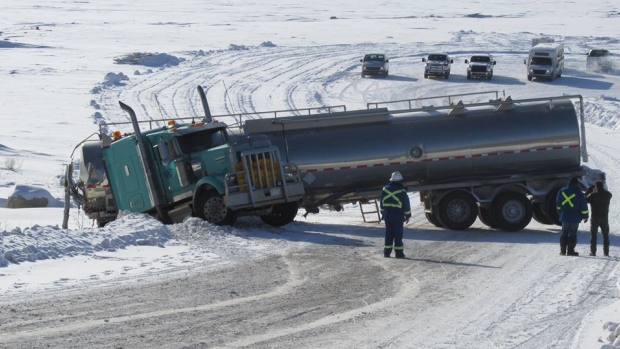 Two trucks carrying a mix of water, chemicals and sand that was used at ConocoPhillips' fracking project in Canada's Northwest Territories (N.W.T.) slid off the Sahtu winter road in the past week.
Both were transporting the fluid south to a disposal facility outside the territory.
The first rolled onto its side Friday as it approached a bridge 142 kilometres north of the community of Wrigley. The second jack-knifed into a ditch in the town of Norman Wells on Monday.
ConocoPhillips and the N.W.T. Department of Transportation say there were no spills or injuries.
A month ago, an above-ground pond holding freshwater for fracking gave out, spilling the 2,700 cubic metres it was holding. There have also been small wastewater spills and one injury on site this season.
The Sahtu winter road is now under a night-time only travel restriction for large trucks.
Related Links:
Canada: Climate Change to Ravage Arctic Ice Roads, CBC News
United States:Ice-road construction reaches new levels in Arctic Alaska, Alaska Dispatch
Russia: Siberia's ice road truckers: 'A way of life,' says writer, CBC News