Canadian politician challenges moral basis of EU seal product ban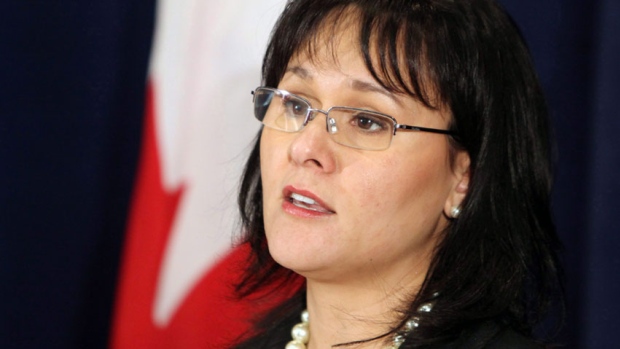 The World Trade Organization's recent decision to uphold a four-year-old European Union ban on seal products has set a dangerous precedent for future trade relations, Canada's northern development minister said Monday.
Leona Aglukkaq, speaking after she made a presentation to a WTO appeal panel in Geneva, said the trade organization was wrong to cite moral grounds in its ruling late last year.
Aglukkaq said the ruling should be struck down because it unfairly discriminates against Canadian seal hunters while allowing the EU to ban products from any type of business that involves the killing of animals, including the beef and poultry industries.
"It doesn't stop anyone else from coming in and saying, it's morally wrong to hunt deer or whatever it may be, without any science, without any justification on whether it is humane or sustainable," the minister said in an interview.
Canada and Norway are in the process of appealing the WTO's landmark dispute-settlement ruling, which concluded in November that while the ban undermines fair trade, the restrictions can be justified on "public moral concerns" for animal welfare.
Aglukkaq repeated the federal government's long-held view that the seal hunt is humane, sustainable and well-regulated.
"It sets a dangerous precedent in that we are no longer making decisions based on conservation and science, but (instead) on the basis of morals," she said. "If someone in Newfoundland said cod is a cute fish that we should stop fishing because it's morally wrong … that's exactly what is happening here."
As well, the minister said even though the EU has provided an exemption for the Inuit, the broader ban has effectively killed their markets anyway.
Ruling expected in April
Rebecca Aldworth, head of the Canadian wing of Humane Society International, said the WTO based its initial ruling on five decades of veterinary science that suggest seals are often killed inhumanely.
"There are equally compelling arguments that Europeans find this morally objectionable and don't want those products on their market," Aldworth said in an interview from Montreal.
The three-day WTO appeal hearing wraps up Wednesday and a final ruling is expected next month.
Aglukkaq said the WTO process has cost taxpayers more than $300,000 so far, and she doesn't expect the total bill to exceed $500,000.
If Canada succeeds in having the ruling overturned, the European Union will have the option of amending its legislation or offering compensation to Canada and Norway, Aldworth said.
If the WTO rejects the appeal, the Canadian sealing industry and Inuit groups will push ahead with a legal appeal that is working its way through the European Court of Justice.
The Fisheries Department says the hunt employs about 6,000 people on a part-time basis, virtually all of them in Newfoundland and Labrador.
Dion Dakins, chairman of the Ottawa-based Seals and Sealing Network, said the industry generated about $10 million in economic activity last year.
The 2010 EU ban has hurt Canada's 300-year-old commercial sealing industry, which landed 38,000 harp seals in 2011, less than 10 per cent of the total allowable catch. About 70,000 seals were killed in 2012 and another 91,000 last spring.
Related Links:
Canada:  Inuit leaders blast EU seal ban as appeal underway in Geneva, Eye on the Arctic
Greenland: What the EU seal ban has meant for Inuit communities in the Arctic, Eye on the Arctic