Concerns in Sweden over Finland nuclear plan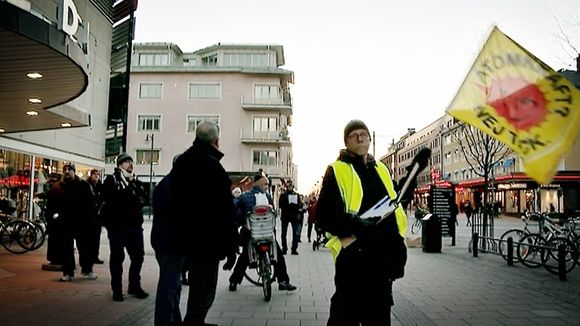 The planned Fennovoima nuclear reactor on Finland's northern west coast is arousing stiff opposition across the Gulf of Bothnia in Sweden.
There were demonstrations in the centre of the Swedish coastal city of Luleå on Monday before a public hearing on the proposed Fennovoima nuclear power plant in Pyhäjoki, near Raahe, Finland. It lies 155 kilometres from the Swedish coast.
Local opponents are focusing on the strong role of the Russian state-owned company Rosatom in the venture.
At the event, Esa Härmälä, Director-General of the Energy Department at the Ministry of Employment and the Economy, denied that Finland is outsourcing its energy needs to Russia.
Nici Bergroth, an Engineering Manager at Fennovoima, stressed that the project is majority Finnish-owned.
"There are efforts underway to expand the Finnish share of ownership," she added.
Finnish firms now own a razor-thin majority of 50.2 percent of the project's shares, while Rosatom owns 34 percent.
Swedes' views as important as Finns'?
Härmälä notes that venture is being overseen by the Finnish Parliament, which is expected to vote on the revised plan next autumn. That follows a change in the size and type of reactor, and the replacement of German utility E.ON with Rosatom.
"Certainly the Swedish views that come as a result of this process will be studied and analysed just as seriously as Finnish views," Härmälä asserted.
Protestors are worried about the possible environmental impact on the Swedish side of the Gulf – and some are calling for a more fundamental rethink.
"We have to create a new, sustainable energy system that is not based on the goal of perpetual growth," activist Per Holmqvist from the anti-nuclear group Kärnkraftsfritt Bottenviken (Nuclear-Free Gulf of Bothnia) told Yle.
Related Links:
Canada:Canada's Northwest Territories unveils ambitious energy plan, CBC News
Finland: Fennovoima permit changes face stiff opposition in Finland, Yle News
Sweden:Sweden shares top global energy ranking, Radio Sweden
United States:Ex-commissioner calls for Alaska energy mega-projects analysis, and 'call bluff' on North Slope gasline, Alaska Dispatch