Blog: Russia puts countries on edge in the Arctic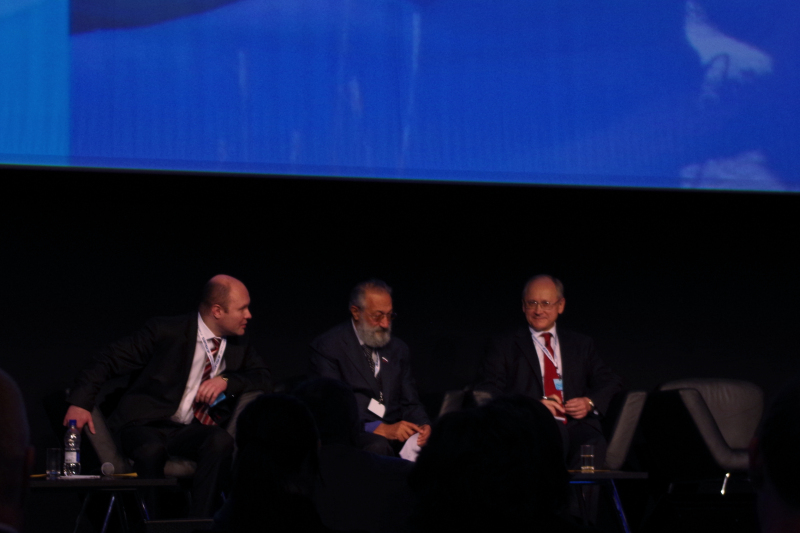 The Arctic has been one of the bright spots in cooperation between Russia and the West for several years now despite occasional controversies such as the planting of the Russian flag on the seabed underneath the North Pole in 2007.
Russia and countries like the U.S., Canada, and Norway work together in the Arctic Council on issues ranging from oil spill response to search and rescue coordination. The U.S., Canada, and Russia even carry out an annual trilateral military exercise called Operation Vigilant Eagle, which simulates a hijacking of a commercial airliner.
Yet the biggest crisis in relations between Russia and the U.S. and Europe since the Cold War may bode ill for the Arctic. For starters, Canadian Prime Minister Stephen Harper just announced that Canada would be pulling out of Operation Vigilant Eagle and suspending all other military cooperation with Russia. (I've also already detailed the somewhat positive consequences that Crimea could have for Arctic gas development turn in relations here and here.) Although it seems that there is a desire among bureaucrats and diplomats to keep tensions on the continent between Russia and the West from spilling over into the Arctic, from the vantage point of certain higher-level European and American officials, this seems like a lost cause.
Clinton on the Arctic
On March 18, speaking to a sold-out audience in Montreal an event on gender and the economy organized by the city's Board of Trade, former U.S. Secretary of State Hillary Clinton still managed to talk about the Arctic and Russia. She noted that Russia has "been aggressively reopening military bases" in the Arctic. Clinton added, "The country recently imprisoned several Greenpeace activists and regularly sends military air flights over parts of Canada and Alaska, 'testing our responses'…We need a united front." (Source: The Globe and Mail).
Clinton's remarks seem somewhat pandering given that they were made to an audience in Canada, where there is a stronger association with the Arctic as part of a national identity than in the U.S. Russia has not been the only country building up its military forces in the Arctic. Since he entered office, Canadian Prime Minister Stephen Harper has endeavored to increase Canada's capabilities in the North, though with less success than President Putin. In 2009, Norway moved its joint headquarters to Reitan, a town in the country's High North, outside of Bodø. Norway also recently accepted delivery of a hull built at a shipyard in Romania for a new reconnaissance ship it is building for intelligence-gathering operations in the Barents Sea. Lieutenant General Kjell Grandhagen expressed in a statement, "This is an important project to ensure Norway's interests in the North. Control of development there is strategically important for Norway. Parliament's decision to invest in a new intelligence vessel is a signal that a continuing Norwegian presence in northern areas is a high priority." On top of Norway's activities, the day after Clinton gave her speech in Montreal, the U.S. began Operation ICEX 2014 with two submarines carrying out exercises around Prudhoe Bay, Alaska in the Arctic Ocean. Yet Clinton did not speak in stark and ominous tones about Norway.
A look at Norway
Just because countries are increasing their military and constabulary capabilities in the Arctic does not necessarily spell danger for international relations. At the same time as Norway is developing a more muscular northern presence, they are also pursuing enhanced cooperation with Russia. Russia's Ambassador at Large for Arctic Cooperation and Senior Arctic Official Anton Vasiliev noted in an interview with ITAR-TASS that managing the increasing activity along the Northern Sea Route would be "complicated to do this without help from the military" and that "higher attention from the Arctic Council member states towards the military factor in the Arctic should not be considered as militarization" (source: Barents Observer). As such, Clinton's rhetoric pitting the U.S. and Canada against Russia may actually serve to fan the flames more than, say, a new ship or station in the region might, which actually might be helping to securitize, rather than militarize, the region.
At the Arctic Dialogue conference in Bodø, Norway earlier this week, Norwegian Foreign Minister Ingvild Næss Stub chastised Russia's actions on Crimea from the podium. Even as she lauded the many Russian (and Ukrainian) students in the audience, recognizing, "You are the proof that it is possible to have dialogue and cooperation," many of them still booed for her criticism of Russia. As quoted in an article in Nordlys, a newspaper published out of Tromsø, a student from Arkhangelsk said that Næss Stub's comments came at the wrong place and wrong time. "This was just a condemnation and no dialogue," the student explained, ironically enough at a conference with the word "dialogue" in its very title.
Is Arctic cooperation threatened?
After Næss Stub's speech, Icelandic President Olafur Ragnar Grímsson warned at the same conference, "We would not need more than an hour to destroy Arctic cooperation." He elaborated, "The model the Arctic countries have created together over the past twenty years is the only model of success when it comes to cooperation between nations in the north since the end of the Cold War. Therefore, one should be very careful with the way they bring each country's conflicts into this kind of dialogue." Drawing a stark contrast with Clinton's remarks the day before in Montreal, Grímsson underscored, "We must be very careful to split the Arctic cooperation in groups. It serves no purpose." The Icelandic President is a strong proponent of opening up the Arctic to more countries and more southern latitudes. Grímsson, for instance, is one of the main backers of the Arctic Circle conference – initially posited as a potentially larger and more inclusive rival to the Arctic Council. His country was also the first European nation to sign a free trade agreement with China. Highlighting his penchant for fostering Iceland's ties with Russia, while speaking from the Sochi Olympics, Grímsson called St. Petersburg an "Arctic capital." Grímsson and Putin also exchanged positive views on relations between their two countries at the International Arctic Forum in Salekhard last September, with Grimsson citing the new direct Icelandair flights between St. Petersburg and Reykjavik as evidence of the burgeoning ties.
So will tensions with Russia turn the U.S. and Canada into holding a "united front" against Russia, or will the region follow Grímsson's recommendations to strive for multilateral cooperation involving the entire region and beyond? In Montreal, Clinton expressed, "I hope there is not another Cold War. Obviously, nobody wants to see that. I think that is primarily up to Putin." But it's not really just up to Putin. It is up to all of the movers and shakers in the Arctic to try to contain the geopolitical conflict on the Black Sea to ensure that it does not spill over to the Arctic Ocean. The smaller countries like Iceland and Norway probably realize more than the U.S. that Russia is arguably the most powerful and capable country in the region. Any region-wide solutions to challenges in the Arctic will have to involve the Russians, as offensive as its actions in Crimea might be to American sensibilities and international law in general. The U.S. and Canada, despite their shared coastline and cooperation within the North American Aerospace Defense Command (NORAD), cannot solve all the Arctic's problems without the help of Russia, as difficult a proposition as that might sound at the moment. The region will suffer environmentally, politically, and economically if it reverts to being a frozen, Cold War-era no man's land.
This post first appeared on Cryopolitics, an Arctic News and Analysis blog.