Canada's Sahtu ice road could close any day: officials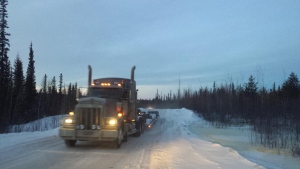 The Department of Transportation in Canada's Northwest Territories is warning drivers that the Sahtu winter road could close at any time.
Officials say the road is rapidly deteriorating and people have to start planning for its closure.
The department says despite colder temperatures in the Mackenzie Valley, bright sun and heavy traffic mean the road could be closed in less than a week.
Officials hope to give drivers at least three days notice before they close it, but they say that may not be possible.
Related Links:
Canada: Winter road restrictions criticized in Canada's N.W.T., CBC News
United States:Ice-road construction reaches new levels in Arctic Alaska, Alaska Dispatch
Russia: Siberia's ice road truckers: 'A way of life,' says writer, CBC News