Arctic sea ice sends mixed messages about how rapidly it's melting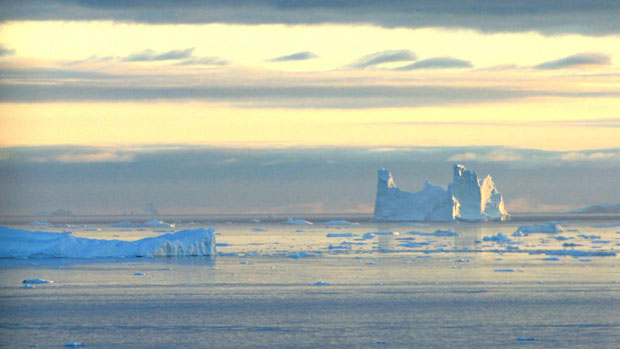 Arctic sea ice reached its maximum annual coverage two weeks ago, hitting a peak of 14.8 million square kilometers (5.7 million square miles) on March 21, the spring equinox, according to the National Snow and Ice Data Center.
The ice cover was the fifth-lowest maximum since satellite records began in 1979 and fits a long-term pattern of decline, the center said.
March conditions send mixed messages about what will happen later this year when sea ice shrinks to its seasonal minimum, the milestone that is much more important to biological and climate trends, said the director of the Boulder, Colo.-based center.
"It's saying one thing. It's saying that just in terms of what we're expecting this summer, we're already starting off on a bad foot," said Mark Serreze, the snow and ice center's director.
On the bright side, there's a higher proportion of multiyear ice compared to last winter. Some 43 percent of the ice was more than a year old, compared to only 30 percent last winter. Much of that older and thicker ice dates to the freeze-up that followed the record-low ice coverage in 2012, making that ice only 2 years old, Serreze said. "Multiyear ice has recovered a bit, and that's basically by default," he said.
The overall winter ice extent has been measured since 1979 by satellite in a way that considers solely the coverage on the sea surface. Extent is only one factor that determines how far the ice will recede in the warm months to come. Ice thickness is another.
The big wild card is summer weather, which can hammer or spare sea ice, depending on how high temperatures rise and how the winds blow. Short-term predictions about summer ice melt have been unreliable, according to a study published online this week in the journal Geophysical Research Letters.
VIDEO: How Canadian Inuit are helping to monitor ice changes in the Arctic
When there are large deviations from long-term patterns — as in the summer and fall of 2012, when ice coverage plunged — short-term predictions are often wrong, according to the study by scientists from the National Snow and Ice Data Center and other institutions.
The 2012 record low of 3.41 million square kilometers (1.32 million square miles) — 18 percent below the previous record set in 2007 — represented a dramatic and, to some, alarming decline. But a relatively cool and ice-favorable 2013 Arctic summer moderated the seasonal melt-out, Serreze said.
The 2013 ice minimum was nearly 50 percent above the record low of the previous year, according to the center's data.
That recovery helped assuage some fears that, in a given year, ice would get so sparse and fragile that a single hot or windy season could create "a kick in the pants" and cause summer ice to disappear suddenly rather than gradually, Serreze said.
"Overall, people have backed off of this tipping-point idea," he said. The ice appears "a little more resilient" to weather patterns than was previously feared.
VIDEO: How ice melt in the Arctic is affecting Inuit populations around the circumpolar world
Still, despite occasional year-to-year weather variations and ice-coverage fluctuations, there will continue to be long-term declines, said Serreze, who has predicted a mostly ice-free summer by 2030.
"I think what you going to see over the next 30 years or so is the pattern that you've seen over the last 30 years," he said.
Arctic ice coverage in September, the month when the seasonal melt concludes, has been declining at a rate of more than 11 percent per decade since 1979, according to NSIDC records. Even the 2013 minimum, though a big improvement over the previous record-low year, was the sixth lowest in the satellite-record history.
Related Links:
Canada:  Missing sea ice data found in crusty Canadian algae, CBC News
Finland:  Walkers warned – Finland's sea ice could be thinner than it looks, Yle News
United States: Changing sea ice may be spreading diseases among mammals, Alaska Dispatch