New Finland icebreaker can operate sideways with asymmetrical hull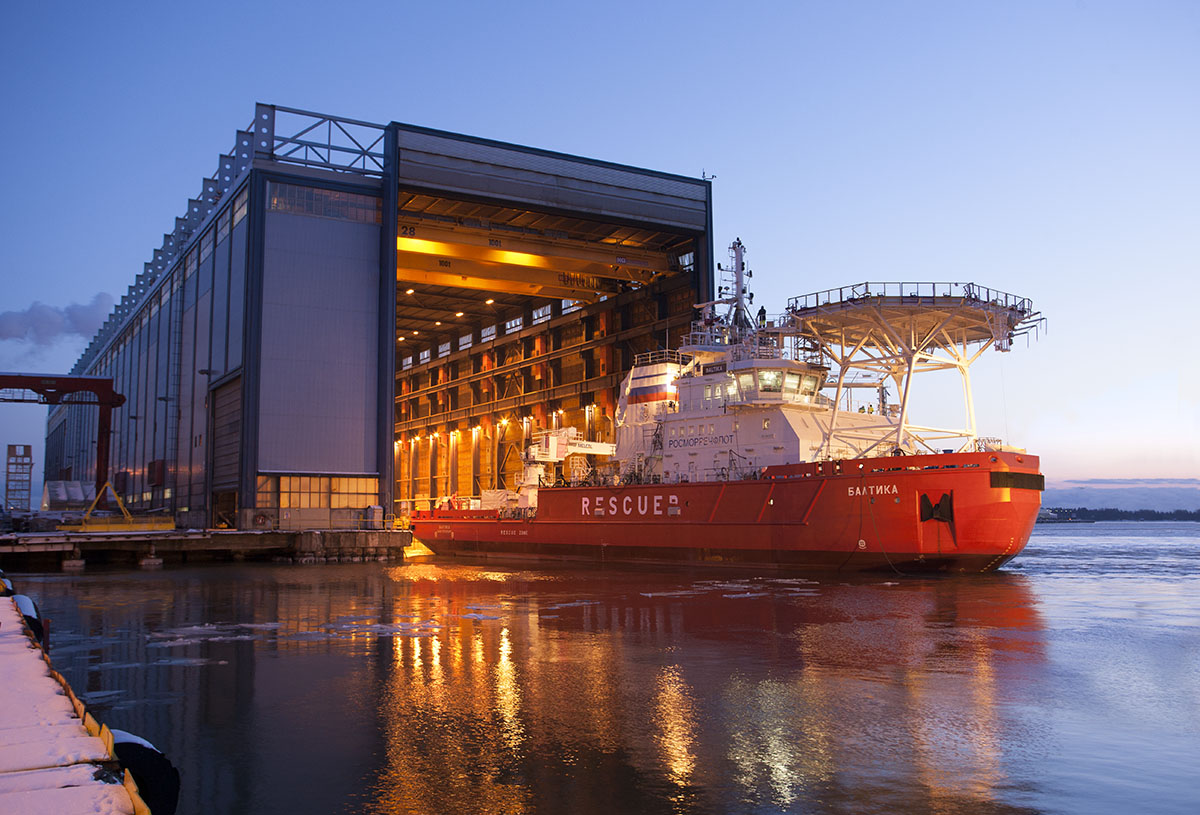 A new type of Finnish-designed icebreaker that operates "sideways" has been shown off in Helsinki. The unprecedented vessel was built by a joint-venture shipyard that is half owned by Russia.
A new type of icebreaker was demonstrated on Wednesday at Arctech Helsinki Shipyard. This new Finnish-designed vessel clears a path through ice using the side of its asymmetrical hull.
The Baltika has been built by Arctech for the Russian Sea and River Transport Agency. It moves sideways into the ice, giving it much more power than a standard icebreaker.
It can open a much wider route through the ice, making icebreaking more cost-efficient.
The ship will be deployed in the Gulf of Finland, where it can also be used for rescue and fighting oil spills.
"The vessel will be transferred from here to Kaliningrad and handed over to the purchaser" this spring, says Arctech Helsinki Shipyard CEO Esko Mustamäki. "This is the world's first vessel to break ice at an angle. It has an asymmetrical hull, which makes it quite unusual. There's been plenty of interest in this vessel," he told Yle.
Video: Animation of how new icebreaker will go sideways through ice: 
Full employment next autumn
"After Baltika, we're building another icebreaker for Russia and then one for use here in Finland. These orders aren't enough for full employment in all of our departments, but we should reach that next autumn," Mustamäki says. The shipyard has some 400 employees.
Mustamäki says that the tense relations between Russia and Ukraine have not so far had any impact on the shipyard's orders.
The Arctech Helsinki Shipyard is 50/50 joint venture, with half owned by Russian state-owned United Shipbuilding Corporation (USC) and the rest by STX Finland – which in turn is part of a Korean-owned conglomerate. Late last year, Russian media reports said that USC planned to buy complete ownership of the shipyard from the financially-strapped STX.
Mustamäki declined to comment on this, saying only that the yard's ownership "has not changed at all…we're not taking part in any negotiations; that's up to the owners."
Related Links:
Canada:  MV Nunavik the newest icebreaker to hit Arctic waters, CBC News
Finland: Finland looking to supply icebreakers to Russia, Yle News
Russia: Russia, icebreakers and Arctic identity, Blog by Mia Bennett
United States: Alaska, Washington senators introduce amendment to build 4 icebreakers, Alaska Dispatch