Nunavut couple questions medical travel mixups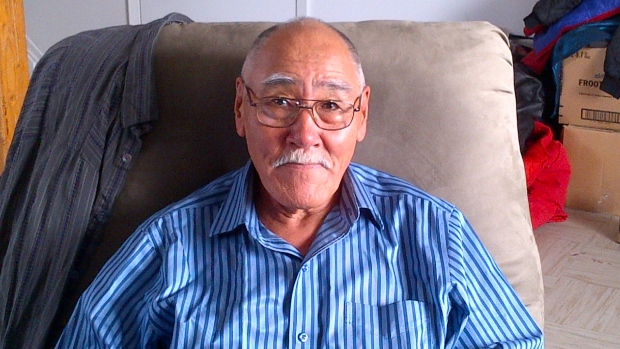 An elderly couple from the community of Arviat in Canada's eastern Arctic territory of Nunavut has been through an ordeal which has left them questioning the territory's system of medical travel.
In the last two years, Peter and Elizabeth Alareak have been sent out of their community for medical appointments four times, only to find the appointments were never booked.
"I've been married to her for 54 years and I have known her to be a very patient woman, and she's starting to complain a bit," says Peter. "She's hurting and tired of travelling and she wants to see a doctor."
In 2012, Elizabeth had a bad ATV accident, which left her with a fractured skull, and broken neck and wrists.
She was sent to the city of  Winnipeg in Canada's southern Manitoba province for immediate medical treatment, where doctors told her she would need follow-up surgery.
Elizabeth was flown to Winnipeg three times in 2013, with Peter travelling as her medical escort.
Each time they were told that no appointment for surgery had been booked, and they were sent back to Arviat the next day.
"I don't know what's really going on," says Peter. "Nothing has been done for my wife. Every time she's told to go down to see a bone doctor she is told the dates have been mixed up so we have to turn back."
The most recent miscommunication happened last month.
Again the couple flew to Winnipeg, and were told once again they do not have an appointment.
Peter says on top of that, on their way home, they were stranded in Churchill, Manitoba, for three days, because of flight delays due to weather.
Peter says they ended up waiting full days at the airport.
Medical travel part of life
None of this is news to people at the top of Nunavut's health department.
"I have heard those same concerns," says Monita O'Connor, an assistant deputy minister who declined to speak about the Alareak case specifically.
Medical travel is a regular part of life in Nunavut, which has only one hospital in its vast area.
A trip to the community health centre often ends in evacuation to a larger centre for treatment.
Medical boarding homes in the southern Canadian cities of Winnipeg, Ottawa, Yellowknife and Edmonton cater specifically to patients travelling from the North and a complicated set of rules is in place to determine whether patients are allowed medical travel escorts.
"For us it's very important that we improve because, first it's hard for people to be travelling like that and secondly it's a waste of travel expense if they are not getting what they intended to by going out for treatment," O'Connor says.
Peter Alareak says he still doesn't know when his wife's next appointment will be.
Related Links:
Canada: Canada pledges $70M for Northern health services, CBC News
Finland: Finland: Children's mental health problems increasing, Yle News
Sweden: County in North Sweden votes to keep health services, Radio Sweden
United States: Definition of 'Alaska Native' needs fixing in U.S. health care, Alaska Public Radio Network