National Science Foundation to deploy seismic sensors in Alaska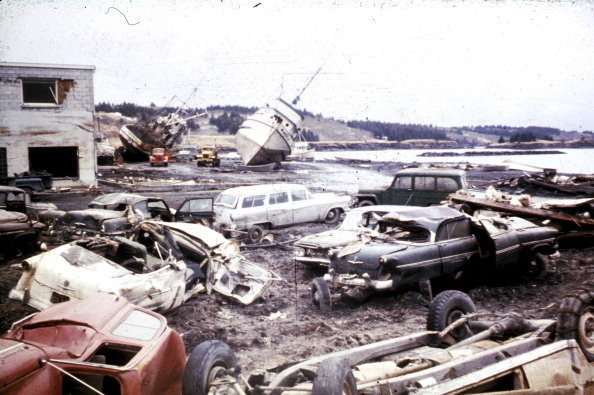 Alaska is the place to be if you want to study earthquakes.
In a year, it has as many earthquakes as all the other states combined. Scientific study of those quakes is beginning to ramp up significantly as the National Science Foundation deploys a new network of seismic sensors this summer.
Alaska has dozens of seismometers that measure earthquakes, but they're mostly clustered around Southcentral, Fairbanks and on the volcanoes of the Alaska Peninsula.
Over the next five years the state will be getting many more – close to 400 of them, funded by the National Science Foundation through the Incorporated Research Institutions for Seismology, or IRIS. The instruments going in are state of the art, says IRIS spokeswoman Perle Dorr.
"They can detect movement of a magnitude six earthquake from anywhere around the world, they can detect movement of about the thickness of your hair," Dorr said.
The Transportable Array
IRIS has the whole region mapped out in a grid. Every 43 miles there's a dot, marking the target for one of these seismometers. Some of them mark equipment already in place, but for many of the dots, somebody has to get there and spend a couple of days auguring out a hole, if possible in bedrock, and cementing one of these instruments, looking much like a tin can, in there, then setting up the solar collector and communications array. All the while dealing with weather, mosquitoes and wildlife. Firearms training is required.
This will be the Transportable Array, spread all over the state, into Canada, and in the Bering Sea. Peter Haeussler of the U.S. Geological Survey says they will be seeing earthquakes they would not have seen before.
"And with this instrumentation that'll be in places in Alaska where there has never been a seismometer before I think we're gonna learn a lot about seismic activity in say Western Alaska, Northwestern Alaska or Northern Alaska that we had no idea even existed before," Haeussler said.
The array has already been in and out of 1700 sites across the continent. When an earthquake happens it takes about a day for all the data to come in, but it is made available to researchers and the public at once on a website called "earthscope."
"Every time there's a large earthquake that's recorded by the transportable array in North America we make animations of the waves moving through the array, and so for some like the Virginia earthquake in 2011, the stations were in the Midwest at the time and it was like watching ripples on a pond move through the seismometers," Andy Frosetto, an IRIS hardware specialist, said.
The array gives geologists a much better picture of what's going on under the surface. It will find faults nobody knew existed and Frosetto says it will be a big help in assessing earthquake risk.
"Being able to understand the rate and distribution of earthquakes is really key to assessing where strain is accumulating, which areas are actually releasing and transmitting stress, and it really allows you to have a complete picture of what the earth is doing," Frosetto said.
Annual national meeting
Last week the Seismological Society of America had its annual national meeting in Anchorage, partly to talk about the array and partly because of the anniversary of the great Alaska earthquake – the event that convinced scientists the continents move and collide, causing volcanic eruptions and earthquakes. Peter Haeussler says information provided by the array is certain to answer some basic scientific questions about the forces that built the Alaska Range, blew up Katmai and are shaking Cook Inlet.
"And so there's this piece of crust that was kind of ripped off of somewhere like the British Columbia margin, came northward, started colliding into the southern Alaska margin somewhere around 25 million years ago, and sort of doing a "right punch" into Southern Alaska," Haeussler said. "And in that process there has been more than one oceanic plate that's been sort of diving down underneath the margin."
"I have no doubt that after this array is installed that we're gonna be much better able to image these slabs that are down there at depth, and what's happened to them in this really 25 million year period since that collision began."
In a sense, scientists now start waiting for a big earthquake. With this much instrumentation in place, it would be a scientific bonanza. But earthquakes operate in geologic time scales, and after 2018, it's not clear how much more the National Science Foundation will put into the project. What happens to any given site next would largely be up to the organizations involved.
"And I think there would be hope that at the end of the period that the National Science Foundation is supporting this array that we be able to keep some of these instruments out there so we could have a much longer record of what's happening in the earth's crust here in Alaska," Haeussler said.
Sometimes, as when the array came to Wyoming, even more instruments get added. In that case, scientists got answers to basic questions about how the Rocky Mountains were formed.
Related Links:
Canada:  Anti-fracking groups petition N.W.T. Legislative Assembly, CBC News
Russia: Russian volcano erupts, prompts airspace warnings in Alaska's Western Aleutians, Alaska Dispatch
United States: Acoustic sensors give scientists a new perspective in the Arctic, Alaska Public Radio Network