Finns invent promising method for CO2 reduction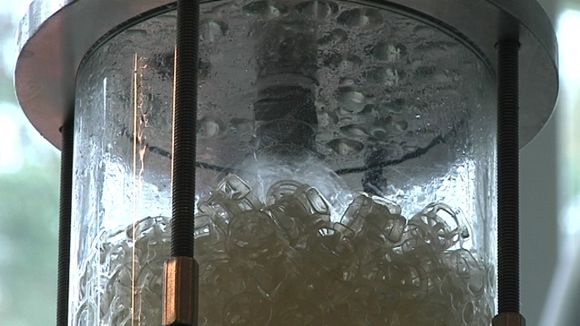 Researchers at the Mikkeli University of Applied Sciences have developed a water-based technique for removing carbon dioxide from industrial emissions.
According to the Technical Research Centre of Finland VTT the invention could be a game-changer for reducing one of industry's most pernicious greenhouse gases.
In recent years there hasn't been much progress in reducing emissions of carbon dioxide into the atmosphere. However a team of researchers at the Mikkeli University of Applied Sciences appears to have made a major breakthrough in recovering the greenhouse gas from industrial emissions, offering some hope for reversing the creep of climate change.
Current techniques for removing carbon dioxide from emissions employ harmful chemicals that may harm the environmental or human health. The Mikkeli test laboratory in Savonlinna has been removing carbon dioxide by percolating it through clean water.
"We dissolve the flue gas emissions in water and using low pressure we separate the carbon dioxide from the liquid as a gas," explained researcher Teijo Linnanen.
The recovery device developed by Linnanen and his colleagues has already been patented and VTT estimates that the Finnish invention could work as well in the real world as it does under lab conditions.
Competitive process
"On a small scale the process could be as competitive as commercial carbon dioxide recovery processes," said Sebastian Teri, head of VTT's carbon dioxide recovery and storage programme.
At the Varkaus paper plant owned by paper and packaging company Stora Enso workers have already had a chance to test the carbon dioxide recovery process developed in Mikkeli. Given the scale of the Varkaus facility, one immediate problem that arises is the quantity of water required for the process. If the test lab were fully recreated at the plant, the diameter of the test tube would have to be six metres instead of 10 centimetres.
Carbon dioxide isn't all bad though. The bottled gas is used at the paper plant as an ingredient in the production of fine paper, where it eventually goes from the chimney down the drain.
"With this process we could capture carbon dioxide from the plant's flue gas, so that we wouldn't need to have it transported here by truck," Linnanen explained.
Slow progress on CO2 recovery abroad
Not too long ago carbon dioxide recovery was a growing industry in Europe and demo plants were already in the works. Then came the economic downturn when the price of emissions rights plummeted. Emissions also declined as industry slowed. Emissions rights used in emissions trading are now so cheap that it's more profitable for a paper plant to purchase rights from abroad than to reduce its own level of emissions.
Natural gas production in the North Sea has been recovering carbon dioxide since 1997 when Norway introduced heavy taxation on emissions. Canada is developing the world's first carbon power plant that will also recover carbon dioxide, while a couple of projects are also under way in Britain.
One problem associated with carbon dioxide recovery has also been the issue of storage. It's already possible to store recovered carbon dioxide underground in old oil fields, for example the North Sea can accommodate one million tons annually. This has the added benefit of allowing producers to squeeze more oil out of dying fields as the carbon dioxide makes the oil more liquid. However if the gas is dumped directly into the ocean, it would make the sea even more acidic.
In spite of the roadblocks the new technique is still considered to have strong green credentials.
"Maybe in light of the planet's future it will become even more important and this procedure offers great potential in this area," said Mikkeli laboratory chief Tapio Tirri.
The Mikkeli University of Applied Sciences is currently chasing financing for a demo facility where researchers will be able to recover carbon dioxide in a real-world environment.
Related stories from around the Arctic:
Canada: Canada's climate change stance 'de-motivating' say critics, The Canadian Press
Finland: Finland utilities told 'burn wood, lower emissions', Yle News
Norway:  Nordic countries join forces to fight emissions, Radio Sweden
Sweden:  Time to get tough on EU carbon emissions says Swedish, Radio Sweden
United States:  Alaska village stares down climate change and refuses to budge, Alaska Dispatch