In Alaska bear encounters, could old advice be completely wrong?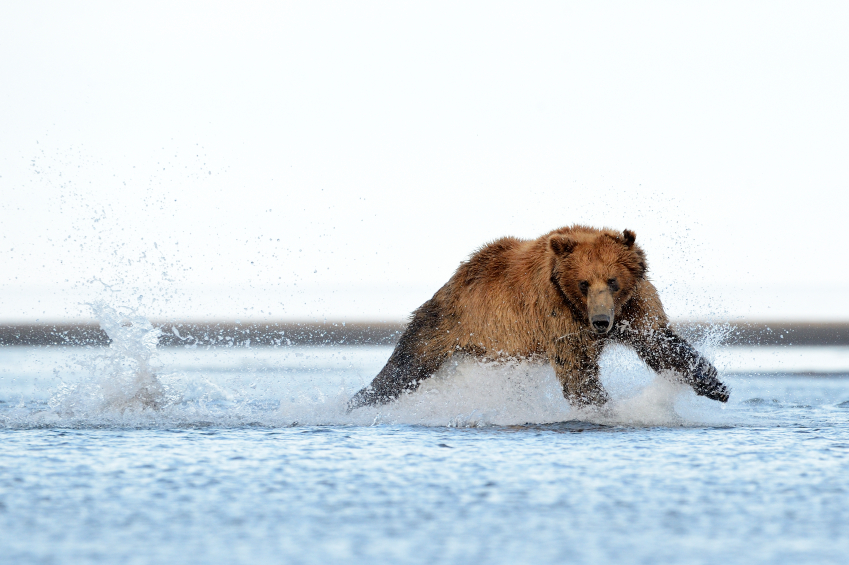 Sometimes you have to wonder if the efforts that go into trying to teach people how to handle bear encounters in Alaska aren't largely a waste of time, given the amount of luck involved in these things.
Some people do everything wrong and never have a problem. Some do everything right and end up getting mauled or worse.
Joel Bennett, a former member of the Alaska Board of Game and a respected Juneau cameraman who specializes in wildlife films, once described the late Timothy Treadwell as the best he'd ever seen at reading the behavior of grizzly bears and knowing how to handle them.
Sadly, though, things did not work out well for the Californian who spent 13 summers in the wilderness of Katmai National Park and Preserve trying to make friends with the bears. Treadwell touched and petted massive grizzlies. He babysat the cubs of some sows. He obviously figured out which bears were approachable and which were not, or he never would have lasted so many summers.
In the end, of course, all that knowledge couldn't save him. Treadwell was killed and then eaten by a bear. His last words before his death on a fateful evening in October 2003 were a shout to companion Amie Huguenard to hit the bear with a pan. His voice was recorded on a video camera, which captured no video. The camera was apparently turned on with the lens cap still in place.
Would pepper spray have helped?
Treadwell's advice to Huguenard was good. The only thing you can hope to do to survive a predatory attack by a bear is fight back. In his case, it didn't work. The bear killed Treadwell and then Hugenard.
One has to wonder how things might have turned out if they'd had some pepper spray to use in their defense. The efficacy of pepper spray — a non-lethal bear deterrent — is well documented.
As Alaska Dispatch columnist Rick Sinnott noted after a group of teens were mauled by a grizzly in Alaska three years ago, "bear spray was effective in 92 percent of the 50 cases involving grizzlies in Alaska and 90 percent of the 20 cases involving black bears. No one who used bear spray was killed. In the nine instances where a grizzly charged a person, the bear broke off the encounter after it was sprayed, and only one person was injured. The injury was relatively minor: Deep scratches requiring stitches. Eventually, someone who uses bear spray will be severely injured or killed by the bear. But it seems clear that bear spray promises to be at least as effective at preventing maulings as a firearm."
Sinnott, former Anchorage-area wildlife biologist with the Alaska Department of Fish and Game, is a proponent of bear spray. So am I, though I do have a special place in my heart for firearms, having once shot a grizzly off my leg, thus stopping it from doing further damage. Guns are great if you know how to use them well.
Most people don't. Some are simply unfamiliar with firearms. Many others can't shoot for beans.
Thus pepper spray is much better for them than a bullet, which needs to hit a specific, not-very-big target in a very difficult shooting situation. But that's not why I'm a proponent of pepper spray.
I'm a proponent because a) it can stop bear attacks; and b) it largely makes people deal with bears in the proper way, though there really is no proper way.
Why aren't runners mauled?
As noted earlier, you can do everything wrong and never get touched by a bear. Despite the oft-repeated advice that you should never run from a bear, over the years I've talked to dozens, possibly hundreds, of people who've run from bears. None were victims of maulings.
And sometimes, counter-intuitive as this might seem, running from a bear or past a bear is the right thing to do.
Which brings us back to Jessica Gamboa, who was mauled while jogging on a trail at Joint Base Elmendorf Richardson on May 18. She did nothing wrong. In fact, she did largely what people are taught to do when encountering a grizzly in Alaska.
She stayed calm. She turned and faced the bear. She tried to indicate she meant no harm. The bear responded by mauling her badly. She might have been a lot better off if she'd just kept running and pretended she'd never seen any bears.
How can anyone say that, given all the good advice about not running from or around bears?
250 black bears, 65 grizzlies in Anchorage
Let's take a minute to look at this from the standpoint of the bear, in this case a sow with two small cubs near Anchorage. Most bears near Anchorage are habituated to runners, mountain bikers, dog walkers, cars and other human means of movement.
Radio-tracking studies done by biologist Sean Farley of the Alaska Department of Fish and Game found many bears live among us. As you read this, there are an estimated 250 to 350 black bears and 65 grizzlies roaming the city.
All parts of the city.
Farley's radio collars documented bears regularly using Anchorage trails. On-the-ground investigations found sign of bears sleeping alongside trails in Anchorage greenbelts. These bears know people. People run past them. The bears ignore the traffic.
Thankfully.
If bears made a practice of sometimes hunting people — as lions and tigers are known to do — we'd all be in a big trouble. But bears don't do that. They generally try to avoid us.
Enter Gamboa. She's jogging down a road on JBER somewhere out of sight of her husband, who has run ahead. She spies a grizzly bear cub. If she keeps running and pretends she hasn't seen anything, she might well be fine.
I've watched a small parade of runners go past a sow bear with cubs on the Anchorage Hillside without the bear paying them any attention. She was feeding and kept on feeding though the runners were sometimes within 100 feet or less.
I know at least three mountain bikers who have ridden between sow grizzlies and their cubs in Anchorage's Hillside Park. They got a big scare. But they were not attacked. The bears seem accustomed to our going past.
Gamboa, however, didn't keep going past the JBER bear. Startled by the cub encounter, she did a very normal thing. She stopped. It's pretty much what people are told to do if they meet a bear. But it's not necessarily what a grizzly sow wants to see.
She has likely seen runners on this or other trails. She has, quite possibly, watched people run past her cubs and concluded it's no big deal.
This one, however, doesn't run past. This human gets near the cub and stops. At that point, momma bear can't help but be thinking, "Oh-oh. What's going on here?"
So she comes running. If you listen to Gamboa's videotaped account of what happened next, she's looking at the cub when she looks over her shoulder to see momma bear coming, not at a full run but more of a gallop. So, Gamboa partially turns to face momma, which is again the thing to do. But then, as she describes it, "I put my back kind of maybe toward her."
How does this look from the sow's perspective? All wrong.
What the sow sees is that the human has just turned her attention away from momma and back toward the cub. Momma is sure to take that as some sort of threat. So she flattens the threat and works Gamboa over.
Gamboa smartly and properly plays dead, and she comes out of the encounter beat up but alive. It is a testament to clear thinking and a strong resolve on her part.
And the rest of it? Well, someone who has spent a lot of time around Alaska grizzlies, or thought a lot about the behavior and adaptation of bears in Anchorage, might have handled the situation differently. But that's a pretty small group of people.
Bear spray makes a difference
Most people don't know enough about bears to begin to understand the nuances involved in any confrontation. And even if they do, it might not make any difference, as Treadwell's case proved.
Bear spray will make a difference. To use it, people need to turn and face the bear and act brave — the mere display of which has been known to deter bears.
So maybe instead of trying to teach people how to deal with bears, we should just be telling them to go to the store, buy some bear spray, study how to use it — practice would be a good idea — and take the spray with you on Alaska trails.
Not that it hurts to study up on bears. Knowledge is a wonderful thing. But in this case, an 8.1-ounce can of prevention might be worth a lot more than any bear lecture.
Contact Craig Medred at craig(at)alaskadispatch.com
Related stories from around the Arctic:
Canada:  Feature Interview – 'Close calls' part of the job says Canadian polar bear monitor, Eye on the Arctic
Finland: Bear hunters' haul in Finland down by nearly half, Yle News
Sweden: Inquiry continues into deadly 2012 wolf attack at Swedish wildlife park, Radio Sweden
United States:  Alaska pilots face urban wildlife threat from musk ox, Alaska Dispatch