Alaska village rebuilds after flood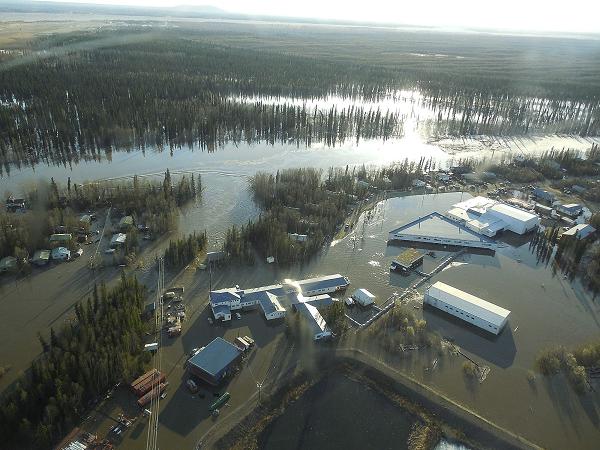 With warm weather here, construction projects are starting up across the state. In Galena, the sight of houses going up is particularly welcome. The 470-person village is still recovering from a catastrophic flood last year, when the break-up of an ice jam caused the Yukon River to overflow. APRN's Alexandra Gutierrez reports on the rebuilding effort.
It's a humid morning in Galena, Alaska and about a dozen workers are framing a house.
They've been working at it for about four days, and already the place is taking shape. It's a big two-story building, with a wide footprint and space for at least four bedrooms. The goal is to finish the exterior work within a week.
Decked in a red shirt and a camouflage cowboy hat, Doug Konetchy is sawing away at wooden boards.
"Right now we are building rafters for this particular house," says Konetchy. "It's not particularly complicated. We just make a lot of cuts."
Konetchy is one of the hundreds of FEMA volunteers who will work on the construction effort in Galena this summer. He's from North Carolina, and he's part of a Christian relief effort called Samaritan's Purse.
Konetchy is working with a fellow tar heel named Hugh Honeycutt. Neither of them have been in Alaska before, let alone worked in the state. For one, you can't drive to Home Depot if you need extra materials. And then there's the rain.
"Down in the Lower 48, if it rains, you take the day off," says Konetchy. "But here, if you take the day off, then you only have four days when you can build."
"Or three, or two," says Honeycutt.
So, they've gotten used to being damp.
"Put on a raincoat and keep going," says Honeycutt.
Steel pilings
The building process itself is also different. The house they're building is striking not just for its massive size. It also happens to sit on tall steel pilings, elevated at least five feet off the ground.
"Where I live, we build them up off the ground, but not on stilts like this," says Konetchy.
The 11 houses that FEMA volunteers are working on are raised like this. The flood came in hard and fast last year, swamping areas of town that should have been safe. So now, houses must be built above the high water mark to qualify for disaster relief.
"Everything's up in the air," says Konetchy. "I mean you have to lift everything up there. Every single piece, every single nail goes up."
Steve Settle is a Galena resident who qualified for one of these elevated FEMA houses. Construction of his new place is underway as well, and its frame also rests on 25-foot pilings buried deep in the ground.
"So, this ends up being four feet something higher than the house I had before," says Settle.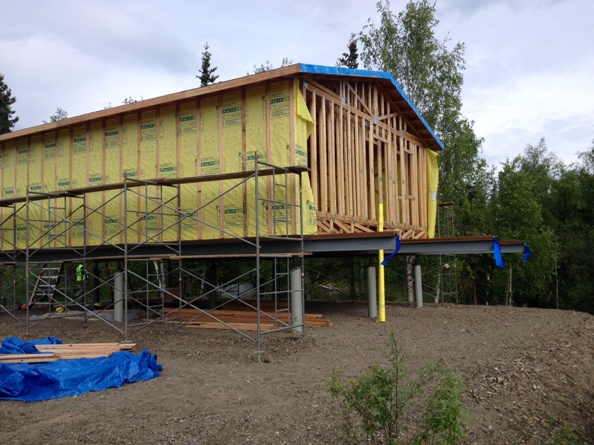 Settle says the new place will be a lot different from his old one. On top of being built to survive a flood, it will also meet new cold climate housing standards, with thicker walls and other features to make it airtight.
"It's going to be way smaller. They say way warmer," says Settle. It's always nice to be way warmer anyway, you know?"
Settle has lived in Galena for 33 years, and he says the flooding of the Yukon River last April was like nothing he had ever seen.
"It was just like a bathtub," says Settle. "Pull the plug and it just went out."
Even though his property is fairly inland, Settle's home was basically destroyed.
"Back of the House sloughed off," says Settle. "The only thing that was holding that house from floating off was the power line."
Settle says he lost a lot in the flood. But he's looking forward to moving into his new place this fall. Right now, he's trying to figure out where his windows will go.
"It's probably going to be four or five, you know, so it's going to be well lit," says Settle. "White walls, so it will probably really glow in there."
And, he says, it should hopefully stay dry.
– By Alexandra Gutierrez, APRN – Juneau
Related stories from around the North:
Canada: Rainfall increases flood risk in Yukon, Canada , CBC News
Finland: Lake levels rise in Finland, Yle news
Norway:  Risk of flooding near Norwegian border, Radio Sweden
Sweden: Northern Sweden hit by flooding, Radio Sweden
United States: Western Alaska reels from winter flooding as another storm bears down, Alaska Dispatch