"Dumpcano" costs mounting in Canada's eastern Arctic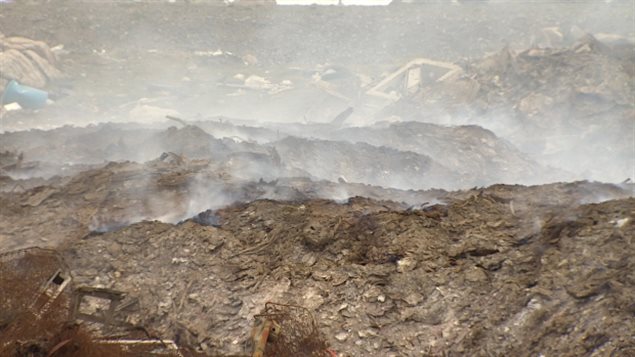 They're calling it the "dumpcano" a combination of dump (landfill) and volcano.
In Canada's far north the town of Iqaluit, Nunavut, a fire has been burning in the town dump since May 20, which townspeople have nicknamed the "dumpcano"
Letting it burn is no longer an option, and putting it out could cost millions.
Recycling in these remote northern communities would be extremely expensive and so is virtually non-existant with almost all solid waste going into the landfill sites.
Originally the town council had voted to simply let the fire burn. That was until the winds shifted and blew smoke into the community. This has caused schools to be closed and certain events to be cancelled, in addition to the health concerns.
Worst example of landfill in North America
As a result the council is now considering trying to put out the fire. An expert has been brought in who suggests the deep seated fire should be dug out, soaked with water and then mixed with dirt. This involves digging a large pit filling it with water and digging out the garbage and dumping it into the pool bit by bit to ensure the fire is out and the material is soaked. Once all material has been soaked, it would be moved back to the landfill and mixed with dirt. The expert also is reported to have told council that Iqaluit has one of the worst examples of landfill operations in North America.
He points out the longer the fire continues, the hotter it will get, and the harder, and more costly to extinguish.
Estimates now range from $3.5 million to $5 million dollars to put out the fire.
Last week another fire broke out in the town dump at Rankin Inlet, Nunavut where firefighters have been trying to contain it.
A similar fire occurred at the town of Hay River, Northwest Territories when a truck driver who was unaware his load was on fire, dumped it on the landfill. Firefighters there were able to extinguish that fire some 12 hours later.
(with files from CBC)
Related stories from around the North:
Canada: Iqaluit fire in Canada's eastern Arctic leaves dozens homeless, possible deaths, CBC News
Finland:  Finnish company wants permit to discharge waste, Yle News
Sweden:  Sweden imports more and more waste, Radio Sweden
United States: Mysterious underground fire perplexes Alaska town, Alaska Dispatch