Former Coast Guard chief to be U.S. Arctic representative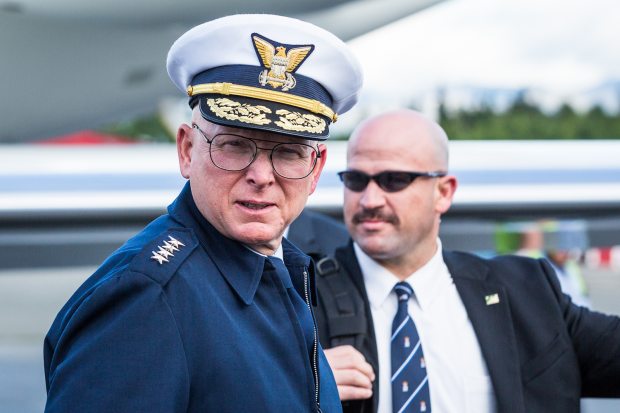 A former U.S. Coast Guard commandant, Admiral Robert Papp, will be the Obama administration's special representative for the Arctic, while former Alaska Lt. Gov. Fran Ulmer will serve as a special adviser on Arctic issues, Secretary of State John Kerry announced on Wednesday.
Papp retired in May from a 39-year career with the Coast Guard. Among his accomplishments was the restoration and refurbishment of the heavy icebreaker Polar Star, Kerry said in a statement. "I could not be happier that he agreed to postpone his well-deserved retirement and join our effort in a cause about which he is both passionate and wise," Kerry said.
Ulmer is a "remarkable Alaskan" who has been chairing the U.S. Arctic Research Commission and who "will provide invaluable counsel" as a special adviser on Arctic science and policy, Kerry said in the statement
"We have a great deal of work to do, and that work starts right away. Admiral Papp will soon travel to Alaska to consult with policy-makers on the front lines of America's Arctic state," Kerry said.
"The Arctic region is the last global frontier and a region with enormous and growing geostrategic, economic, climate, environment, and national security implications for the United States and the world. With the team we're building at the State Department, we will make sure that the United States is in the strongest possible position to meet these challenges and seize these opportunities," Kerry said.
Reaction to appointment
The appointment of Papp makes good on a State Department promise made earlier this year to designate a top-level envoy for U.S. Arctic issues.
Alaska's U.S. senators lauded the appointments.
"I've worked with Admiral Papp for years, traveled to America's Arctic with him and know he will be effective in standing up for American interests in this increasingly important part of the world. One of his first actions needs to be a visit to America's only Arctic state of Alaska to see first-hand the impacts, opportunities and challenges of climate change in the Arctic," Sen. Mark Begich said in a statement.
As for Ulmer, she "is arguably the most knowledgeable Alaskan about the Arctic and will be an invaluable advisor to Secretary Kerry, the President and other top officials on Arctic issues," Begich said. "I know all Alaskans join me in praising her special appointment."
Sen. Lisa Murkowski said she had suggested Papp for the position when the idea of appointing an Arctic ambassador first came up last year.
"With a dynamic region like the Arctic, you cannot have a Beltway bureaucrat dropped in for 'on the job training,' you need an individual with credibility and experience in the region and a proven ability to work with communities in the U.S. and circumpolar Arctic; Admiral Papp's knowledge base of the Arctic is as vast as the region itself," Murkowski said in a statement.
Matt Felling, a Murkowski spokesman, said the senator is pleased that the appointments were not seen by the administration as political.
"These are two people whose body of work and knowledge is incredibly vast," Felling said.
Still, he said, Murkowski remains disappointed that the State Department chose to designate a special representative rather than an Arctic ambassador, a position that other Arctic nations have created. A special representative may not have the same influence as an ambassador, he said.
"If you have a table full of ambassadors, and you have a representative who shows up, that connotes a lack of status," he said.
It might also signal a lesser U.S. commitment to Arctic issues than that of other Arctic nations, he said.
Related stories from around the North:
Canada: Canada's Arctic Council leadership gets mixed reviews, Eye on the Arctic
Finland: Ex-President Ahtisaari calls on Finland to join NATO with Sweden, Yle News
Greenland:  Greenland urged to work with Arctic Council, CBC News
Iceland:  Many questions, but few answers as Arctic conference gets underway in Iceland, Alaska Dispatch
Norway:   Permanent Arctic Council Secretariat opens in Tromso, strengthening Norway's position in Arctic, Blog by Mia Bennett
Sweden: Feature Interview: Sweden wraps up Arctic Council, Radio Sweden
Russia:  Blog – Russia puts countries on edge in the Arctic, Cryopolitics
United States: U.S. participation in Arctic Council lacks coordination, follow-through: report, Alaska Dispatch