Forest fire rages on in central Sweden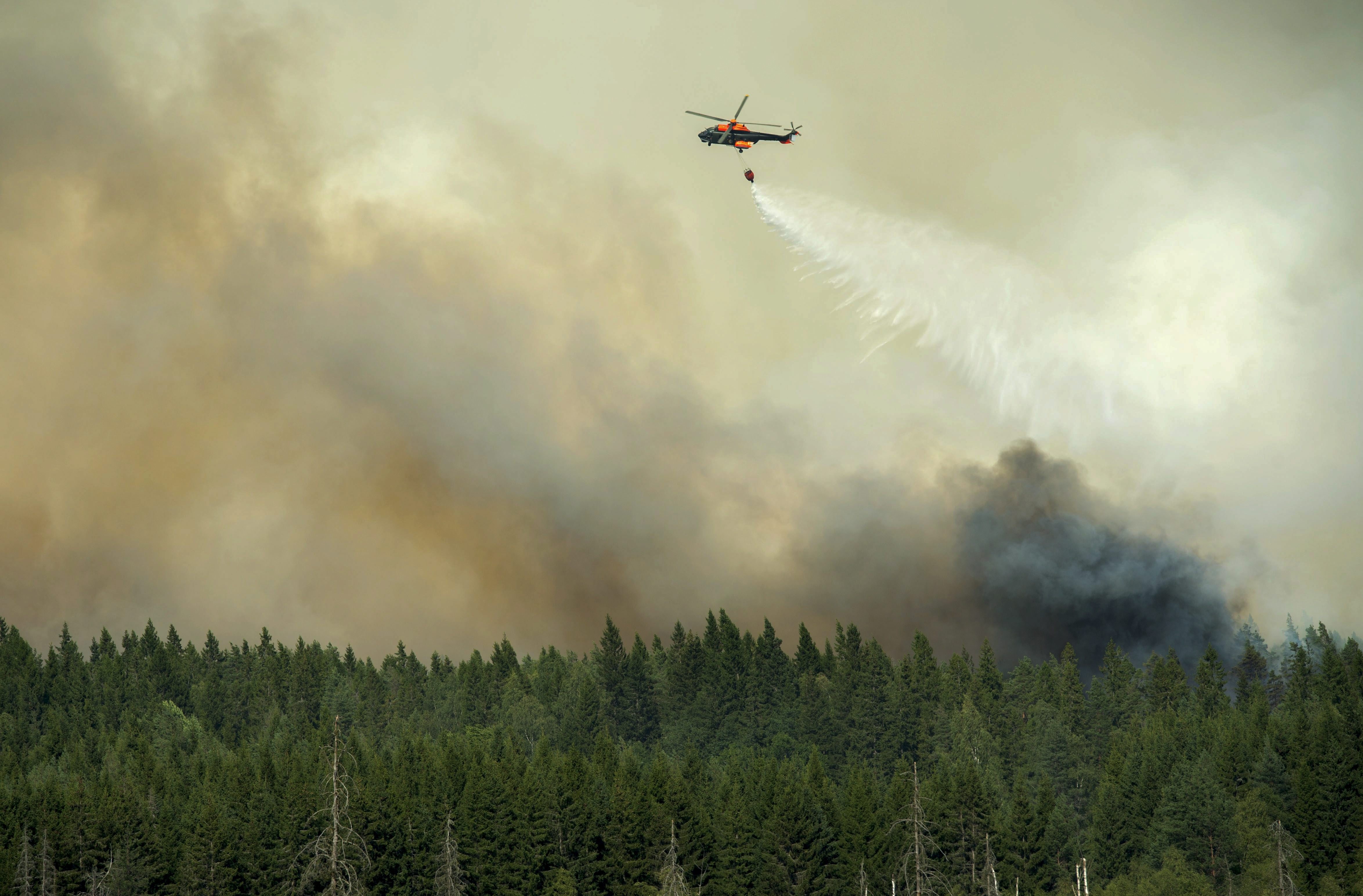 The forest fire that started last Thursday in Västmanland in central Sweden is still raging, and firefighters went back to work putting it out Monday morning.
There have been 9 volunteers trapped in the forest since around 13:15 Monday. They were volunteering to drive water out with tanker vehicles. Fire fighters are now trying to put out the fire along the road with helicopters, so that they can go in with fire trucks and get the volunteers out.
"It is very hot, extremely dry on the ground and quite harsh winds, which makes it tough to control the fire from spreading," Fredrik Eriksson, public relations head for emergency management in Västmanland, to Swedish Radio local channel in Västmanland.
Area evacuated
The area of Gammelby, near the fire, is now being evacuated. It is unclear how close the fire has spread to the area, but Fredrik Eriksson said that close enough for an evacuation to be necessary.
And officials are urging private individuals to not enter the area to tyr and help, given the risk involved.
"The night was quite calm. We have kept watch over the fire's border. So far it has looked calm and we have dispersed our forces as needed," fire fighter Mats Sundelius told Swedish Radio News.
The fire started Thursday and is still raging through parts of Västmanland county in Central Sweden. It has been difficult to contain the fire because it is burning in such difficult and inaccessible terrain. The fire has spread past its border in several places, and firefighters are working to contain it.
Focus on preventing fire from spreading north
Now there are upwards to 10,000 hectacres of the forest burning.
"The main focus is to stop the fire from spreading towards the northwest and northeast," Sundelius said.
Sundelius also said that they are bringing in helicopters to douse the flames with water from above. Swedish Radio News reports that an Italian water bomb plane is expected to help.
The most effective way to battle the fire is to send in helicopters with water bombs and then supplement that with fire hoses and water, according to fire fighters. But the rising smoke makes it risky for helicopters to fly and difficult to see where to drop the water.
Around one hundred people are involved in the effort. And an special Italien water-bombing plane has been called in to help combat the blaze. The plane can scoop water up from the sea and dump it on the burning forest.
'Catastrophic situation'
Helene Bäck, a forest owner whose trees are getting burned by the fire, said that she is worried about the fire spreading.
Bäck called this a catastrophic situation, saying that the fire isn't under control and they don't know if it's going to spread in the warm weather. She doesn't know how much of her forest has been burnt because it is difficult to gauge how much the fire has spread, so she doesn't know how much financial damage the fire is causing her business.
Bäck said that she has never seen a forest fire rage for so long and spread so much in Sweden.
"Absolutely not. I think there have been extremely few times such a big fire has struck Sweden," Bäck said.
Related stories from around the North:
Canada: Worst forest fire season in decades in Canada`s Northwest Territories, Radio Canada International
Finland: Smoke from Russian fires detected in Finland, Yle News
United States:  Wildfires could threaten Arctic caribou herd's winter habitat, Alaska Dispatch