Alaska: Bears in the neighborhood trigger fear one time, joy the next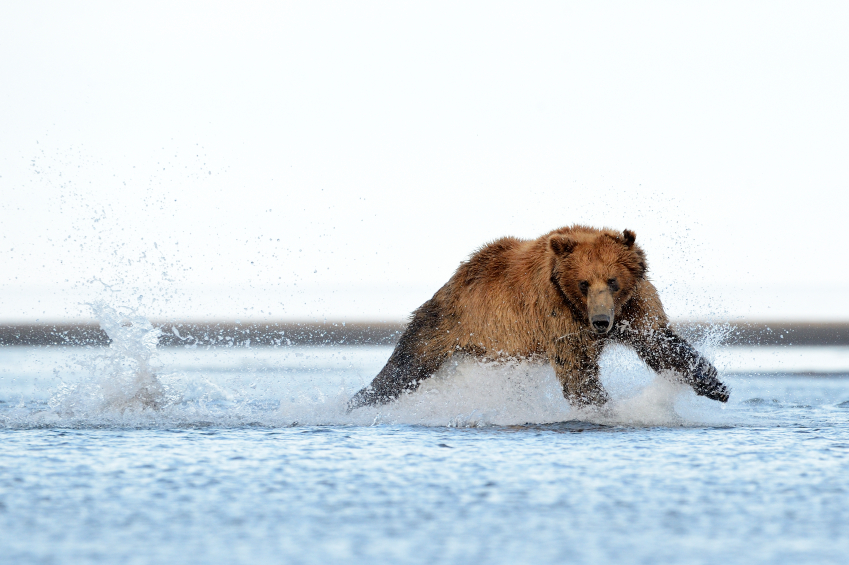 In terms of cool, it's hard to beat sitting on the roof of your garage with a pair of binoculars watching a grizzly bear sow trying to feed on berries while worrying about three rambunctious cubs.
This is how I spent my Sunday evening. What were you doing, America?
In terms of heart stopping, few things beat fleeing from a grizzly bear sow with three cubs. That's what I did on Wednesday. Yes, all Alaskans know the adage: Never Run From Bear! That is good advice, but all bear encounters are situational. Good advice in one situation may not be the best advice in another.
In this case, I was on a mountain bike climbing uphill when the bears appeared just around a curve. They were in a group in the middle of a gravel Hillside road closed to vehicular traffic. The distance was between 75 and 100 feet. Thankfully, momma and the three little ones — collie-dog-size cubs of the year — were close together. She wasn't letting them roam far away to tussle and play while she gorged berries.
Whether the clustering was luck on my part or caution on the sow's part, no one can know. But I remain thankful.
She had the cubs close and momma bears like to keep them close when they meet people. I did a nearly instantaneous 180-degree turn on the bike and was out of there. I knew from experience on the road that within 20 pedal strokes, I could be hitting 30 mph or better on the downhill.
Fleeing bears
Bears can run faster. Will Troyer, a now-retired Cooper Landing wildlife biologist who pioneered the art of catching and radio-collaring bears, once clocked a grizzly doing 35 mph in front of his truck on Kodiak Island. Cubs, however, cannot run as fast as adult bears.
The thinking in fleeing these bears was thus simple: Mama bear might be able to run fast enough to catch me, but the cubs most certainly can't. And she's not going to leave them.
Whether the bear family gave chase, I have no idea. There was no sense looking back. Better to concentrate on the trail and go like hell. The little handlebar computer on the bike, when later downloaded to a laptop, revealed the bike hit a top speed of 36.3 mph on the descent and my heart topped out at 151 beats per minute, which is just a little below maximum.
This is what the Anchorage Visitors and Convention Bureau is talking about when it pitches the Big Wild Life.
Alaska experiences
Nowhere else in America can you live in a major city and encounter these kinds of experiences with some regularity. It is the good and the bad of Alaska's largest city. On Sunday, I was happily looking for bears. On Wednesday, I was specifically trying to avoid them. In both cases, thanks is due a neighbor who is a bear-watching fiend. She mentioned the bears were in the neighborhood Wednesday. As a result, the daily bike ride was pushed back to midday and moved from trail to road, where sight distances are better.
The bear encounter was wholly unexpected at that time. The road goes along a south-facing hillside. It was warm, pushing hot, by 1 p.m. Wednesday. Logic dictated that the bears should have been down along the creek resting where it was cool.
Alaska Department of Fish and Game biologist Sean Farley, who has spent a lot of time following the movements of radio-collared bears in the Anchorage area, says there is no diurnal pattern. Still, it only makes sense that if you're a big, hairy bear you want to be somewhere cool, not in the sun on a hot hillside at midday.
 Three maulings by grizzlies in Anchorage this year
But maybe the cubs were restless and dragged mom out on a walk. They were most certainly active Sunday night — wrestling, play fighting, rolling around in the grass, chasing each other at a gallop hither and yon. Momma bear even got into the game at one point and did a couple rolling tumbles down a hillside, though it was hard to tell if she was playing or just trying to scratch her back.
"Isn't it cool," the neighbor said when a call was placed to thank her for reporting the bears visible just above treeline across the valley that evening.
Yes, at a distance, very cool. Up close in the road, not so much.
Lest anyone has forgotten, there have been three people mauled by momma grizzlies in the Anchorage area so far this year. Thankfully, all of these people have survived.
It's fun to watch the bears. It can be a nightmare to interact with them.
Be alert out there. Pack the bear spray when venturing off the beaten path. And devote some thought to what you can do to maximize your chances of spotting a bear at a distance rather than up close, and what you should do if you happen to meet one at any distance.
Contact Craig Medred at craig@alaskadispatch.com. The views expressed here are the writer's own and are not necessarily endorsed by Alaska Dispatch News which welcomes a broad range of viewpoints. To submit a piece for consideration, email commentary@ alaskadispatch.com.​
Related stories from around the North:
Canada: Google Street View maps polar bear country in Canada, CBC News
Finland: Bear hunters' haul in Finland down by nearly half, Yle News
Russia:  Russia hosts meeting on polar bears, Eye on the Arctic
Sweden:  Family of moose attack schoolboy in Sweden, Radio Sweden
United States:  Controversial moose relocation program under way in Alaska, Alaska Dispatch