Bethel, Alaska residents speak out against marijuana legalization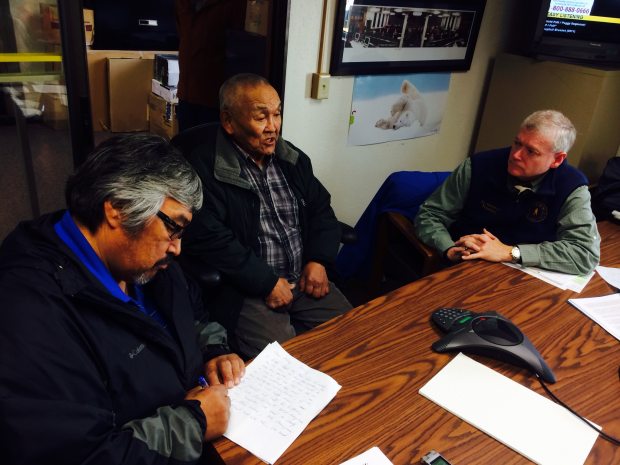 BETHEL – A small, mainly anti-pot crowd on Monday filled the tiny Legislative Information Office here to put on the record fears that legalizing marijuana will only worsen social dysfunction in Western Alaska.
Elders and substance abuse treatment workers, business leaders and activists all spoke up against Ballot Measure 2, which would create a new state law to legalize recreational marijuana use and sales and create a tax regime.
The initiative will go before voters in the Nov. 4 general election.
In the Yukon-Kuskokwim Delta hub community, where the seventh of eight planned public hearings across Alaska took place, just a single person spoke in favor of the initiative – Charlo Greene, the former KTVA-TV reporter who reported extensively on marijuana, then quit her job on the air to work on the vote "yes" campaign.
Hearings across Alaska
The Bethel hearing was remarkable for the opposition, said Lt. Gov. Mead Treadwell, who is conducting the hearings across the state. In Anchorage and Wasilla, people were overwhelmingly in support of legalization, he said. In other communities, testimony was more divided but leaned on the side of supporting the ballot measure, he said.
Greene, whose real name is Charlene Egbe, flew to Bethel from Anchorage early Monday with a sister for support. She told the audience that she was "a hard-core alcoholic," a college student depressed and drinking herself to death when she turned to marijuana as a 20-year-old. Greene, now 26, said marijuana saved her life. She said she smokes "weed" regularly, including before she flew out to testify.
Greene's role has become a flashpoint in the debate. She said she flew to Bethel at her own expense but is raising money to campaign for the initiative through the funding platform indiegogo.com and her Alaska Cannabis Club, a medical marijuana cooperative. The Alaska Public Offices Commission is looking into her fundraising, said executive director Paul Dauphinais.
A cameraman from a French television station showed up and filmed Greene.
Spotlight on substance abuse
The other 12 people who testified all spoke of the harm from substance abuse, including marijuana, and of problems that may result if it becomes legal.
Elder John Phillip of Akiak testified in Yup'ik as Mike Williams, a musher and sobriety activist, translated for him.
"We should not add anymore to our troubles right now because we have so many issues," Phillip said through Williams. The push for marijuana legalization did not arise in the region.
"It did not initiate from us. It has come to us," Phillip said.
None of the state handouts at the meeting were in Yup'ik. A translation of the proposed law is on the state website as an audio recording, Treadwell said afterward.
Another Akiak elder, Elizabeth Lake, arrived by boat, Treadwell told the audience. People who smoke marijuana don't work and sometimes end up in jail, Lake said. "That's not very nice," she said.
The Delta region suffers from among the world's highest rates of suicide and domestic violence, said Williams, who also lives in Akiak and is chairing the "Big Marijuana. Big Mistake.Vote No on 2" opposition group. He has lost six brothers to alcohol. Marijuana is no safer, he said.
"It just affects the brain development of young people and poses health problems along the way," he said.
Alaska should not rush into legalization, he said.
Effect on communities
In Barrow and Nome, people testified that marijuana legalization might help the state curb domestic violence by turning people away from alcohol, Treadwell said.
In Bethel, some said the opposite.
Ana Hoffman, a lifelong resident of Bethel and chief executive of Bethel Native Corp., said she's seen "the utter dependence that arises from marijuana use." She said she knows of people in poor families who spend the little money they have on marijuana over basic needs, of users who become angry and even violent if they have to go without weed.
"I've been in homes that are equipped with indoor plumbing. But these homes do not receive city water. The children in these homes are not able to bathe or flush the toilet," Hoffman said. Yet the parents "are never without marijuana."
Sometimes, she said, violence erupts.
"I have seen domestic violence incidents occur where husbands are threatening, hurting and manipulating their wives in order to spend their family's money on marijuana," she testified.
Talented young people on pot become lazy, she said. The problem is so widespread that it is hurting the region.
Those who smoke marijuana and still function well can possess small amounts legally so already have the freedom they say they are seeking, Hoffman said.
Perspectives on health
Health providers also spoke up, including Sharon Lindley, an emergency services clinician whose patients are in emotional crisis.
She said almost every young person she treats is addicted to marijuana. They become angry if they can't get it, she said.
"I'm hearing family members, particularly elders, mothers and grandmothers, fear for safety because young adults are bullying them for extra cash," said Lindley. So many people are poor and there are few jobs in villages. The Delta region doesn't have the economic strength to withstand the influence of marijuana businesses, she said.
The Yukon-Kuskokwim Health Corp. also has come out in opposition to the marijuana measure. The Delta Discovery newspaper ran a seven-part series that ended Sept. 10 from a presentation in Bethel given in June by Kristina Woolston, a spokeswoman for the "vote no" group.
The public hearings on ballot measures are required under a 2010 state law that legislators passed to ensure people are informed about voter initiatives, Treadwell said. A number of state officials were teleconferenced into the Bethel hearing to answer questions.
Marijuana and suicide
Does marijuana use enhance suicidal thoughts or lead people to attempt to kill themselves? Williams asked.
Studies show a connection, Ward Hurlburt, the state's chief medical officer, answered.
But Tim Hinterberger, one of the main backers of the Campaign to Regulate Marijuana Like Alcohol in Alaska, said the studies don't show that marijuana use leads people to suicide but rather that people who are depressed are more likely to abuse marijuana and more likely to commit suicide.
One woman asked whether the state Office of Children's Services could take away someone's children over marijuana use. Only if the children were in danger or not being cared for, she was told.
Some in the crowd wanted to know about local control. Hinterberger said that people will still be able to possess small amounts of marijuana, but "any kind of local government" will be able to ban production of marijuana as well as retail operations.
Treadwell asked whether a tribal authority could ban marijuana operations.
Hinterberger said he wasn't an expert on that.
"Are there tribes recognized in Alaska?" he asked.
Yes, the lieutenant governor told him.
The final public hearing on marijuana is scheduled for 4 to 6 p.m. Tuesday in Fairbanks.
Contact Lisa Demer at LDemer@alaskadispatch.com or on Twitter
Related stories from around the North:
Canada: Pot raids in Canada's Arctic and Montreal net 1,000 plants, 22 kgs, CBC News
United States:  Statistics show downward trend in Alaska drug arrests, Alaska Public Radio Network