Russia: Submarine «Vladimir Monomakh» finishes trials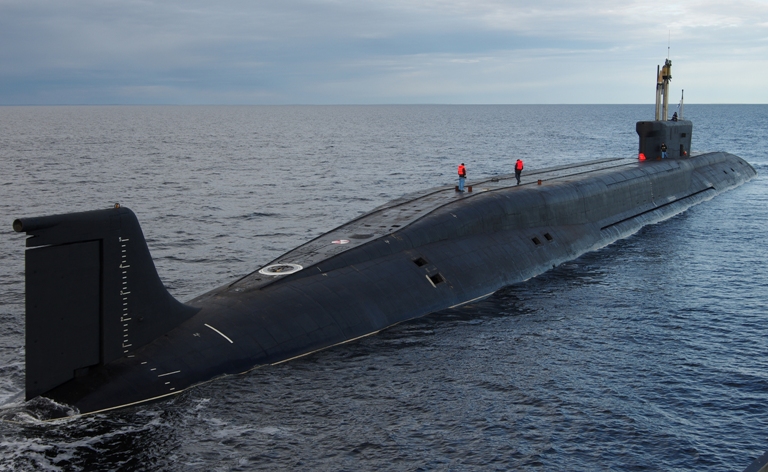 Russia's newest strategic nuclear-powered submarine «Vladimir Monomakh» has passed all state tests and will soon be ready to be handed over to the Navy.
Russia's third Borey class submarine this week finished a comprehensive state trials program in preparation for commissioning with the Navy, the Sevmash shipyard in Severodvnisk said in a press release Tuesday. The latest trials included final acoustic tests.
"Vladimir Monomakh" was launched from Sevmash shipyard in December 2012, started mooring tests in January 2013 and has been conducting sea trials in the White Sea since June 2014. On September 10 it launched its first Bulava intercontinental ballistic missile, as BarentsObserver reported.
The Borey class is Russia's first post-Soviet nuclear-powered ballistic missile submarine design and will form the backbone of the Navy's strategic nuclear deterrent force after older boats are retired by 2018.
"Vladimir Monomakh" is the third of a total of eight Borey class submarines that Russia plans to build by 2020. The first submarine of the class, "Yury Dolgoruky", was taken into service in the Northern Fleet in January 2013 after twelve years of construction.
Both "Vladimir Monomakh" and the previous submarine of the class, "Alexandr Nevsky" will probably be put into service in the Pacific Fleet and have base  in Vilyuchinsk, Kamchatka.
The construction of "Vladimir Monomakh" started in 2006. It is originally based on an Akula class hull from 1992. The submarine is 170 meters long, can go 29 knots submerged, it has a crew of 107 and will be equipped with 16 Bulava missiles, which each can carry ten nuclear warheads.
The fourth and fifth vessel in the Borey class, "Knyaz Vladimir" and "Knyaz Oleg" are under construction at the Sevmash shipyard in Severodvinsk. The first one of these two was laid donw in July 2012, the second in July 2014.
Related stories from around the North:
Canada: Canadian Military explores sunken sailing ship in the Arctic, Radio Canada International
Finland: Authorities probe suspected violations of Finnish airspace, Yle News
Norway:  Pacific Akulas arrive in Severodvinsk, Russia, Barents Observer
Russia:  Hamburg & the Northern Sea Route, Blog by Mia Bennett
Sweden: Sweden's Greens rethink defence spending position after Russia's airspace violations, Radio Sweden
United States: Alaska military sites vulnerable to climate change, Alaska Dispatch