Cross-country ski season begins in Rovaniemi, Finland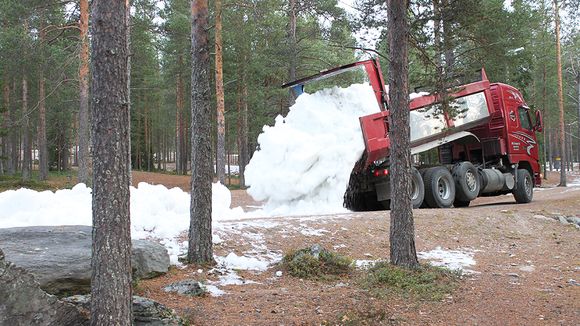 As hardly any fresh snow has fallen yet in Finnish Lapland's capital, snow stored since last winter was used to build the seven-and-a-half kilometre trail.
Despite temperatures above freezing, the season's first cross-country ski trail was completed in the capital of Finnish Lapland on Monday.
Work began on Friday to prepare the 7.5 kilometre trail on Ounasvaara fell, just a couple of kilometres from the city centre. With little natural snowfall so far, snow stored since last winter has been deployed to produce a thick enough covering.
"We've had excellent conditions to prepare the track, so it's happened quickly and it's in good shape," says Heikki Keskitalo, CEO of the Santasport sports institute, which set up the track.
"A buzz in the air"
The first skiers tried out the track even before it was finished, with some skiing a two-kilometre loop on Saturday and a four-kilometre one on Sunday.
"There's certainly a buzz in the air as soon as we start creating the trail," says Keskitalo. "Active skiers begin to show up, even though we haven't really made any announcement about it."
On Monday – with temperatures hovering around +2 degrees Celsius – he told Yle that that the full 7.5-kilometre ski path would be ready by day's end. It is open to the public at no charge.
Laying down stored and mechanically-generated snow for impatient early-bird skiers costs some 80,000 euros annually, last year a bit more even. The expense is split by the sports institute, the city's recreation department and the local tourism and marketing company, Rovaniemen Matkailu ja Markkinointi.
Keskitalo is convinced that Ounasvaara is the best place to ski so far in Finland this autumn.
"We certainly have the longest ski trail in use so far," he asserts.
Surviving the record-hot summer
There were some challenges along the way this time around. Usually snow cannons are used to generate snow for storage on cold days in February – but last February was unusually mild. However a later cold snap allowed the creation of a 23,000-cubic-metre pile of snow in the parking lot of the institute's Lappi Areena.
'The snow was protected from last summer's scorching heat by a 30-centimetre layer of sawdust – at least well enough that some 15,000 cubic metres survived to create this season's first track.
"It is quite an extensive process, involving hundreds or thousands of hours of work," Keskitalo says.
Related stories from around the North:
Canada:  The environmental and social impacts of Arctic tourism, Eye on the Arctic
Finland: Time to take out the skis in Lapland, Yle News
Greenland: Greenland inspires Arctic Bay, Canada tourism strategy, Eye on the Arctic
Iceland:  Rejected by Iceland, billionaire sets sights on Arctic Finland for tourism project, Yle News
Russia:  Creating links across the Arctic – A look back on the Beringia Arctic Games, Eye on the Arctic
Sweden: Is space tourism coming to Sweden's Arctic?, Radio Sweden
United States:  Passport troubles keep some athletes from Arctic Winter Games in Alaska, CBC News