Parliamentary committee greenlights Fennovoima nuclear plant in Finland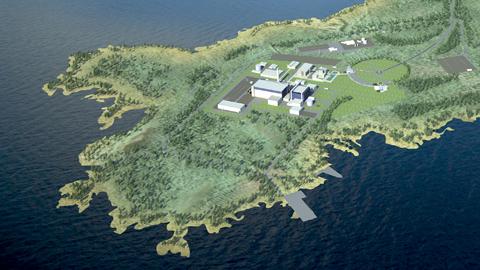 Parliament's Finance Committee voted Thursday to grant a new decision-in-principle for the construction of a nuclear power plant by the Finnish power consortium Fennovoima.
MPs from the Green League and the Centre Party opposed the vote.
The Committee upheld the government's decision to accept changes to the application for a new nuclear power plant to be constructed at Pyhäjoki in northern Ostrobothnia.
MPs voted 14-2 to give a green light to the Finnish power consortium Fennovoima, which has contracted the Russian state-owned nuclear plant provider Rosatom to build the nuclear facility. Rosatom currently owns 34 percent of the proposed nuclear project. MPs opposing the decision were the Greens' Johanna Karimäki and the Centre Party's Antti Kaikkonen.
"If Finland is to achieve its goal of increasing self-sufficiency in electricity production, we would also need nuclear power," the Committee said in a release Thursday.
The Committee said that in making its assessment it had kept the society's best interests as a priority, requiring that at least 60 percent of Fennovoima should be domestically-owned – in other words, owned by investors based in the European Union or the European Free Trade Association.
The decision to revisit the Fennovoima nuclear power plant application proved to be a deal-breaker for the Greens, who left the administration when the government decided to grant a new decision-in-principle.
The Greens have long objected to the addition of nuclear capacity and have called for greater investment in renewable energy sources – and in fact based their participation in Jyrki Katainen's administration on a government undertaking not to construct any new nuclear power plants.
At the time of their departure from government, Greens leader Ville Niinistö also criticised the decision to ink a major deal with a Russian state-owned company at a time when the EU had imposed trade sanctions against Russia over its role in the conflict in Ukraine.
Related stores from around the North:
Canada: Oil and gas consultations in Canada's eastern Arctic next week, CBC News
Finland:  Nuclear power project debates expose political divide in Finland, Yle News
Greenland: Statoil awarded exploration licence off Greenland, Eye on the Arctic
Norway: Oil, Industry and Arctic Sustainability, Deutsche Welle's Ice-Blog
Russia:  Russia to use pensions funds for Rosatom-funded nuclear plant in Finland, Yle News
United States:  Gasline partners take steps toward permitting, marketing of project in Alaska, Alaska Public Radio Network