Guides from Arctic Canada lead farm tractor to the South Pole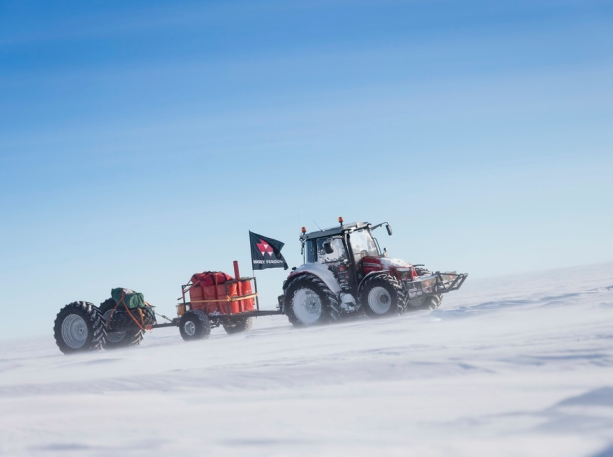 They live in Iqaluit, in Canada's High Arctic, but recently found themselves guiding an attempt to drive an ordinary farm tractor to the South Pole in Antarctica.
Matty McNair and her daughter Sarah McNair-Landry, were key members of the crew that successfully saw the tractor and support vehicles reach the South Pole.
McNair was already a well-known Arctic guide and adventurer when Britain's famous Top Gear "Polar Special" show featured a race to the North Pole  in 2007.  McNair and show star Richard Hammond were  on a dog sled, against the other stars, Jeremy Clarkson and James May in a specially prepared pick-up truck
In this latest adventure, the Canadian-based women guided and advised Dutch adventurer and former actress Manon Ossevoort on a 17 day 2,500 kilometre trek across the frozen continent from Russia's Novo Base, to the South Pole.
The average speed was 10 km/h but at times was as slow as 0.5km/h when conditions were rough.
Ossevoort began her trip in 2005 driving from her home town in Holland to Cape Town in South Africa, a trip of four years. Unfortunately she missed the boat scheduled to take her to Antarctica and had to return to Holland, spending the next four years writing and touring as a motivational speaker.
With sponsorship from Massey-Ferguson, she was able to load a tractor onto a Russian plane to the Antarctic base, and travel to the pole.
Upon arriving at the pole she said it fulfilled a decade long dream
Currently on her way back from the pole, she says it will be faster because the tracks made on the way will be frozen and easier to drive.