Three years on, still no deal on nuclear accident warning for Norway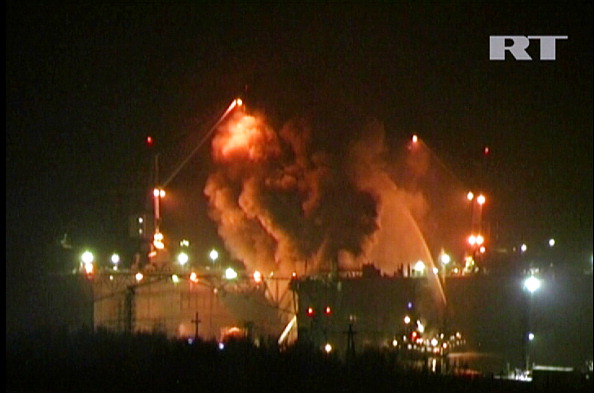 The ballistic nuclear missile submarine "Yekaterinburg" is repaired and again ready for mission, three years after the Barents Region was shaken by fear during the dramatic fire north of Murmansk. Neighboring Norway is still waiting for a deal on being informed if similar accidents happen again.
Packed with nuclear missiles, the Delta-IV class submarine "Yekaterinburg" on fire in a drydock in Roslyakovo on Russia's Barents Sea coast scared people across the borders for days during Christmas 2012.
In Norway, authorities could do nothing more than watching internet photos and films of the burning submarine. No official notification warning was received. When contacting Moscow, Norway's Radiation Protection authorities was assured no danger existed.
"Unfortunate and regrettable"

Shortly after the fire, regional authorities in Finnmark on Norway's Barents Sea coast publicly announced their dissatisfaction with lack of official information from Russia. Today, County Governor Gunnar Kjønnøy says to BarentsObserver that Norway since 1993 has had an agreement with Russia on notification of events and accidents.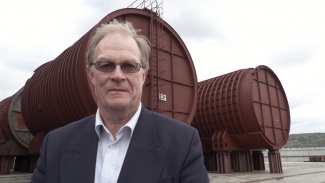 "But the agreement does not contain any common understanding of when the alert should be triggered," says Kjønnøy. 
"We have raised the issue with the Russian side repeatedly, most recently during the autumn meeting of the Joint Norwegian-Russian Nuclear Commission, but so far without agreeing on clear procedures for how the notification agreement should be practiced. I consider this as unfortunate and regrettable," says Gunnar Kjønnøy.
"We are worried"
"In Oslo, the submarine fire was debated in the Parliament in 2012. "When there is a fire in a submarine, we are worried," Norway's Foreign Minister Jonas Gahr Støre said.
First two months after the fire, Northern fleet officials admitted that "Yekaterinburg" indeed had her armament of missiles and torpedoes onboard when the fire started.
Both the Norwegian and Swedish Foreign Ministers publicly stated that it was totally unacceptable that no warning was sent, claiming that Russia has the obligation to do so under the early warning agreement on accidents involving nuclear installations.
Since then, the issue has been a hot potato in bi-lateral radiation safety talks between Norway and Russia.
No warning deal signed
Ingar Amundsen with the Norwegian Radiation Protection Authorities admits to BarentsObserver that no new deal on information exchange is signed.
"There have been efforts to develop notification procedures under the bilateral notification agreement with Russia," Amundsen says.
Upfront of Prime Minister Dmitri Medvedev's visit to the Barents Summit in Kirkenes last year, State Secretary in Norway's Ministry of Foreign Affairs, Torgeir Larsen, expressed his dissatisfaction in an interview with BarentsObserver.
"We said it at that time, we say it today, and we will repeat it at next occasion; Norway must be informed when such accidents involving nuclear installation happens," Larsen said.
Expect response in 2015
Ingar Amundsen says the issue was again brought up during the annucal bi-lateral Nuclear Commission meeting in Septermber this year.
"Status as of today is that we have an agreed draft for notification procedures. These procedures are now up for formal approval on the Russian side. We expect a response from the Russian side in 2015," explains Amundsen.
He says these procedures will be an important supplement to the contact established between Norwegian and Russian authorities and will contribute to faster and more efficient information exchange when events happen.
International convention on nuclear accidents
Russia has signed the international convention on informing neighboring countries about nuclear accidents. The convention says that warnings should be issued when there is a situation where: "A release of radioactive material occurs or is likely to occur and which has resulted or may result in an international transboundary release that could be of radiological safety significance for another State."
The challenge is how to interpret the wording "…likely to occur."
The dramatic "Yekaterinburg" fire on Dember 29th 2012, involving a submarine with up to 16 nuclear missiles and two nuclear reactors, was not reason enough for Moscow to warn their neighbours in the north.
Bellona fears accidents can happen again
Nuclear Physicist Nils Bøhmer with the Bellona Foundation in Oslo is worried that Norwegian authorities will not be informed if a new fire happens with "Yekaterinburg" or one of the other submarines that more frequently sails the Barents Sea.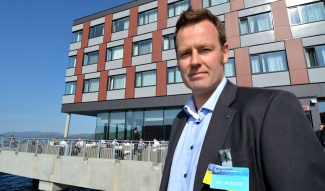 "With more submarines sailing, more repair and maintains work will come. It is not less likely that Russia's submarines have nuclear weapons today than back in 2011," Bøhmer says to BarentsObserver in a Skype conversation.
He believes the current cooling in political relations between Russia and the West increases the risk of accidents.
"History tells us that the higher tensions there have been between the Soviet/Russia and the West, the higher risk there are for accidents with nuclear powered submarines," Nils Bøhmer argues.
Early warning important for Finnmark
The County Governor in Finnmark hopes no accident will ever happen, but say underlines the importance of getting information as soon as possible if anything happens in the future.
"A nuclear warning agreement is important regardless of where you are in the country. For Finnmark it is particularly important that we are confident information about actual or potential nuclear incidents will come because of our proximity to potential sources of nuclear accidents," says Gunnar Kjønnøy.
"Yekaterinburg" sails again
After the fire, "Yekaterinburg" was towed to the Zvezdochka yard in Severodvinsk for repair. On December 19, the submarine was again officially transfered back to the Northern fleet, after three years of repair and upgrade work, the portal of the shipyard informs.
Since November, the submarine has been test sailing the White Sea for three weeks, and is now officially approved to re-join the navy for combat missions.