Thousands of households lose power in eastern Finland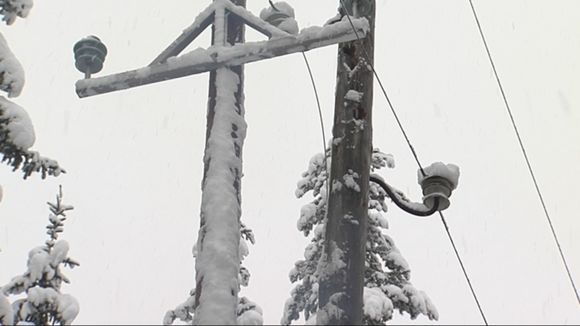 A swing from frigid to warmer temperatures coupled with heavy snowfall plunged as many as 20,000 households in eastern Finland into darkness Tuesday night. Officials reported a number of malfunctions in electricity networks in Savo and north Karelia as snow-laden trees collapsed on power lines.
Up to the wee hours of Wednesday morning some 14,000 customers of the Savo power company and 4,500 homes served by the northern Karelian power company were still without power.
By 9.00 am the number of households without electricity was still over 9,000 – 7,500 in the Savo region and 2,500 in north Karelia.
According to officials from Savo Power it was not surprising that tree branches already laden with snow would snap under the weight of additional precipitation and fall onto power lines.
"Around midnight our electricians had to take a break. We are now trying to regroup during the daytime and work all-out on the repair work. A couple of choppers will also pitch in," Savo Power Network's Matti Ryhänen said early Wednesday morning.
'Delicate situation,' says official
Ryhänen said that additional faults were discovered during the morning, but that the situation appeared to be improving. He said it would be better for weather conditions to remain above freezing, rather than swinging back and forth.
"Then all of the snow will fall off the trees and the (power) lines will also be free of frost. But if the temperatures remain around zero degrees, then the frozen snow will remain in the trees and become even heavier. So we are in a rather delicate situation," Ryhänen explained.
Savo Power said that provided no new faults are identified, it will be able to repair its entire medium voltage network in a few days – most of it by Wednesday evening.
"If the weather continues as it is now and we keep getting new fault reports, then I can't comment on how long it will take," remarked Ryhänen.
The company called on members of the public not to try and remove trees that had fallen on electricity lines. Instead the company would like consumers to provide precise information about the location of such incidents by calling its free fault report number: 0800 307 400.
Related stories from around the North:
Canada: Canada's Northwest Territories unveils ambitious energy plan, CBC News
Finland: Finland's biggest waste-to-energy plant opens in Vantaa, Yle News
Sweden: Lower electricity bills for Swedes, Radio Sweden
United States: Alaska's wave, tidal & river energy: Great potential, daunting challenges, Alaska Dispatch