Norwegian ice voyage chases secrets of global climate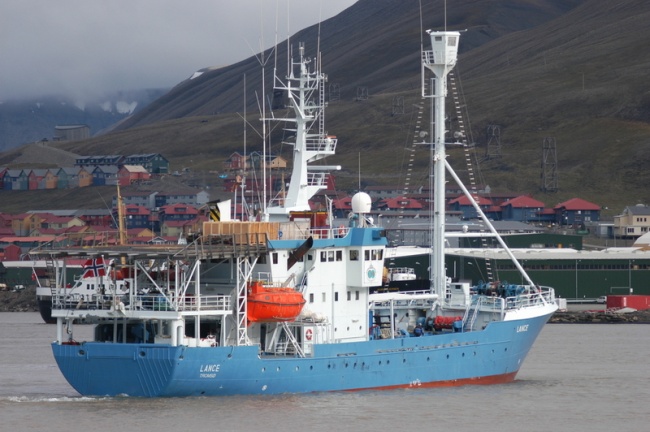 Norwegian Polar Institute sails the research vessel "Lance" into the Arctic ice-cap north of Svalbard where she will freeze in and passively drift with the ice for the next six months.
"Lance" sailed out from Tromsø on Wednesday and will for the next few days cross the Barents Sea heading towards 83° North of Nordaustlandet of the Svalbard Archipelago.
After freezing in to the ice, the Polar Institute predicts that "Lance" will drift in a southwest direction. The actual drift trajectory and speed are impossible to predict in detail, but the ice-researchers on board believe they probably will be freed from the ice in mid spring.
Letting a ship drift in the ice is well known among Norwegian. Fritdjof Nansen's expedition with "Fram" in 1893-1896 was an attempt to reach the North Pole by freezing the vessel in north of Siberia and harnessing the natural east-west current of the Arctic ice-cap. Nansen, however, did not reached the North Pole.
Studying ice dynamics
While drifting in the ice, the polar researchers will study first year ice in order to get a better understanding of the sea ice regime in the Arctic. By studying the dynamics of this ice, the scientists hope to learn more about the Arctic's effect on local and global weather systems.
"Once "Lance" has settled in the ice, we'll begin unloading tons of equipment onto the ice. Over the next months, scooters, lightweight sheds, buoys, ice drills and tent will serve as research platforms for over 20 researchers of various nationalities," writes Expedition leader Harald Steen from the Norwegian Polar Institute in the blog for the voyage.
Over the last years, the melt of the North Pole's ice and the fraction of seasonal first-year ice have increased, while multi-year ice had decreased. No other places on the globe have seen a higher rise in temperatures than the Arctic.
In 2012, the Arctic saw the smallest sea ice extent on record.
Climate changes and its impact on the Arctic is the main goal to study for the 20 researchers that will use "Lance" as research platform. The 20 comes from various nationalities.
Out in the ice, the thickness of the snow and ice along the drift will be measured, as well as the CO2-levels of the water. Also, the marine ecosystem, radiation, meteorological parameters, ice dynamics are other topics to studied.
Related stories from around the North:
Canada: How climate is changing the Arctic – The `Big Picture,` Deutsche Welle Iceblogger
Finland:  2014 the second hottest year in Finnish history, Yle News
Greenland: Field notes from Greenland – From the glacier to the sea, Blog by Mia Bennett
Norway:  2014 warmest year in history for Norway, Barents Observer
Russia:  Arctic methane: time bomb or "boogeyman"?, Analysis from Deutsche Welle's Iceblogger
Sweden: Stockholm cleans up and passes air quality test, Eye on the Arctic
United States:  Annual Arctic Report Card details continued warming on land and sea, Alaska Dispatch