Low snow in Southcentral Alaska has Iditarod officials pondering Fairbanks restart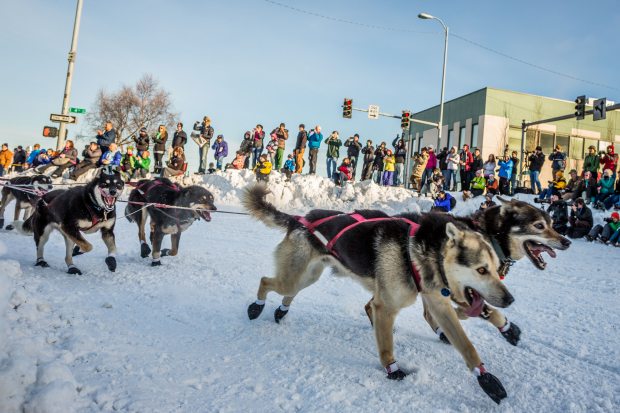 With abysmal snow conditions in Southcentral Alaska, the Iditarod Trail Committee is considering moving the race's restart north to Fairbanks.
Race marshal Mark Nordman said the committee is considering the move, though he said Tuesday the race "isn't even close to making that decision."
"Nothing has changed at this point, but you want to have a plan B in place and … Fairbanks would be the place to go," Nordman said.
He said race officials would decide whether to move the race by mid-February. He noted that cooler temperatures have helped to freeze rivers the trail travels over, saying the south fork of the Kuskokwim River was frozen. Nordman said there's more snow in the Alaska Range than at the same point last year, but it wouldn't hurt to have more.
Last year's decision to send mushers through the Dalzell Gorge, a notorious section of steep, challenging trail, was met with criticism by racers who felt the trail was dangerous in snowless conditions.
The 1,000-mile race has only been moved once in its 42 years. In 2003 the restart was moved from Southcentral Alaska to Fairbanks. Asimilar conversation occurred in 2014, with the race ultimately deciding to keep the traditional route.
"Every year there is somewhere when you take 1,000 miles of trail that there's some major issues," Nordman said. "… I guess as far the overall weather pattern, that's what everyone is talking about."
The race is set to begin with a ceremonial start in downtown Anchorage on March 7.
Related stories from around the North:
Canada: Profile – Dog mushing in Inuvik, Canada, Eye on the Arctic
Norway: Norwegian contingent prepared for Iditarod challenge, Alaska Public Radio Network
United States:  To SPOT or not to SPOT? Iditarod mushers, officials question use in this year's race, Alaska Dispatch