Obama issues executive order to better coordinate Arctic policy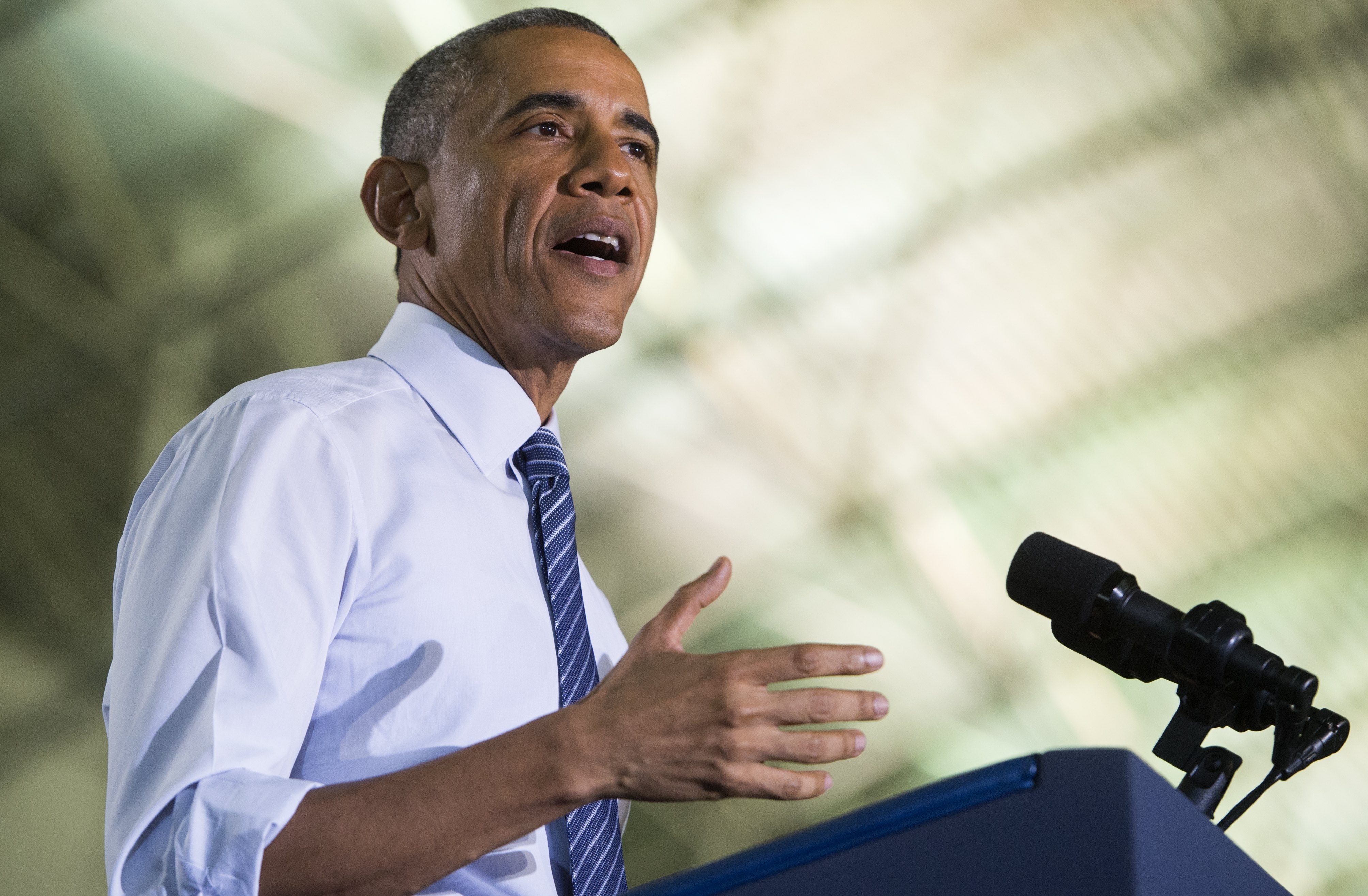 With the United States on the verge of leading the eight-nation Arctic Council and far-north climate warming continuing at twice the global rate, President Barack Obama on Wednesday issued an executive order to better manage federal Arctic policy.
But one U.S. Senator from Alaska expressed doubts about the order's effectiveness.
"As the United States assumes the Chairmanship of the Arctic Council, it is more important than ever that we have a coordinated national effort that takes advantage of our combined expertise and efforts in the Arctic region to promote our shared values and priorities," Obama said in his executive order.
The order establishes an "Arctic Executive Steering Committee" to guide federal policy and coordinate with state, local, Native governments, research and academic institutions and nonprofit organizations.
The head of the White House Office of Science and Technology Policy — Director John Holdren — or his designee will chair the committee, according to Obama's order. Committee members will come from federal departments across the executive branch, along with organizations like NASA and the U.S. Arctic Research Commission.
'Responsibility to strengthen international cooperation'
Obama said decades of "higher atmospheric temperatures have led to a steady and dramatic reduction in Arctic sea ice, widespread glacier retreat, increasing coastal erosion, more acidic oceans, earlier spring snowmelt, thawing permafrost, drier landscapes, and more extensive insect outbreaks and wildfires" — changes that he said are transforming the Arctic, its features and its accessibility.
"As a global leader, the United States has the responsibility to strengthen international cooperation to mitigate the greenhouse gas emissions driving climate change, understand more fully and manage more effectively the adverse effects of climate change, protect life and property, develop and manage resources responsibly, enhance the quality of life of Arctic inhabitants, and serve as stewards for valuable and vulnerable ecosystems. In doing so, we must rely on science-based decision making and respect the value and utility of the traditional knowledge of Alaska Native peoples," he said in the order.
Order criticized
Meanwhile, Alaska Sen. Lisa Murkowski said the order falls short, focusing too much on climate change and too little on development and future buildup of Arctic infrastructure, as well as issues involving the Arctic's indigenous populations.
"Today's Executive Order is a good step forward in strengthening the coordination of federal agencies on Arctic policy — and seeks direct input from Alaska's Arctic stakeholders — but it is unbalanced in what the Administration's Arctic priorities should be" Murkowski said in a statement. "Once again, the President remains focused on climate change. I agree that climate change is an issue facing our nation and my state, but for President Obama and many of his ideological allies, the plan for the Arctic boils down to two words: Hands Off."
The Obama administration in July named retired U.S. Coast Guard Commandant Robert Papp as the nation's special Arctic representative, designating him as the person to guide the Arctic Council when the U.S. assumes its two-year chairmanship in May.
Former Alaska Lt. Gov. Fran Ulmer, leader of the U.S. Arctic Research Commission, was also given new Arctic responsibilities in July when she was named as Secretary of State John Kerry's special adviser on Arctic policy.
Ulmer said Obama's executive action is good news for the Arctic.
"The Executive Order is a very good step by the Administration to improve coordination of federal efforts in the Arctic. The National Arctic Strategy and the Implementation Plan assign many responsibilities to the agencies. Hopefully, the EO will provide structure and focus for these efforts,' Ulmer said in a statement.
Related stories from around the North:
Canada:  Arctic Council: The evolving role of regions in Arctic governance, Blog by Heather Exner-Pirot
Finland: US seeks Finnish support for Arctic goals, Yle News
Greenland:  Greenland urged to work with Arctic Council, CBC News
Iceland: Iceland conference draws on hopes, concerns for changing Arctic, Alaska Dispatch
Norway:   Permanent Arctic Council Secretariat opens in Tromso, Blog by Mia Bennett
Russia:  The Arctic Council's Immunity to Crimean Flu, Blog by Heather Exner-Pirot
Sweden: Russia still open for cooperation in the Arctic, Radio Sweden
United Kingdom:  The British Invasion – The Arctic Circle and observer states, Blog by Heather Exner-Pirot
United States: 10 takeaways from the 2014 Arctic Circle Assembly, Alaska Dispatch