Warmth, lack of snow in Yukon threatens winter events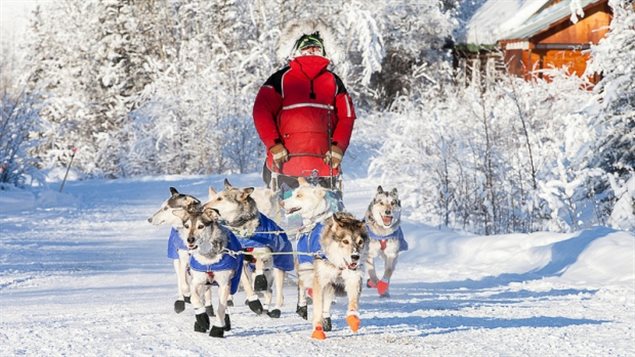 Once again, the weather patterns are playing havoc with the Yukon's reputation for Arctic cold and snow.
One of the most famous dogsled races in the world, the Yukon Quest, is set to begin on February 7th, but once again organizers are concerned about lack of snow, and open water.
The trail for the 1,600 km race from Whitehorse to Fairbanks, Alaska often runs over the frozen lakes and rivers, but this year once again, it's not been cold enough to completely freeze over parts of the traditional route.  In the recent past, the start point has had to be moved out of the city and further up the trail, and sections re-routed to avoid  open water or potentially thin ice.
The Yukon Ultra runners and cyclists marathon begins on February 8th, and follows the Yukon Quest trail. It involves three separate distances runners can complete of, 160km segment, a 480km segment, and an almost 700km distance from Whitehorse to Dawson City.
While southern areas of central and eastern Canada have been experiencing Arctic cold of down to -30 at times, both Whitehorse and Fairbanks have been much warmer than normal, Fairbanks has seen its warmest November and December in the city's history.
Solutions considered
The Yukon Sourdough Festival, an outdoor event, is also expressing some mild concern about the snow carving event and the fate of some events due to lack of snow.
Yukon snow carver Don Watt says he's concerned about his event being cancelled.  He says the large snow castle might not be built in order to leave enough snow for the carvers.  That winter festival begins February 18th.
It seems almost inconceivable that organizers may have to consider shipping in snow into the northern city, although that would be a costly option.
Organizers say they're still holding out hope with both events some weeks away. They say the weather could change between now and then, although decisions will have to be made very soon.
The daytime high in the national capital, Ottawa was -16C but with windchill felt like -26C, while in Whitehorse the high was a balmy -3
While temperatures are expected to remain mild for the next several days in the Yukon, some heavy snow is forecast for later today.
Related stories from around the North:
Canada: Profile – Dog mushing in Inuvik, Canada, Eye on the Arctic
Norway: Norwegian contingent prepared for Iditarod challenge, Alaska Public Radio Network
United States: Low snow in Southcentral Alaska has Iditarod officials pondering Fairbanks restart, Alaska Dispatch News