Laser scanning sheds a new light on animal habitats in Finland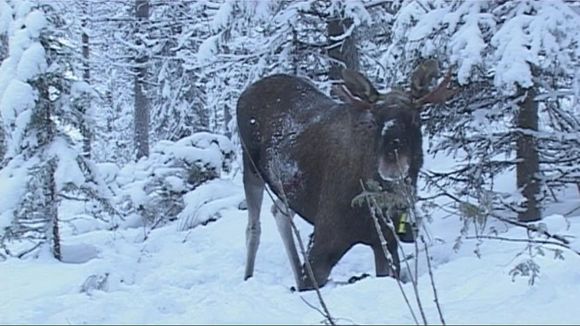 A major laser scanning project spearheaded by the National Land Survey of Finland has generated a welcome by-product. Intended to assess Finland's elevation data, the data also reveals the suitability of Finnish wilderness areas as habitats for Finland's various animal species.
National Land Survey of Finland (NLS) has expanded the use of laser scanning in the last decade to encompass forest assessments and terrain mapping. The 3D data resulting from the scanning is used to comprehensively map out Finland's surface area and forest resources. The entire project is expected to be finished by the year 2017.
One of the by-products of this effort is a very precise assessment of Finland's animal habitats. Variables of the forest structure like canopy density and the amount of undergrowth can tell a lot about how much shelter, nesting places and food a particular area can offer certain species.
"In a nutshell, the forest structure affects how well that habitat would serve different animals, and laser scanning provides us with a method for studying this structure," says Markus Melin, a researcher with the University of Eastern Finland.
Laser scanning is a technology based on laser pulses transmitted by a sensor. A single laser pulse may hit several targets, in which case the sensor stores more than one return echo from the pulse. Even in forested areas the laser pulse partly penetrates through the branches to the ground, whereby more accurate and reliable elevation data is also obtained from covered areas.
This is considered to be one of the most significant advantages of laser scanning technology compared to previous methods for providing elevation data, for instance aerial photograph interpretation.
Elks give birth in early May
In addition to the elevation data of the ground, laser scanning also provides information about other objects on the ground, such as roads and trees. The laser scanning technology can be used for making inventories of forests and for preparing three-dimensional models.
"We have combined the laser scanning data with our GPS collar information from Eurasian elks in Finland to measure where the animal has spent its time and when. This has provided valuable information on the significance of the forest structure at different times, during calving season for example," says Melin.
There were clear differences in the habitats of bull and cow Eurasian elk, whether they were with and without calves, and these differences grew more pronounced during calving season.
"Females that were giving birth stayed in one place for two or three days in early May, so we were able to isolate the timing of the calves being born to between May 3 and 9," says Melin.
The data showed that the Eurasian elk calves were born in swampy areas, but that the cows would transfer with their young to areas with more undergrowth as soon as they were able to move.
Elevation data collected by laser scanning is freely available at the NLS website.
Related stories from around the North:
Canada:  Study shows polar bears relocating to icier Canadian Archipelago, Eye on the Arctic
Finland:  New measures to protect the Saimaa seal in Finland, Yle News
Iceland: Endangered whale meat shipped from Iceland via Halifax, The Canadian Press
Norway:  Rapid growth in Svalbard walrus population, Barents Observer
Sweden: Bear and lynx populations are shrinking in Sweden, Radio Sweden
United States: Scientists seek cause of patchy baldness in some Beaufort Sea polar bears, Alaska Dispatch