Blog: Greenland – barrels of oil and bottles of water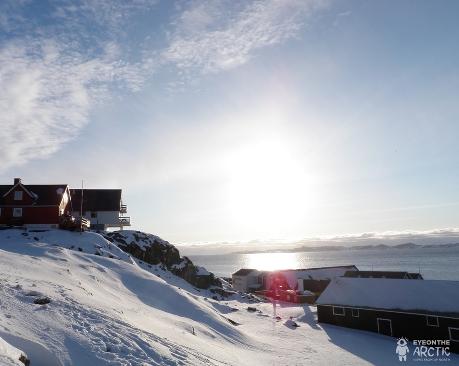 In the past week, there have been two interesting stories about Greenland in the news. The first is in The Economist,entitled, "Greenland and oil: Independence on ice."
The article explains how the falling price of oil is making Arctic oil extraction less likely, and by extension, Greenlandic independence an even more distant dream. The second story is in The Arctic Journal. Arctic Ice Cap, a company headquarter in Greenland, is considering exporting bottled water to China and Indonesia made from chunks taken off icebergs in Disko Bay. The company already has a 20-year license from the government to harvest water from icebergs, so the business seems like it could be within sight. Arctic Ice Cap has already set up a website where it proclaims:
"Occasionally, mother nature breaks the ice into floating icebergs from where millions of ice pieces natuarally scatter into Diskobugten, west of Illulisat (sic), creating the purest natural drinking water on earth."
On the face of it, oil seems to be the dirty industry and water the clean one. Exporting water might therefore seem to be an eco-friendly move for Greenland. The Arctic is full of freshwater, so perhaps it would be a good idea to export this commodity to assist more parched parts of the world from California to China.
The history of the ice trade
While exporting icebergs may seem like a novel idea, there was actually a bustling ice trade in the nineteenth century. Ice was cut from rivers and lakes in places like the U.S. and Norway for use in refrigerating products like meat, fish, and produce, and later to keep cities like New York and Philadelphia cool during their hot, humid summers. The Library of Congress has archival films such as these of ice being cut and then housed. Even well before the nineteenth century, smaller networks of ice trade existed with ice being taken down from mountain ranges such as the Alps, Andes, and Himalayas for use at lower elevations in making everything from ice cream to cool drinks. The Mughals employed horses to carry down ice from the Hindu Kush for use in frozen desserts, while the Persians engineeredyakhchal, or ice houses, to store ice brought down from nearby snow-capped peaks for their frosty fruit ices and syrups.
Though it may appear innocuous, exporting water, particularly bottled water, still comes with an environmental price tag. Like almost every industry in the world, it's also dependent on fossil fuels. Coal-powered locomotives moved ice in the nineteenth century, while bottled water today tends to be packaged in petroleum-based plastic bottles.
For Fiji Water, a golden lining
One of the most famous brands of bottled water worldwide is FIJI Water. The brand has brought the South Pacific island nation increased global recognition and export revenues, along with schools and access to drinking water thanks to the company's non-profit division. But Fiji Water also supported the military regime of Frank Bainimarama, prime minister since a coup in 2007, and, as has been widely exposed, is hardly as eco-friendly as it seems.
According to the official website for Fiji Water, the brand is a "leading export of the Fiji Islands" and the "number one imported bottled water in the United States and is enjoyed in over 50 countries across the globe." Mother Jones reported in 2009 that Fiji Water accounts for 20 percent of exports and 3 percent of GDP. Were Arctic Ice Cap to reach the same level in Greenland, it would be as important an export as processed crustaceans, which currently make up 21% of exports according to the MIT Observatory of Economic Complexity.
Fiji Water's website heralds that in 1996, the company was established "out of the desire to share the earth's finest water with the world." What the website doesn't say is that, as Mother Jones reported, Canadian mining and media tycoon David Gilmour established the company after founding ventures such as Barrick Gold, the world's largest gold mining company. Barrick's activities at its Porgera gold and silver mine in Papua New Guinea, such as the dumping of tailings directly into the river, were found to have been so environmentally devastating that the Norwegian Government Pension Fund chose to divest from CAN $229 million worth of shares in 2009. The fund's Council on Ethics decided that holding the shares posed "an unacceptable risk of the Fund contributing to serious environmental damage." The Council may have ruled against divesting from fossil fuels in December 2014, but it did decide to divest from Barrick Gold.
Fiji Water makes no mention of its association with Barrick Gold. The beverage brand wants to tell a different story. Scrolling through its sleekly designed website, one comes across a page for "The Water." "It all begins as a cloud," the origin story begins. "High above Fiji, over 1,600 miles from the nearest continent. Tropical rain falls, purified by equatorial trade winds, in a pristine rain forest surrounded by ancient, dormant volcanoes." So the story continues until the last image, captioned, "Discover Earth's Finest Water: Bottled at the Source, Untouched by Man." Untouched by man, but it is only man who makes it possible for water from an artesian spring in Fiji to be shipped and consumed around the world.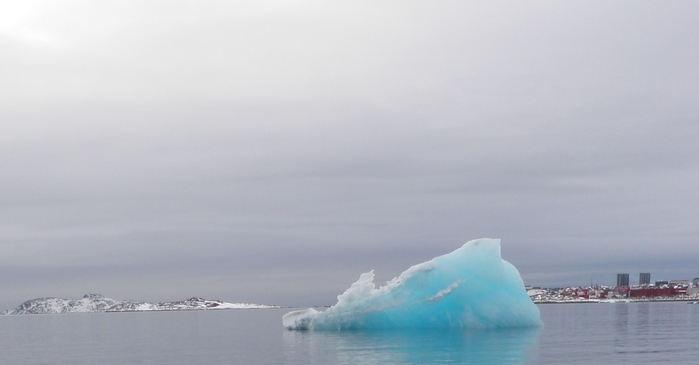 Bottling the Arctic
Of the approximately 3,000 brands of bottled water that exist worldwide, there already are several Arctic water drinking brands. One is Berg Water, a Canadian company formed in 2005 that sells bottled, melted iceberg water. Based in Newfoundland, the company captures icebergs that have floated west from the Greenlandic coast and melts them into drinking water. The marketing brochure (PDF) elucidates, "Nowhere on earth will you find an environment more unspoiled than on the island of Newfoundland on Canada's majestic East Coast." As if to conflate the act of drinking iceberg-sourced water with the intrepidness required to explore the Arctic, the company website proclaims, "Harvesting icebergs is a dangerous task. They are very unstable, shift frequently and can roll over in seconds, which make the possibility of drinking iceberg water an accomplishment in itself."
Iceland, however, seems to have really cornered the market for Arctic drinking water. For starters, there's Icelandic Glacial ("when you open a bottle of Icelandic Glacial you are opening a part of the purity of Iceland itself!"). The brand, certified as carbon neutral, was distributed in copious amounts at the Arctic Circle conference in Reykjavik in 2014, much to the consternation of several attendees I spoke with who were concerned about the unnecessary amount of plastic rubbish generated by the drinking bottles, which barely seemed to contain even one serving of water.
Then, there's Iceland Spring, which according to its official website "has never been touched by man since the pristine snow fell on the Blue Mountains of Iceland centuries ago." Lacking the carbon-neutral certification that its competitor Icelandic Glacial enjoys, Iceland Spring instead aspires to plant trees in Iceland to offset its emissions. The company website announces, "For every container of water we produce and ship," they explain, "we will plant the corresponding number of trees in Iceland to offset the carbon emissions. Our goal is to reforest Iceland to the level it was before the Vikings." Whether or not this is a good idea is unclear, since the soil by now has probably been denuded and eroded to the point that trees might not thrive in the changed terrain. But Iceland Spring will probably go on planting trees, since the activity seems to be in vogue as of late: China is busy building a "Great Green Wall" of trees in the Gobi Desert.
Then there is SNO Water, which comes from the Eyjafjalljokull glacier. The website states, "SNO™ comes from a time when the world was unspoiled and un-polluted" (don't forget the trademark.) Purity is the theme of all of these Arctic waters, and indeed, it probably is less contaminated than many other sources of drinking water on earth. But the idea of places like Iceland being "pure" and "untouched" are complete and utter farces. Icelandic Spring ironically points to this themselves when they talk about planting trees on Iceland in order to reverse the enormous levels of deforestation wrought by the Vikings well before the industrialized era. When the Norse settlers arrived in the ninth century, trees covered 25% of the landscape. After a couple of centuries of intensive sheep grazing, trees covered just 1% of the island. Almost all of the pure landscapes we talk about in the Arctic have, in fact, been made and remade by man.
Sins of omission
The most glaring omission from the websites of Arctic bottled water brands is any significant mention of Arctic climate change, let alone references to the changing dynamics of fresh water in the region. Scientists have found that the Arctic Ocean is freshening due to a number of factors including the melting of the Greenland ice sheet and strong Arctic winds affecting ocean circulation patterns. The idea of quickly melting glaciers clashes with the pure, timeless aspect of the Arctic that the bottled water brands promote.
Another major issue that the bottled water brands fail to mention is the lack of modern water treatment plants and sanitation facilities in much of the Arctic. As this presentation by planner and engineer Ken Johnson explains, it costs CAN $49.80 to supply 10,000 liters of drinking water to Canada's north compared to just 40 cents in its south. Despite the increasing abundance of freshwater in the Arctic Ocean, water has to even be trucked in to many rural communities on land. In the Canadian Far North, for instance, water is delivered to places where the ground is so frozen that conventional water supplies don't exist. And in Alaska, as the "Alaska Water and Sewer Challenge" website details:
"4,500 rural Alaska homes lack running water and a flush toilet. Many more depend on aging and deteriorating piped and haul systems…Lack of in-home water and sewer service in rural Alaska causes severe skin infections and respiratory illnesses. Residents of Southwest Alaska suffer rates of invasive pneumococcal disease (IPD) that are among the highest in the world."
Some residents even have to deposit their urine and feces into a bucket lined with a plastic bag (called a "honey bag"). This repository is then dumped unceremoniously into a sewage lagoon, splattering the myth of the pristine Arctic.
Packaging purity and exclusivity
Small communities in the Arctic suffer from a lack of water while corporations carve off sections of icebergs and export them to southern locales like China and Indonesia. These are booming markets, and their consumers are thirsty. The water from the tropical islands of Fiji and the Arctic locales of Iceland, Newfoundland, and possibly soon Greenland are sold as aspirational products. Berg Water proclaims, "Such a unique product has been designed for the selected high end market. Berg is the perfect companion in an exclusive setting. It is a product that differentiates itself from the rest of the waters not only from its elegant and distinguished packaging but also from its content." The Arctic gets packaged into a neat little bottle of purity for the consumer in search of luxury goods.
Lastly, if bottling companies want to preserve the myth of the pristine Arctic, it might be in their interest to campaign against offshore oil extraction. If an oil spill were to occur off Iceland, Greenland, or Newfoundland, could their bottled water still really be marketed as pure? It is often said that oil and water don't mix, and this is probably more true in the Arctic than elsewhere. The bottled water industry should take note.
This post first appeared on Cryopolitics, an Arctic News and Analysis blog.

Related stories from around the North:
Canada: Addressing northern food insecurity, Blog by Heather Exner-Pirot
Greenland: Greenland, Alaska elections bolster Arctic resource extraction, Blog by Mia Bennett
Norway: Conservative victory in Norway: What does it mean for the Arctic?, Blog by Mia Bennett
Sweden:  Land, water rights big issues in Sweden's Sami elections, Radio Sweden
United States: Run on bottled water in Emmonak, Alaska, after supply interruption, Alaska Dispatch News