Finland's real estate market forecast to slump in 2015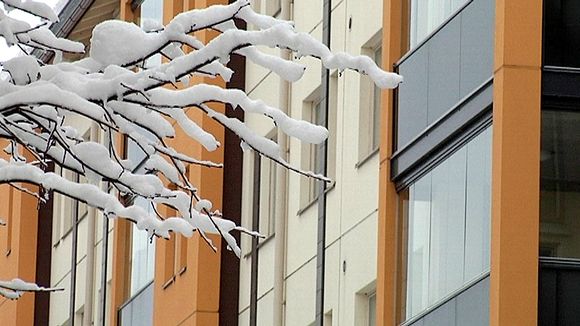 Finland's real estate market is set to continue to slide this year, according to a new report.
Investors are more active in the market than homeowners, but even they view smaller, studio apartments as over-valued.
A new report on the state of the Finnish real estate market has more grim news for those looking to sell property. The number of transactions dropped for the third year in a row in 2014, with last year's drop being the steepest yet, at nearly a tenth.
That's according to the report by Pellervo economic research, which notes that in the current economic climate; even low interest rates are not helping to stimulate the housing market.
Some market observers reckon that investors, who have long been snapping up studio apartments in university cities as sure-fire ways to generate a return, are now looking at bigger flats in a search for value.
Rents set to rise
Markus Lahtinen of Pellervo says that investors in university cities are looking at bigger flats, which can be rented to more than one tenant, partly because that is a way to safeguard rental incomes.
"Prices have risen so close to those for one-bedroom apartments that some investors have started to buy those instead," said Timo Metsola of the rental apartment brokerage Vuokraturva.
That's a local phenomenon, according to Erkki Heikkinen of real estate agent Kiinteistömaailma. He says that studio apartments are still selling well.
Pellervo reckons that the price of apartments in old buildings is set to fall by 0.7 percent this year, with the same drop forecast for 2016. Helsinki, hitherto protected from a general fall in property prices, is expected to see a drop as well.
The report suggests that rents should rise this year by two percent, although that trend could be slowing too.
Long-term investments
"Rents have risen to such a high level that in the future we can't really expect them to rise at the same rate," said Lahtinen. "And studio apartments can require a lot of capital, as their per-square metre prices have risen so quickly in recent years."
Despite the market turbulence, buy-to-let investors will stay the course, according to Heikkinen.
"If you think that in Finland there are around 270,000 rental apartments with a private owner, there are a lot of people in that group who are investing for the long haul," said Heikkinen. "High returns are not a key goal, but rather sure-fire, even returns and a stable increase in value."
Heikkinen claims that even now, small flats in city centres can increase by between 2 and 4 percent a year, which is a competitive rate of return in current investment conditions. According to Statistics Finland, the after-tax return on small apartments bought as investments in Helsinki was 2.5 percent, in Tampere it was 3 percent and in Turku 3.3 percent.
Those figures are averages, and vary according to the purchase price, maintenance charges and renovation costs of each individual property.
Related stories from around the North:
Canada: Severe housing shortage in North say Inuit in Quebec, Canada, CBC News
Finland: Russian property purchases in Finland at near-standstill, Yle News
Greenland: So, I've Heard About This Really Nice Condo in Nuussuaq, Eye on the Arctic
Sweden:  Mining town residents in Arctic Sweden plea for relocation, Radio Sweden
Norway: The new Arctic real estate boom – Tromso, Norway, Eye on the Arctic