City in North Sweden to approve 68 new windmills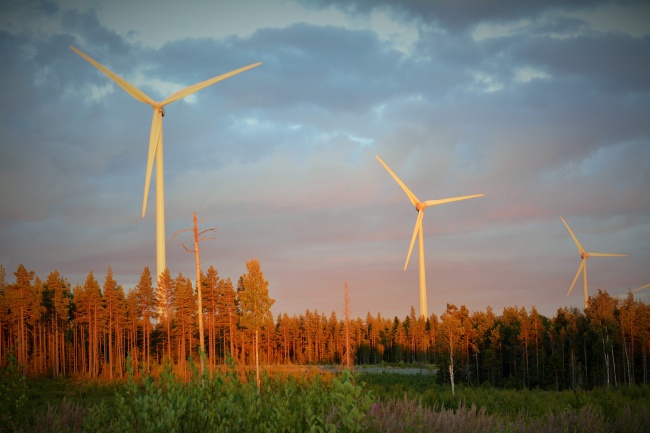 Sixty-eight new windmills soon to be approved near Skellefteå. In 2014, Europe installed more new wind energy capacity than gas and coal combined.
Sweden's wind power increases more than any other energy sources in the country. Since 2000, Swedish production of wind power has increased from 0.5 to 7.1 TWh. The goal is to boost renewable generation by 25 TWh from 2002 to 2020. Sweden is today halfway to this target, due chiefly to increased use of wind-power and biofuels.
In Skellefteå, local authorities are now reviewing applications for another 68 wind-mills to be built in Blåbergsliden and Ljusvattnet, reports the regional newspaper Norran.
The municipality has already approved the area for wind-mills and is expected to give a "go" to the plans presented by Holmen Energy (29 wind-mills and FB Byggkonsult (39 wind-mills).
Västerbotten is from before the No.1 county in the Barents Region when it comes to wind energy production. Data from Patchwork Barents shows that Västerbotten generated 541 GWh of wind in 2013, nearly twice as much as number two on the list, Finnish Lapland.
In the European Union, 2014 for the first time added more new wind power to the grid than new coal and gas generated electricity.
Across the 28 member states, a total of 11.791 MW wind energy was connected to the grid in last year, while 3,305MW coal and 2,338MW natural gas generated electricity was added.
The wind-energy boost continues into 2015. Right now, a total of 128.8 GW wind power capacity is installed in the EU, according to the European Wind Energy Association.
Related stories from around the North:
Canada:  Stymied in the Lower 48, Alberta floats idea of moving tar-sands oil through Alaska, Alaska Dispatch
Greenland: #SavetheArctic… from Greenpeace, Blog by Heather Exner-Pirot
Iceland:  From Arctic Circle 2013-2014, a big drop in the price of oil, Blog by Mia Bennett
Norway:  'Arctic oil is incommensurate with 2ºC target:' WWF, Barents Observer
Russia: Russian oil production to drop by 70,000 barrels a day in 2015 – OPEC, Barents Observer
United States: Arctic standards won't be ready for Shell's return, Alaska Dispatch