Alaska: Fairbanks snowstorm a blessing for snow-starved Iditarod mushers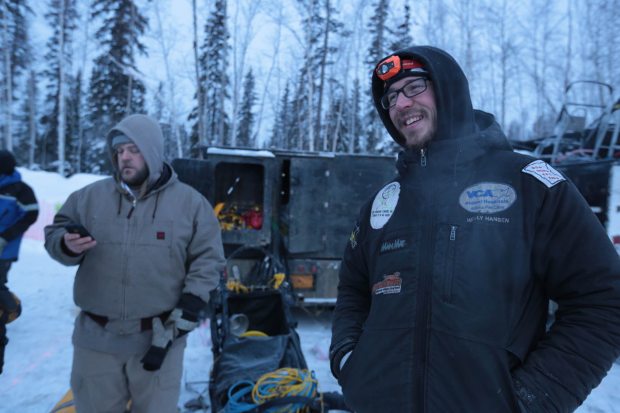 FAIRBANKS — The caravan of mushers who all made it to Fairbanks on Monday for the Iditarod Trail Sled Dog Race restart praised the return of an unlikely character: winter.
"We haven't seen this in Willow in so long I didn't know what to do with it," veteran racer Linwood Fiedler said about the lack of snow in his Southcentral Alaska hometown.
"This is going to be perfect," he said of the new race course. "New snow, cool temps. I actually left most of my rain gear at home."
Fiedler's Willow home is usually the start line for the annual 1,000-mile sled dog race, but sparse snow after a February meltdown forced race organizers to move the start north to Fairbanks. Instead of participating in the ceremonial start and trucking 90 miles to Willow, mushers instead had a whole extra day to make the 350-mile drive north to Alaska's second-largest city.
That decision turned the remote Parks Highway into a caravan of dog trucks Saturday and Sunday following the ceremonial start.
Severe winter weather
Many headed north just after the start and along the way encountered severe winter weather on the Parks Highway just outside of Cantwell on Saturday night. Charley Bejna had deep divots of snow still smattered on the back of his dog truck here, a result of blowing snow.
"It was actual winter weather," said Fairbanks rookie Laura Allaway. "Which was refreshing because we haven't had any winter driving this season."
Anchorage musher Scott Janssen joked that on the drive up, his low-clearance dog trailer acted like a plow as they made their way up the highway.
Janssen's trailer also served as salvation for musher Brent Sass, who made it through the Cantwell snowstorm before the wheels came off his truck, literally, 2 miles north of Cantwell when one of his rear tires lost its lug nuts.
Luckily, he said, they were on a straight stretch just outside of the Parks Highway community and visible to other mushers making the drive. The Eureka veteran ended up caravanning north with several mushers — he and many of his dogs piled in with musher Curt Perano, the rest of his dogs went with Janssen; his handlers caught a ride north with rookie Brian Wilmshurst. Only Sass' dad, Mark Sass, stayed behind while the truck was towed back to Fairbanks.
Iditarod buildup
Mark Sass, who spends the winter handling for his son, managed to fix the truck quickly in time for the restart Monday. Sass' dad has long been a stalwart among the musher's handlers, often working on the truck, which — like all musher trucks — is famous for its ability to break down.
"He really thrives off of it. It's his part of the team," Sass said of his dad's handiwork. "It was clutch. He got it fixed and it was seamless for the most part."
As he worked to finish packing his sled Monday in the Fairbanks dog yard, he admitted the long travel — and truck problems — was just part of the Iditarod buildup.
"I'm ready to hit the trail," he said. "It was just another step in the motion."
Related stories from around the North:
Canada: Warmth, lack of snow in Yukon threatens winter events, Radio Canada International
Norway: Norwegian contingent prepared for Iditarod challenge, Alaska Public Radio Network
United States: Low snow in Southcentral Alaska has Iditarod officials pondering Fairbanks restart, Alaska Dispatch News