Murmansk, Russia: Transport hub trouble, again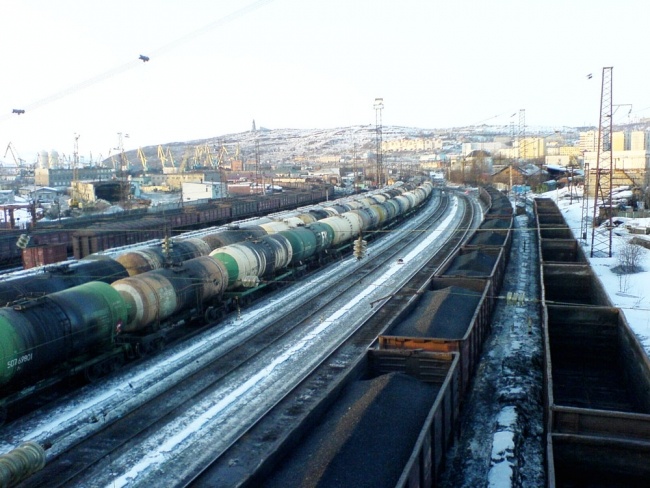 The development of the Murmansk Transport Hub might be in jeopardy as costs swell and a key private investor seeks way out of the project.
The company Kuzbassrazrezugol (KRU) planned to construct a coal terminal with a 18 million tons capacity on the western shore of the Kola Bay. But now the company is reconsidering. According to sources close to company owners Iskandar Makhmud and Andrey Bokarev, the current economic situation in the country has made the project unprofitable.
The weakening of the ruble has resulted in a boost in terminal development costs with as much as 40-50 billion ruble, Kommersant reports. In addition, the outlooks for coal shipments from the region are no longer very bright, a source says to the newspaper.
Reportedly, Andrey Bokarev in 2014 wrote a letter to President Putin where he called on the state leader to abandon the project. Bokarev instead proposed to build a terminal in Taman on the Azov Sea coast.
As previously reported, influential people in Moscow in 2014 also proposed to significantly cut state investments in the project and instead move the money to infrastucture development in the Crimea. However, Murmansk Governor Marina Kovtun then managed to convince the federal government about the need to keep up pressure in the Arctic project.
 Key part of project
The coal terminal constitutes a key part of the Murmansk Transport Hub project and theKRU intended to invest 17,6 billion rubles in the project. The terminal would be connected with a 28 long new railway line along the western shore of the Kola Bay. Also other industrial facilities are planned in the area, among them an oil terminal.
Governor Kovtun is now reportedly working on finding a replacement of the KRU. A likely contender is the State Transportation Leasing Company, and negotiations are in the pipeline, Kommersant writes.
The Murmansk Transport Hub has a price tag of 132,2 billlion roubles, of which 56,5 billion is to be taken from the federal budget.
The infrastructure project has long been a key priority project for the Murmansk Government, but was put on hold after Gazprom's indefinite postponement of the Shtokman project. The engagement of Rosneft gave new life to the initiative.
Related stories from around the North:
Asia: China's silk road plans could challenge Northern Sea Route, Blog by Mia Bennett
Canada:  Report warns more Arctic shipping will increase warming, affect health, Barents Observer
Finland: New Finland icebreaker can operate sideways with asymmetrical hull, Yle News
Greenland:  Greenland, Alaska elections bolster Arctic resource extraction, Blog by Mia Bennett
Sweden:  New infrastructure needed to keep wild boars off Sweden's roads, Radio Sweden
United States:  Time to ramp up Arctic infrastructure in the U.S., Analysis: Sourabh Gupta & Dr. Ashok K. Roy